9 DIY TikTok Decor Projects to Brighten Up Your Quarantine
With a little extra time on our hands in 2020 — thank you, COVID-19 — more of us have been turning to the video-sharing app TikTok to find interior design inspiration. If you're feeling the need to scratch that DIY decor itch, here are nine of our favorite at-home TikTok projects that fit the bill.
Brushstroke "Wallpaper"
Continue reading below
Our Featured Videos
This technique requires no special skills, but the effect is uber chic. Uploaded by @tiktokeyedoc, this designer made use of paint and a good brush to trick our eyes into seeing wallpaper where there was none. To recreate the look, simply decide how far apart you want your paint dashes to be and go for it. This is a project that might even be done while you're at home on one of your many work conference calls.
DIY Hexagon Wall Shelves
You've got to watch the video to see how simple it is to make these trendy hexagon shelves. @bretomolonis/TikTok whipped up several of these cute shapes for just $25. Just get your hands on some wood, a mitre saw, painters tape, and adhesive glue, and voila! Stylish geometric shelves worthy of any space. These little beauties are perfect for holding succulents, crafts, or any other sort of trinket.
Up-Styled Builder-Grade Door
Most interior hollow-core doors offer little in the way of architectural interest. This viral TikTok design hack by @jacklyndorminy adds a herringbone wood façade and some black paint to a standard door, transforming it into a functional work of art.
Yarn Wall Hanging
@reillybrown made this fabulous wall decor from a craft loop and some carefully chosen colored yarn. You could make one just like this, or get creative and invent your own pattern.
Cottagecore Orange Garland
Dried orange garland is an age-old Christmas trimming, but due to the cottagecore aesthetic taking the social media scene by storm this year, a simple garland of wildflowers and sweet-smelling oranges can now be any-time decor. This string of dried nature, uploaded by @thekwendyhome, perfectly highlights the simpler life that cottagecore fans adore.
Paint Stick Lampshade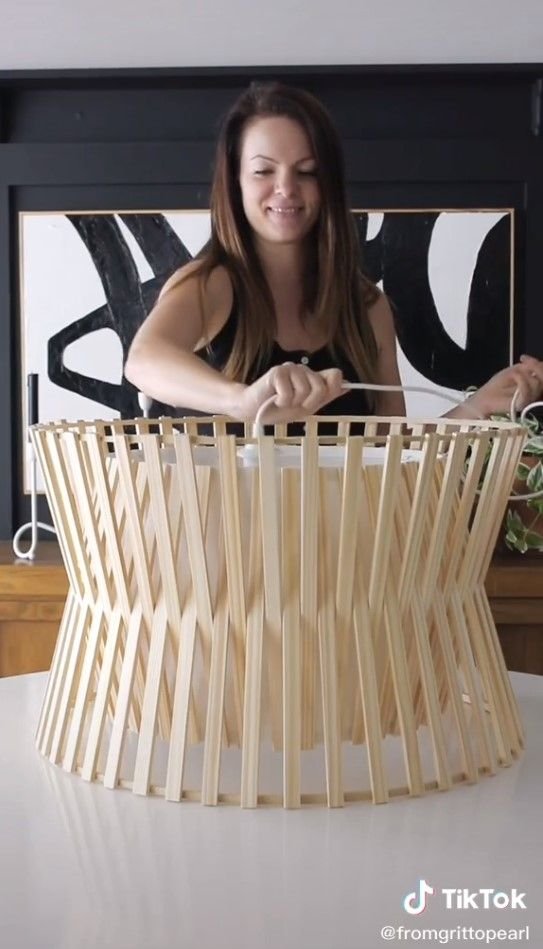 This stunning DIY lampshade cover from @fromgrittopearl is constructed from nothing more than paint sticks and two wooden rings. If you angle your computer screen just right during your Zoom meetings, it can be a great conversation piece.
Dreamy Office Pegboard
With everyone creating home office spaces in 2020, you can give yours a little boho flair with this painted wall pegboard by @narwhalcarouselco.
Inkblots Gallery Wall
Think your psyche could use a little analyzing after many months of social distancing? This gallery wall of ink blots by @houseofhipsters might just do the trick. You can find sets of Rorschach test prints on Etsy, but the real mental quiz may be whether you can actually hang them all in a perfect grid.
IKEA Coffee Table Hack
@officially.alicia.p made this Scandi style coffee table from an IKEA cutting board and basket. Her video shows the table supporting a gym weight of 44 pounds, making the easy mashup charming and strong.
If you're still hungry for more design inspo, the TikTok app has millions of other videos highlighting every kind of style and skill level to whet your quarantine project appetite.