6 DIY Spring Porch Decor Ideas for Any Budget
Have you ever felt more relieved to see the first signs of spring? With our long hard winter of pandemic discontent nearly over, we're bursting at the seams to get outside and enjoy milder weather. Now is a great time to spruce up your outdoor space for the season to make it feel a little more festive and welcoming as we look ahead to brighter days. These 6 easy DIY decor ideas won't break the bank, and you don't have to be a carpenter or master crafter to create them.
Buckets of Annuals
Continue reading below
Our Featured Videos
Image via Organized Clutter
First and foremost, spring means flowers. The best and simplest spring decor for your porch is just some affordable annuals tucked into your favorite pots or some galvanized buckets, which add a touch of rustic charm. You can find galvanized buckets and basins at your local hardware store, but check vintage markets, thrift stores, and flea markets, too. Some nice choices for annuals include phlox, sweet alyssum, coleus, polka dot plant, red nemesia, and edible nasturtiums.
Colorful Thrift Store Chairs
Image via Milan Vintage on Etsy
Speaking of thrift stores, make sure you browse their chair selections when you're there. Whether you find a matching set or an eclectic mix, you can simply spray paint them all the same color (or a palette of spring shades) to bring them together. This is a fun way to add an accent hue to your decor scheme.
Early Bloom Wreaths
Image via Annabelle Eve Designs on Etsy
Prune a few branches of your early blooming forsythia, cherry tree, or whatever else looks pretty in your yard and shape them into a wreath with some floral wire for a quick and easy update to your front door. If you're feeling less than crafty, you can always just buy one, too. Etsy seller Annabelle Eve Designs creates these lovely seasonal wreaths with silk flowers, burlap, and a moss-covered monogram, and you can use it year after year.
Mini Solar Barrel Fountain
Image via Flower Patch Farmhouse
Creating a DIY solar fountain is easier than it sounds, and it brings so much to outdoor spaces of all sizes: sparkly reflections, the sound of flowing water, and curious creatures seeking a drink or a bath. All you need is a floating solar fountain, which you can find on Amazon for under $12, and a watertight container like a galvanized bucket, an old wine barrel, or a planter pot without a drain hole.
Freshened Up Throw Pillows
Image via West Elm
Switch out the throw pillows on your outdoor furniture with something sweet for spring. If you find just the right fabric, sewing a throw pillow is a fairly easy project for a beginner to complete – check out The Spruce Crafts for a tutorial. Alternately, stores like Crate and Barrel, Anthropologie, and West Elm, where we found this pretty "embellished blooms" throw, are good places to look.
DIY Dried Bloom Bouquet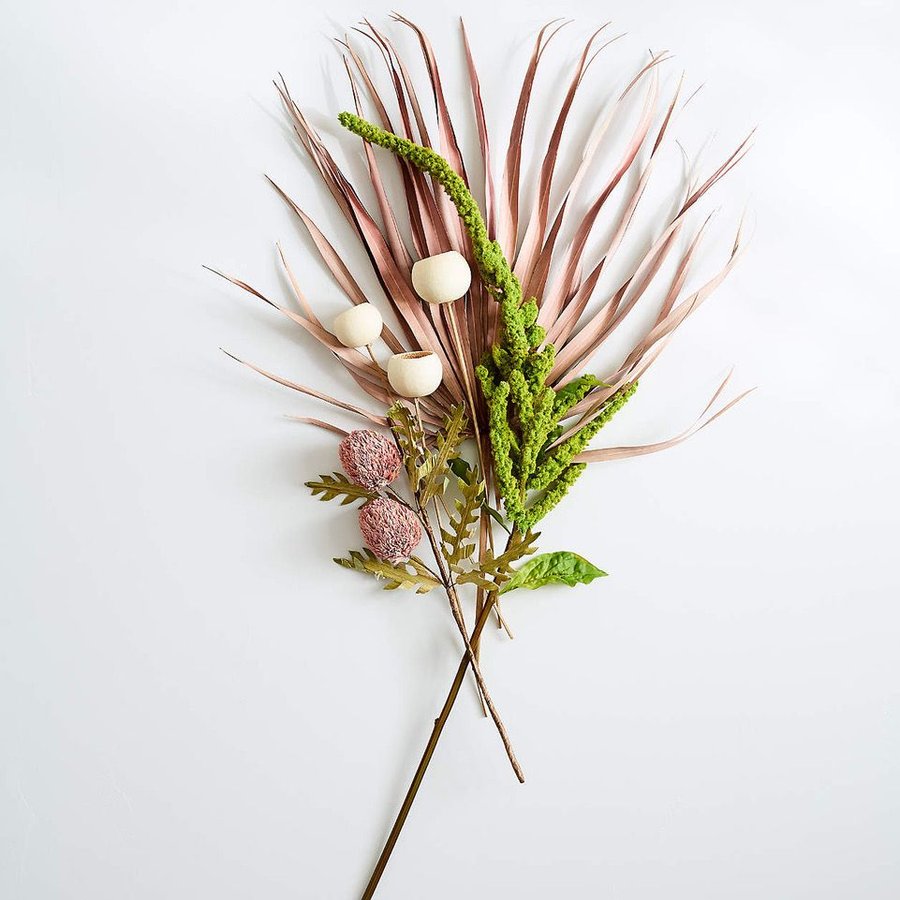 Image via Crate and Barrel
Dried floral bouquets are a leading decor trend in 2021, and you never have to worry about them wilting. It used to be that you had to hunt down the best elements to create one in the wild, in your yard, or in flower markets, but now you can find gorgeous preserved blooms and greenery on the internet and in local shops. Crate and Barrel has a particularly great selection, including these pink paper palms, which make for the perfect dramatic backdrop to pair with lush shades of green.