3 Ways to Extend Effortlessly Chic French Girl Style into Your Kitchen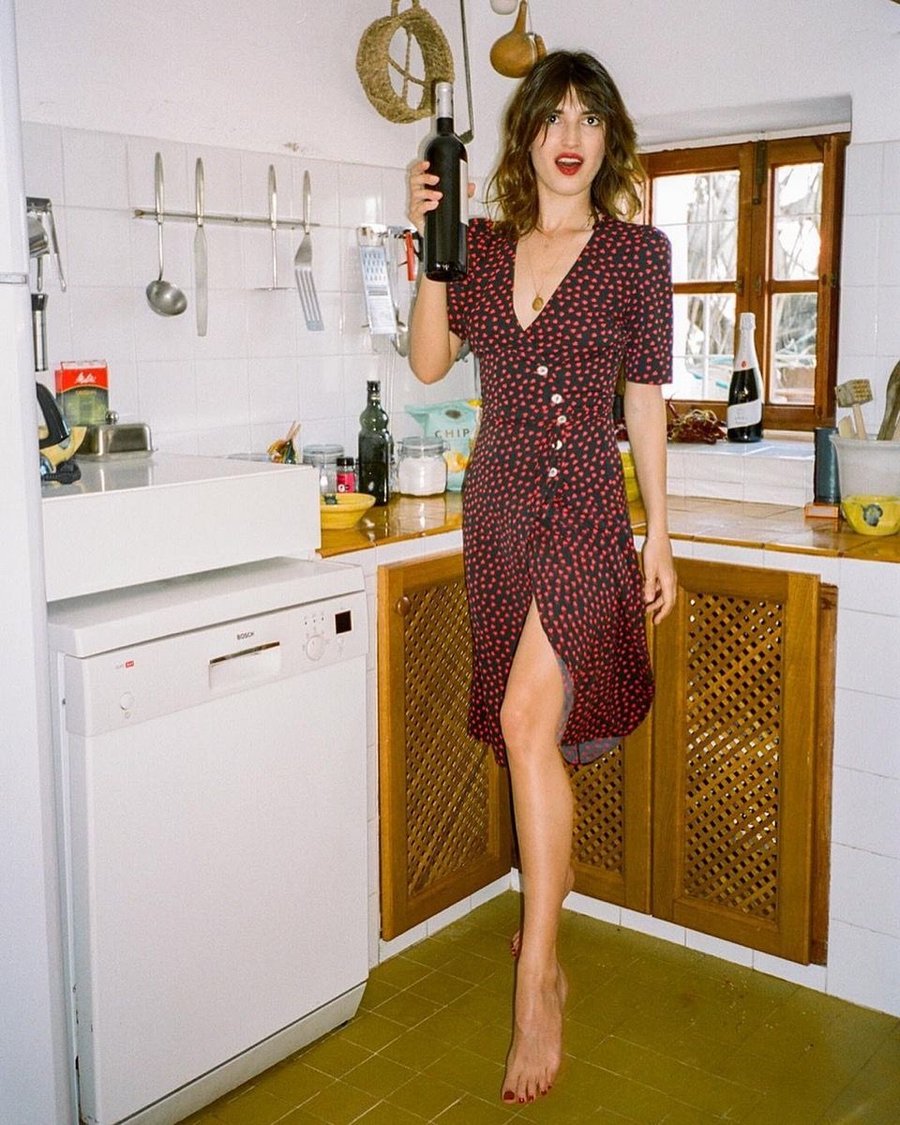 Continue reading below
Our Featured Videos
There's a lot to love about quintessential "French Girl" style. As demonstrated by stylish models and influencers like Jeanne Damas (pictured here in her kitchen), Louise Follain, Eleonore Toulin, and Aude-Julie, this laid-back approach to fashion, beauty, and interior design is confidently casual, perfectly imperfect, and effortlessly chic. It's all about embracing the small joys of everyday life without trying too hard. It's also clearly distinguished from the kind of traditional mass market "French Country" decor style that's popular with many Americans, which can oftentimes come off as just a little too fussy.
Freshness First
Extending the French Girl philosophy into the kitchen means being smart with storage in a small space and centering absolutely everything upon fresh-from-the-market food and drinks. If you live like a fashionable Parisian, you're walking to the boulangerie every day for bread and keeping plenty of fresh produce, cheese, and wine on hand for last-minute entertaining.
That means you're going to want some bowls and baskets for your fruit, vegetables, and baguettes to place on your kitchen table, counters, shelves, or even hang from the walls, as seen here in an image by Heather Bullard. An iconic woven straw market tote like Milk Street's Casablanca does triple duty as storage, grocery transport, and even an everyday handbag (á la the original Birkin bag).
Fresh flowers, herbs, and plants are just as important as edibles. Toss together a carefree bouquet with a little bit of lavender and wild greenery and stick it in a vase, changing it out every few days. Let your plants grow long and trailing, tucking the vines around your eclectic wall decor. And speaking of walls, you'll want to take advantage of your wall and ceiling space as much as possible with pot racks, hanging baskets, peg boards, and open shelving.
Vintage Finds
Who needs matching sets of dishes, kitchen towels, or anything at all, really? It's way more fun to purchase unique objects as you find them, whether handmade by artisans at local craft stalls or at the thrift store. Mix-and-match style captures that French Girl sense of rock and roll recklessness, like serving your crudités on fine china and flea market saucers at the same time.
When shopping for just the right objects to incorporate into your decor, look for items that stand the test of time. Quality is definitely more important than quantity, and you want objects that are just as functional as they are stylish. Some things to look out for include linens in crisp white or fun prints, handmade ceramics, candlesticks, rustic wood with lots of character, copper pots and pans, and whatever else will look good on all that open shelving. Check out Lou Doillon's kitchen in this image, captured by Garance Doré, for inspiration.
Classic French Favorites
Just like the Breton striped shirt and beret, some French items might seem stereotypical, but they're iconic for a reason. That includes Le Creuset cookware, which will last at least a lifetime and is made to be seen, as well as the classic bistro chair and tulip table, which are perfect for slotting into tight spaces. Rejuvenation's Grove Marble table is a great example, but you can find these all over the place at lower prices, too.