2021's Hottest Summer Trend? Bold, Playful Nail Art
Summer is in full swing, which means there are new looks for your entire wardrobe, including your nail style. Here are some of this year's coolest trends to help you celebrate exotic vacations, backyard barbecues, swim parties, and baseball games again.
Smoky Swirls
Continue reading below
Our Featured Videos
Wisps of swirling smoke snaking across nude nails like these from Instagram's @imarninails are having a moment right now. Best of all, the swirls can be any color, creating gorgeous abstract art.
Pastel Tips and Cuticles
Pastel colors are trending hardcore. People can't get enough of those baby blues and yellows, sage greens and light lavenders. One way to enjoy the pastel palette in a fresh way is to paint just the cuticles and tips like in this photo from @moshbeautystudio on Instagram.
Velvet Nails
Nails that look like they have the texture of shimmering velvet fabric took over the 2020 holiday nail scene, and they're still going strong. This incredible technique is all about choosing the right products. Getting the perfect velvet nails requires gels with fine metallic particles and chromo powders to blend into the perfect consistency.
Texture
Instead of just making your nails look like they have texture, give them the real thing. This orange and green set by @nailsbybleona on Instagram offer a prefect, vibrant mix of slick and ridged textures.
Abstract Geometry
All things 90s are back in (i.e. scrunchies and the proliferation of Friends merchandise). Instagram's @charlotteemilybeauty posted these geometrically painted nails that are also on trend with that pastel scheme.
Playful Art
After a year of isolation and pandemic, 2021 is the time to have some fun, let loose, and let your nails show your sense of humor. Each nail in this set posted by @top_nails_bar on Instagram is completely unique, featuring bright colors and eye-catching designs and patterns.
Checkerboard
Perhaps thanks to the 90s comeback, checkerboard prints are very "in" right now. This cool set from @primpedandpolished on Instagram adds a twist by turning the pattern on its side for the pinky nails. You can also tone down the busy-ness of the checkerboard craze by painting just one or two nails in the classic squares while giving the rest a solid color treatment.
Cow Print
Nails decked out in cow print from are popping up all over the internet. This set by @madelineelizabethx on Instagram is flashy but classy in its pink, black, and white hues.
Turquoise
Taking inspiration from timeless turquoise jewelry, these nails posted by @chisatochee on Instagram almost look like the real thing. To avoid overkill, the two first nails are perfectly balanced by the last two, which are painted in creamy orange and lined with gold.
Fading Foil French
Putting a spin on the classic foil French manicure, this set by @nailstampingqueenuk on Instagram features a pretty pink base with organically lined gold foil tips. You could even riff on this theme by using a foil in an on-trend color like emerald green or rust.
Vertical Stripes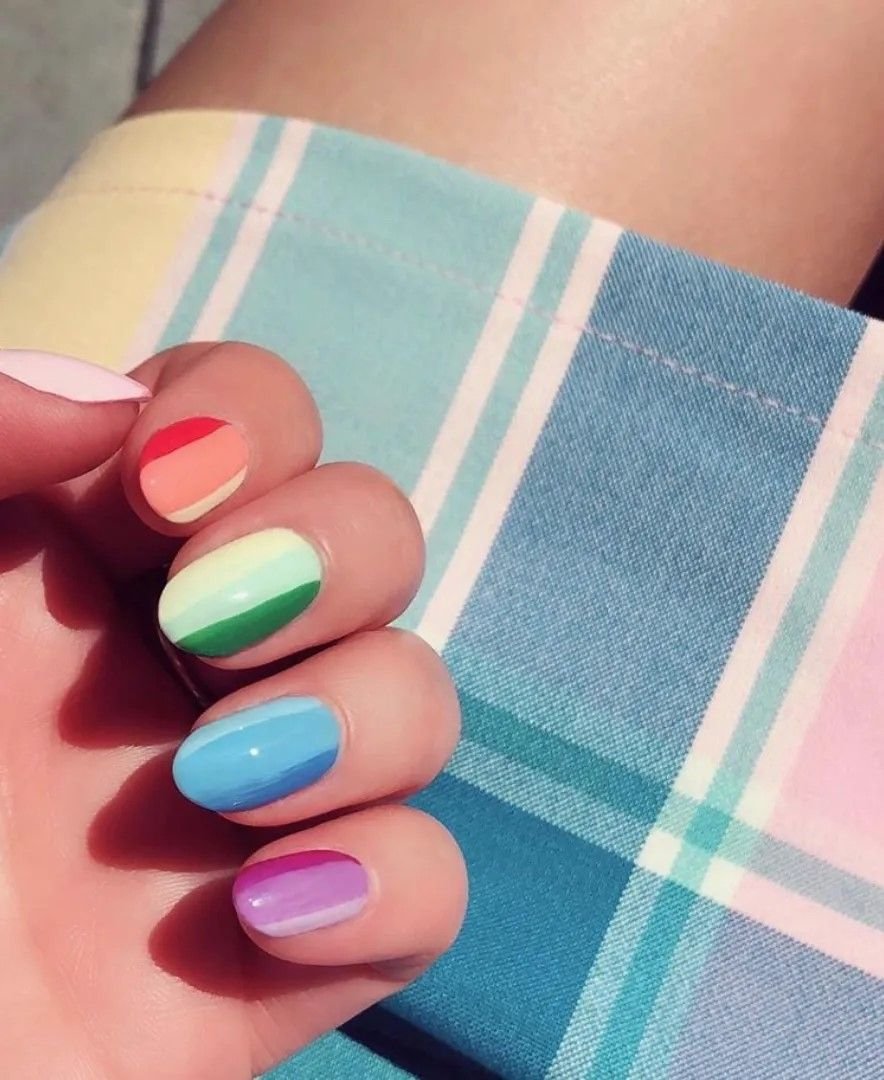 Up and down lines are a smart choice in 2021, and these nails posted by @xjuliatalisman on Instagram are so flawless with their summer rainbow of stripes. To glam up this look, you could add in some metallic lines and daring colors for extra weekend flair.
This summer's nail trends represent a desire for freedom of expression after a year of lockdown. Above all else, colorful, playful, and bold are the nail trends to follow in 2021.