10 Creepy, Kitschy, and Cute Halloween Decor Finds at Amazon
It's October, and you know what that means! Time to decorate your house like it's a nightmarish haunted asylum…or maybe just a slightly spooky stop for tiny trick-or-treaters. Whatever your Halloween decorating style, Amazon has what you're looking for. If you're trying to shop a little more ethically while taking advantage of the world's largest online marketplace, look for biodegradable paper decorations and items durable enough to use year after year. Or, check out Amazon's selection of handmade goods made and sold by small businesses.
Here are 10 of Amazon's coolest Halloween finds to get you in the decorating mood:
Continue reading below
Our Featured Videos
Now here's a piece of Halloween decor you're going to want to keep around for a lifetime. Made by Zanger Glass, this stained glass bat measures about eight by five inches and comes with two hooks and a chain. Hang it in a window to really see that vivid purple glass shine.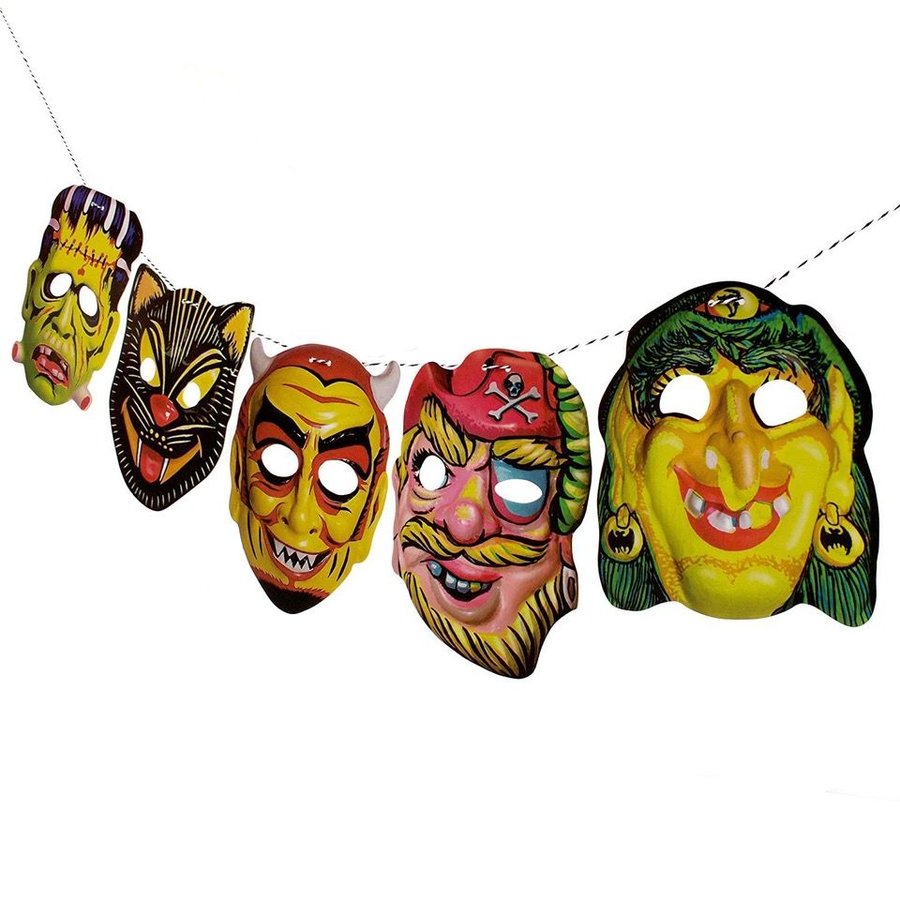 If you're nostalgic for the Halloween of your childhood, this fun paper garland by Rawbone Studio will bring memories flooding back. Made in the USA and double-printed on heavy yardstick, the garland features six-by-five-inch masks strung on seven feet of black and white baker's twine.
Made of tin, this twelve-by-eight-inch sign is ready to set the mood for your witchy Halloween interiors, but we wouldn't judge if you decided to leave it up year round.
Beistle's retro-style paper decor shop has all the cutest old-school decorations you could ask for, including this Witch Fortune Wheel Game, which is just begging to be a table centerpiece. Spin the wheel and get your weird, outdated, unnecessarily gendered (but undeniably fun) fortune. One example: "A little witch has picked you out, to prove her mystic powers, and every joy, beyond a doubt, will bring you happy hours."
Three fairly innocent-looking portraits transform into the creepiest of ghouls as you walk by them. This set of lenticular images measuring about 15 by 10 inches is perfect for hanging on the wall in your Victorian house of horrors.
From the handmade Halloween store comes this set of three large velvet pumpkins in bronze, fern green, and gold by Your Heart's Content. Measuring 6.25 inches wide, these classic fall decorations are the perfect thing to set on your mantel until it's time to redecorate for the winter holidays.
Want to make a big impact with as little effort as possible? A giant door decal is the way to go. This one includes two slanted bloodshot eyes and a set of bloody fangs to creep up your entryway. It comes in individual pieces so you can custom-fit it to your front door or even your garage.
Striking the ideal balance of creepy and cute, these three troublemakers are ready to haunt your yard. There are lots of black cat silhouettes on Amazon, but these have a little bit of extra detail, and they're made of metal, so they'll stand up to weather and repeated uses.
If you're the type to change out half of the items in your home every season, this one will appeal to you. Urban Villa's set of six checkered kitchen towels comes in a wide variety of colors, but obviously orange is the one you want for Halloween into Thanksgiving.
Head to the thrift store, grab all the candlesticks you can find, spray paint them black, and then fill them with this economical set of 14 black taper candles for extra atmosphere.
When you purchase through links on our site, we may earn commissions at no cost to you.