Transforming Hong Kong Apartment Makes Smart Home Tech Downright Zen
When you hear the words "high-tech apartment," you probably picture something ultramodern and packed full of visible gadgets. Even as more of us embrace smart home technology, this busy, flashy style doesn't necessarily hold broad appeal. But there's no reason why you can't enjoy minimalist or even zen interiors while also incorporating all the smart features you desire. For instance, Sim-Plex Design Studio seamlessly integrated all kinds of cool tech into this tiny Hong Kong apartment on the northwestern coast of Lantau Island – but you'd never guess by looking at it.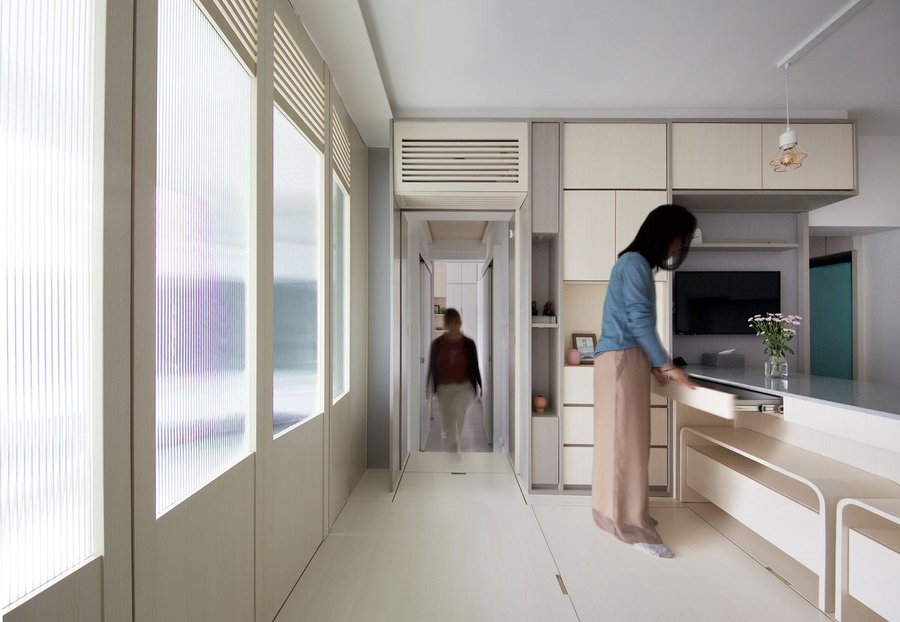 Continue reading below
Our Featured Videos
Led by principle architect Patrick Lam, the firm aims to challenge our perceptions of smart homes while exploring the many ways in which thoughtful design can maximize even the smallest living spaces. Lam brought his own experience living in a small tenement apartment in the infamously cramped district of Kowloon to this bright, airy, and absolutely brilliant renovation for a young family.
The narrow unit benefits from a wall of windows on one side facing a view of beautiful natural scenery. At first glance, the living area appears oddly empty. There are no appliances or furniture to be seen aside from an entertainment console and a television along one wall. Panels in the floor are the first clue that the space contains more than it appears to, concealing all manner of storage, pop-up tables, and more. All visible surfaces are covered in plywood and timber veneer for an even cleaner look.
"Eric and Lory moved to Hong Kong from Taiwan many years ago and have a son; Eric needs to travel frequently throughout the country, and Lory is a flight attendant," the architects explain. "Their lack of time spent at home means they often need grandmother to [come over and] take care of the children. Eric and Lory often talk about the scenery and homestay in Taiwan, and how they miss them so much."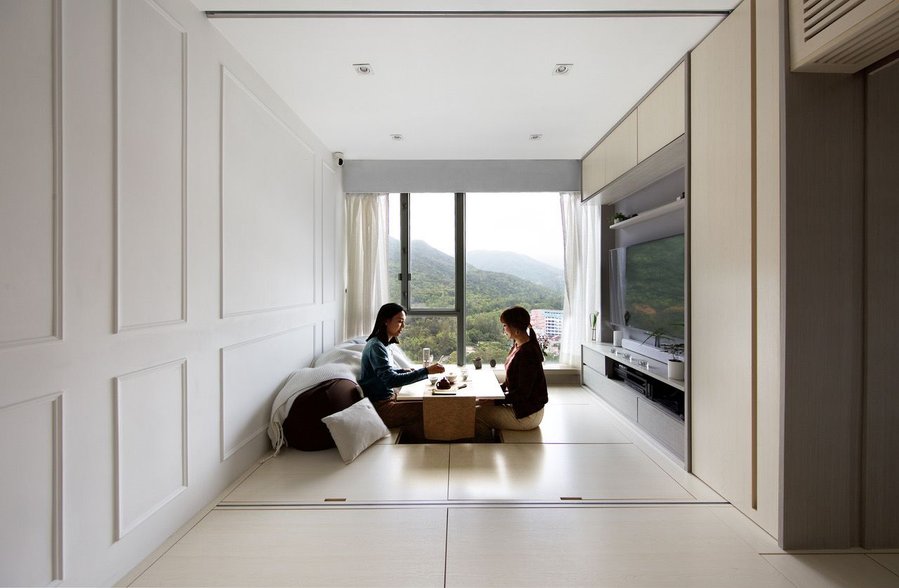 "Sim-Plex lifts up the entire living room with a wooden platform so that every corner can also come down at will. In addition to a large amount of storage, the platform also hides the intelligent lifting coffee table, creating a gathering point, sometimes as a tea ceremony, and sometimes as a toy's playground. The dining room is made up of an open kitchen with a quartz stone high-top dining table and two arc-angle storage chairs, so no matter [where you are] while cooking or dining, you could also enjoy the scenery outside the window. The windowsills of the two rooms are surrounded by wooden frames to match the natural scenery."
Ancient principles of feng shui and the latest in smart home gadgets coexist peacefully throughout the home. The architects also made use of natural materials, Zen philosophies about layouts that promote the proper flow of energy, and adaptable features that can meet the family's constantly changing needs. A sliding partition separates the living room and kitchen either for privacy or to create a fourth bedroom, and the master bedroom is a peaceful refuge full of built-in storage.
With Smart Zendo (named after zendo, a place for Zen meditation), Lam shows that high-tech home features like voice-activated lights, speakers, air conditioning, motor-powered furniture, and projection screens can actually be kind of poetic.
He notes that: "Haiku, the Japanese poetry, is deeply influenced by Zen. There are 'seasonal languages' in the haiku. The Smart Zendo in this case is just like the seasonal language, and the four seasons of the scenery outside the window are introduced into the room to make the perfect merging of home and nature, so that the emotions of the homestay can be fermented."