This Radiating Glass House Concept Pushes the Boundaries of Vertical Architecture
A revolutionary elevator model is the backbone of this sleek, spiraling glass home conceptualized over the rice fields of Xianggong, China by Italian firm Adriano Design.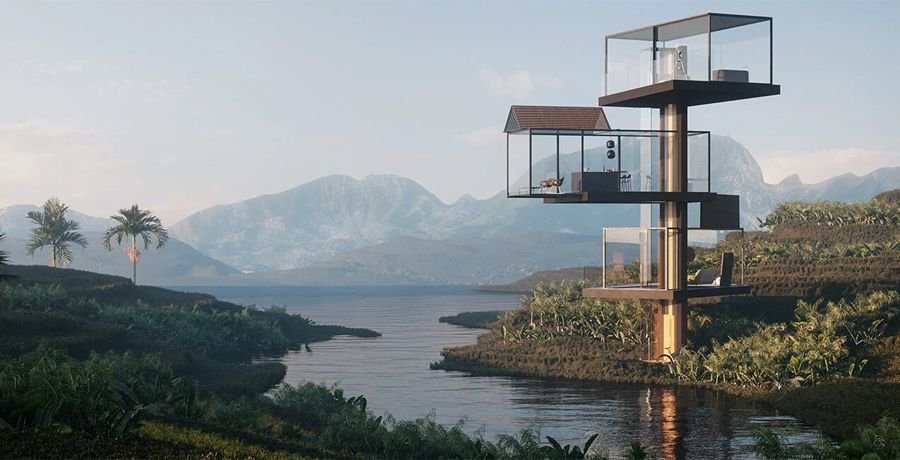 Continue reading below
Our Featured Videos
Company founders and brothers Davide and Gabriele Adriano, known for their radical reinventions of everyday objects, devised this transparent "House on the Rice Paddy" to show previously unexplored vertical architectural possibilities.
"Until now the main limit was the system of overcoming altitude through staircases, which has always represented a significant barrier in architecture. A new generation of elevators could be the solution that opens up semi-explored opportunities for architects," the designers explain.
With three glass rectangular rooms splayed around the lift axis, this modern home builds upwards, maximizing the view of the timeless rice paddies without creating a giant footprint. The clear enclosures provide almost 360-degree vantage points of the surrounding mountains and vegetation, with a slightly different vista in each space. The photos are renderings by Italian digital art firm Truetopia – and we'll assume the firm will work out the details of things like privacy and temperature control before the plan is actually implemented.
The silent 49-foot lift made of laminated glass is the only piece of architecture connecting the other spaces to the whole. It also allows the rooms to jut out over the landscape in ways that would be much more difficult with a traditional foundation. In the living room rendering, residents can gaze through the glass beneath their feet at the rushing water and reeds some 20 feet below.
Adriano Design incorporated China's traditional bamboo building material for the base and back panel sheathing, giving the house a strong tie to the natural background. The ancient wood is known for its trifecta of accommodating qualities: durability, flexibility, and sustainability.
The floors of the house are made up of resin cement, while the box frames are constructed from Corten steel, a nod to China's rapid industrialization over the past half-century. The roof of each level features shade structures created from heat-treated wood, one in a flat panel across the top, one in a traditional truss formation, and one as a stand-alone wall. The result is an individual pattern of geometric and reflecting shadows in each room.
Such an avant-garde design is nothing new for Davide and Gabriele Adriano. "We like to investigate products 'forgotten' by design and designers because they are 'uncomfortable' and/or difficult to reinterpret," the designer brothers said in an interview on Metcha, adding that "at the same time, we like 'impossible' challenges, like reinventing a wheel or an induction hob, products where it seems impossible to introduce our concepts of technological innovation and transformative meanings."
They stressed that practicality is still at the heart of their re-imaginings, though. "Normally our products have an initial 'wow' effect created by their conceptual and formal transformation…But, the part that makes our products unique, able to last over the years, and allows them to become a lever for transformation of companies is their technical side aimed at industrial invention and patentability."
Their company already has over 50 patents filed all over the world for things like their innovative foosball table and ceramic "Stack Stoves."