These Enchanting Ice Castles Add Wonder to a COVID Winter
Colossal crystal stalactites rise 30 feet into the air, forming the walls and towers of Brent Christensen's striking Ice Castle attractions. Winding through tunnels and caves, visitors can sit on frozen thrones, zip down chilly slides, and admire billowing snow fountains.
Continue reading below
Our Featured Videos
More than a decade ago, after his family relocated to Utah from California, Christensen experimented with sprinklers and icicles in his front yard to forge a one-of-a-kind ice cave for his children. People from all over the neighborhood soon started stopping by as word of the "castle" spread.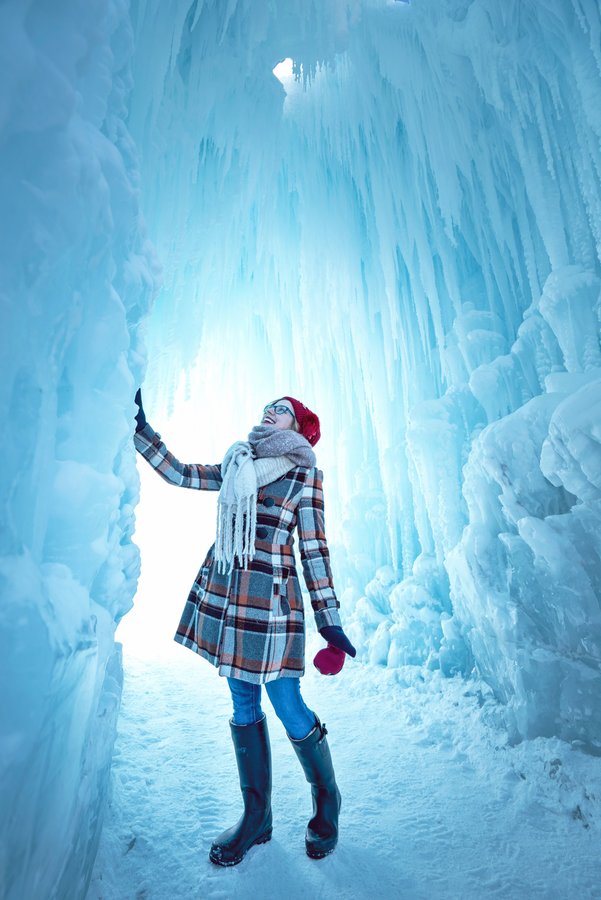 "I don't know if I would call myself an artist, but I do love to create," Christensen tells Dornob. "Ever since I was young, I've looked at things a little differently. There's something about the creative process…to be able to step back and look at something, whether its paper or metal or ice…that wasn't there before you came along. It's very empowering and very satisfying."
And what started as simply a winter boredom-buster for his kids has since expanded into a 400-employee, multi-site business for Christensen. Beginning with an interactive display in Midway, Utah in 2011, he and his company have put up Ice Castles all over the country to share the magic of their masterpieces.
This year's frozen palaces – located in New Hampshire, Colorado, Utah, and Wisconsin – each required two months of construction before the season opened. Every hand built castle starts with an icicle farm: metal racks where anywhere from 5,000 to 12,000 icicles are grown daily. After being hand-harvested and placed into deliberate arrangements, these icicles get doused with water and subsequently together. This process is repeated layer by layer, aided by wind and different freezing temperatures, until the magnificent glacial cathedrals emerge.
"It is artwork, but I think the art is out of our hands. We set up the pipes, we design what we want this experience to be like, but then the real artwork is what happens at night when its freezing and water is running and it's God taking over," says Christensen, who adds that he's "very careful to not take credit for what Mother Nature does – that's something that just happens. When you spray water at 10 degrees Fahrenheit you get these crazy, amazing, beautiful formations. That's the art in my opinion."
Every location has its own unique architectural plan. "All designs are very different," Christensen says. "I used to do them all myself. The designs tend to be a collaborative, cooperative effort, which always ends up better because you allow the individual site managers to get creative."
Each frosty structure includes more than 25 million pounds of ice, taking up about an acre of space. The team takes care that the water is never wasted though.
"In almost every case it] goes right back into the water source," Christensen explains. In Colorado, the melted ice is directed to a lake that heads downstream to become drinking water. And in Midway, the abundant geothermal resources are recycled into the water table at the end of the season. "We're just borrowing it and freezing it and then returning it right back. It's like water storage."
Christensen's frosty fortresses also incorporate music and colored LED lighting to foster added ambiance, but the entire operation uses very little electricity, making it an overall earth-friendly experience. His frozen inventions are also breathtakingly gorgeous, providing the perfect backdrop for family photos sessions, numerous wedding proposals, and even a music video.
"What I love most is bringing something novel and beautiful for people to experience," Christensen explains. "I remember the first time I built one in my yard. A car stopped and it was an older couple. They got out and [the gentleman] said, 'That's the most beautiful thing I've seen in 85 years.'"
"The number one thing [I enjoy] is the satisfaction, the gratitude involved in something that brings so many people joy, even if it's just once a year."
The Ice Castle season runs from late December through early March, depending on local weather conditions, with prices varying by location. Visitors should be aware that the attractions are operating at a reduced capacity this year due to COVID-19.