The Internet is Losing It for Emma Chamberlain's Renovated LA Home
After a year of renovations, wunderkind internet influencer Emma Chamberlain has shared pictures of her LA home with the public, showcasing a style that fits her authentic social media presence.
Continue reading below
Our Featured Videos
"I work from home, so I wanted to create something completely personal and comfortable," the 21-year-old told Architectural Digest. "I brought in references from many decades and design eras, and I tried to meld them into something that feels not only cohesive but new. It wasn't about following the rules or sticking to one aesthetic. I tried to approach it all with a lightheartedness and an open mind."
The process began when Chamberlain bought the five-bedroom, seven-bathroom estate in June 2021 for $4.3 million. The 4,440-square-foot home was built in 1955 and had plenty of existing charm with high, open beam ceilings and cozy fireplaces. She then enlisted the design talents of Ashley Drost and Marie Trohman of Proem Studio to help her put her own spin on the space.
"It almost felt like a summer camp, so we leaned into that mood. We described it as Wet Hot American Summer meets Troop Beverly Hills. Emma said, 'I love that idea, but I have no clue what you're talking about,' " an amused Drost recalls.
Chamberlain also turned to the world wide web to help her settle on a vision (only natural for someone with more than 11.8 million followers on YouTube alone). "I'm a mood board type of girl. I scoured every corner on the internet, every weird, deep hole on Pinterest," she says. "I find inspiration for the home everywhere, the same as fashion. It's all one in my mind."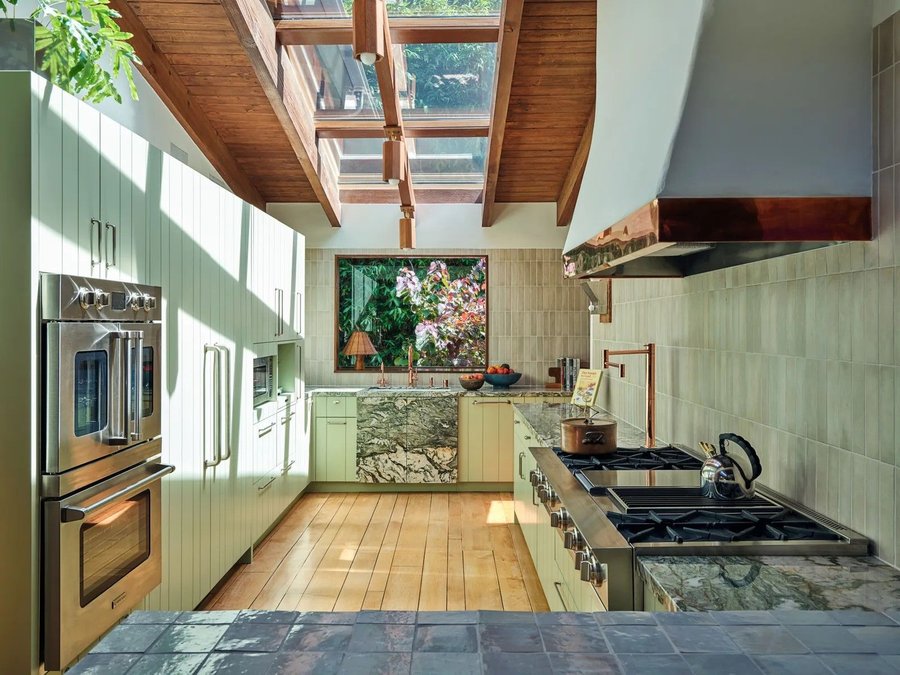 The home's color palette is muted and inviting. While the backdrop of the interior features lots of white and natural wood, the kitchen hosts a wash of calming green tones, and the bathroom has playful blue tiles splashed across the wall and floor. Drost and Trohman incorporated natural textures and materials like swaths of raw copper, cork ceiling treatments, and braided banana tree bark as wallpaper.
Quirky accents feel right at home for Chamberlain, who was once named "the funniest person on YouTube" by the New York Times. Among other things, the dining room chandelier is composed of a pair of oversized metal chains that end in glowing orbs, and there's a custom cat bed carved out of a vintage TV console. All throughout the renovation process, the young starlet has been hard at work on her popular "Anything Goes" podcast, building her Chamberlain Coffee enterprise, and collaborating with high-profile fashion houses like Louis Vuitton and Cartier to promote her brand.
Ultimately, "the most talked-about teen influencer in the world" (according to The Atlantic) isn't concerned about whether her followers or others dig her residential style. As she puts it, "I don't really care if people don't like it. I'm the one who lives here, so I have to love it. And I do."
Photos courtesy of Architectural Digest