The Grinch's Rocky Lair Opens to Guests in Utah for Christmas
This holiday season, a few lucky (or not-so-lucky) vacationers will get to stay at the personal lodgings of the Grinch himself, located high above Whoville – "three thousand feet up, up the side of Mt. Crumpit," to be exact. Vacation rental platform Vacasa teamed up with Dr. Seuss Enterprises to offer a getaway decked out in all the Seussian decor you'd expect from How the Grinch Stole Christmas. The site is actually located on a remote property outside Boulder, Utah, and offers several levels of living space encompassing 5,700 square feet.
Continue reading below
Our Featured Videos
The listing reads: "Mister Grinch, here. As we are all painfully aware, the most miserable time of the year approaches. Caroling, candy canes, and, of course, that constant, contagious Christmas cheer. Yuck. I myself, unlike every other Who, am getting out of town this year — far away from all the holiday hoopla with its fanatical, fantastical fa la la la la, la la la la-ing. Am I stealing Christmas again? Maybe. Am I visiting my Florida beach home? Don't worry about it. "
"Either way, good news for you. While I'm gone, you can stay in my cave. That's right, the legendary rocky residence of the world's most famous Who-villain can be your very own holiday hideaway. The halls of my entire cave are decked with all my favorite things — and Max's, too, of course. Vacasa will take care of everything (because I have no interest or time for that)."
Requirements: absolutely don't put on the Grinch's Turkish custom-tailored green fur pants, or his fur shoes, or anything else for that matter. And if you're the sort of person who likes the company of others, or, even worse, likes to host holiday gatherings (ugh), be prepared to bring the food you'll need, because this location is very remote. So remote, in fact, that you can't get here in any ordinary vehicle. You'll need "at least a Crossover" to manage the rocky road. P.S., there's no cable or internet in the cave.
There is, however, a paltry selection of questionable pantry goods like roast beast, Who-pudding, Who-hash, and Whamble-Bramble Crunch cereal, along with a coffee maker. You'll be terribly tempted to put on the Grinch's robe and settle into the library, at the table where the Grinch usually plays chess with his dog or at the telescope to spy on Whoville residents and watch for trespassers creeping up the mountain. The pipe organ, with its chaotic profusion of brass, and Max's drum set will also be alluring.
Gaze at the Grinch's villainous plans laid out on a drafting table, and perhaps try on his Santa hat disguise. When it's time to go to sleep, a spacious bed is waiting for you beside a glass wall gazing out at the stars. There's an additional bedroom and two fully functional bathrooms as well (because, as the Grinch explains, "I'm not an animal, you know.")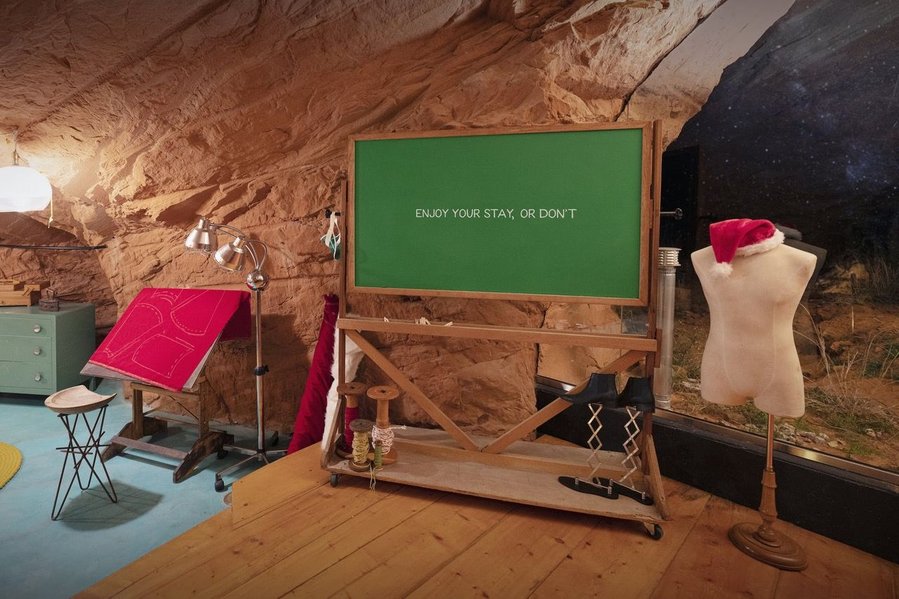 Alas, the grotto is fully booked for this holiday season, but all those who aren't able to travel there in person can still get a feel for the dramatic, festive space with an online 3D tour. Costing just $19.57 per night (in honor of the Seuss book's release date in 1957), the spots fully sold out as soon as booking opened on December 3rd, and guests stayed there from December 17th through December 23rd.