Thandiwe Muriu's "Camo" Portraits Bring Kenyan Women to the Fore
Thandiwe Muriu is sick of blending in. Born and raised in Nairobi, Kenya, the 30-year-old artist feels like she's often flattened "into the background of my culture," as she told the BBC. "And my experience as a commercial female photographer was realizing that very quickly – because of the cultural context – I can be dismissed and disappear."
Continue reading below
Our Featured Videos
Muriu captures this feeling with an ongoing fine art photography series called "Camo," in which African women adorned in vivid, eye-popping patterns stand against backdrops of the same pattern. They might be blending in a little bit, but they certainly don't disappear. Their personalities, architectural hairstyles, and fun accessories demand attention even in the busiest of compositions.
Highlighting the Unique Beauty of Modern Kenya
The Camo series bucks assumptions about modern Kenyan culture while celebrating its history, vibrancy, and uniqueness. It also puts dark-skinned black women front and center, defying a preference for lighter skin that has taken root even in Muriu's own country. The portraits examine how we can lose our individual identities to the expectations our cultures place on us, yet each of us has own own beautiful qualities that make us stand out.
Camo first began in 2015 when Muriu became fascinated with complex, hypnotic textile patterns, each one chosen for its uniqueness and visual magnetism. The prints themselves almost seem alive. Muriu spends hours sifting through fabric shops in Nairobi looking for the most confusing, loud, and bold fabrics she can find. She realized that placing "camouflaged" models in front of these backdrops drew the eye right to each woman's face, hair, and hands.
Tradition and Experimentation Come Together
Muriu researches traditional Kenyan hairstyles (the bigger and wilder the better) and finds ways to amplify and exaggerate them. Deliberately pushing back on Western beauty standards that call for sleeker, more "professional" hairstyles, the artist lovingly focuses upon cultural standards of beauty that she worries are being lost.
Upcycled accessories made of "junk" like bottle caps and discarded wire highlight Kenyans' enterprising nature. Every small detail of each portrait reflects the way young Africans reimagine and reinvent cultural traditions for the modern world.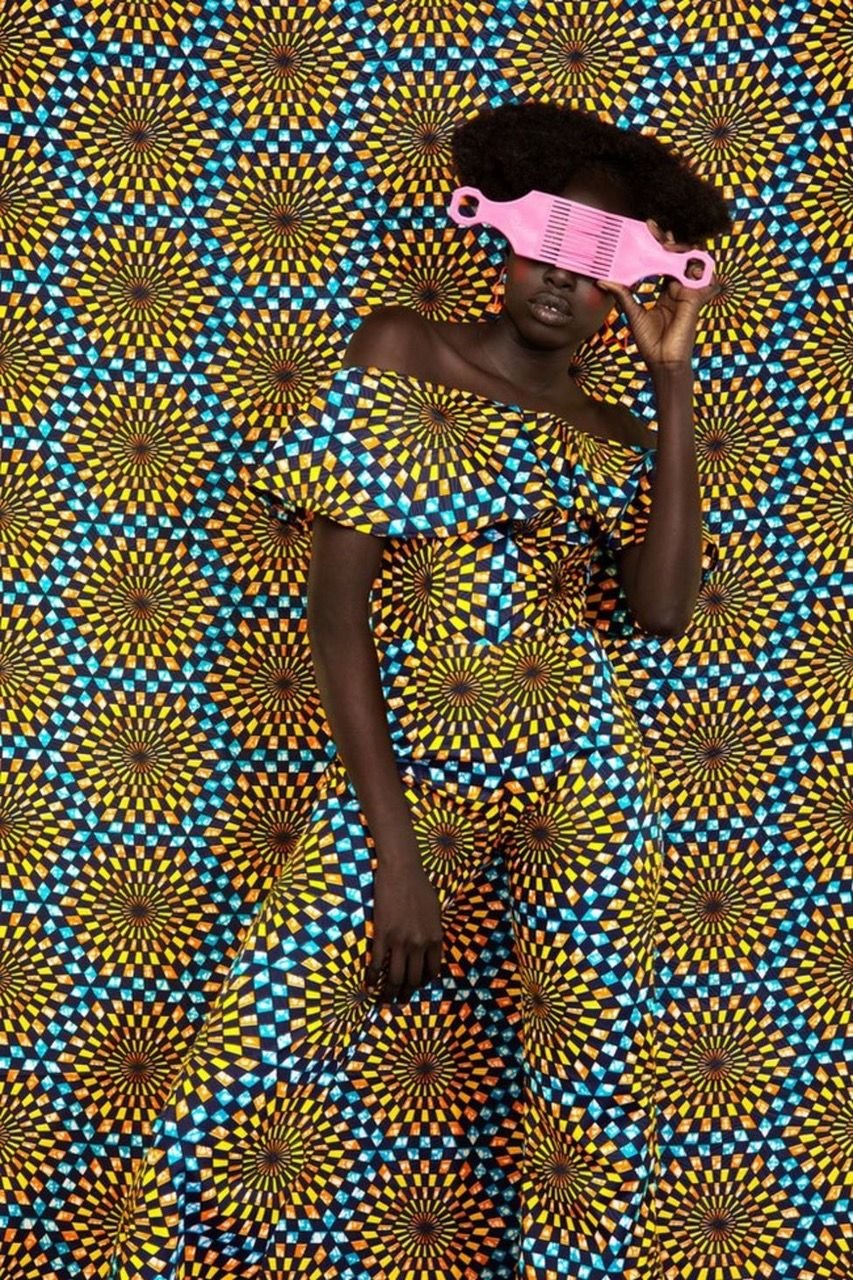 The full Camo series went on display at the 193 Gallery in Paris in 2021. Muriu sees it as a milestone achievement in her artistic career, and says she'll continue adding to it forever if she can. "I will always do more," she says. "A lifetime challenge would be to try and catalogue all of them and become the first modern archive of our hair and our fabric. Why not?"
About Artist Thandiwe Muriu
Muriu first became interested in photography as a 14-year-old growing up in a family full of creatives. One sister was a fashion designer, another a virtuoso pianist. After graduating from business school, she returned to her love of art, and signed her first contract for an international adverting campaign at the age of 23. While her day job keeps her traveling around the world on assignments, her personal work focuses on issues of identity, self-perception, and her African heritage.
Muriu lives and works in Nairobi, Kenya where she teaches photography workshops. She received the 2020 People's Choice Award for Emerging Photographer of the Year at Photo London.