Lamp Made of Steam Responds to the Weather Outside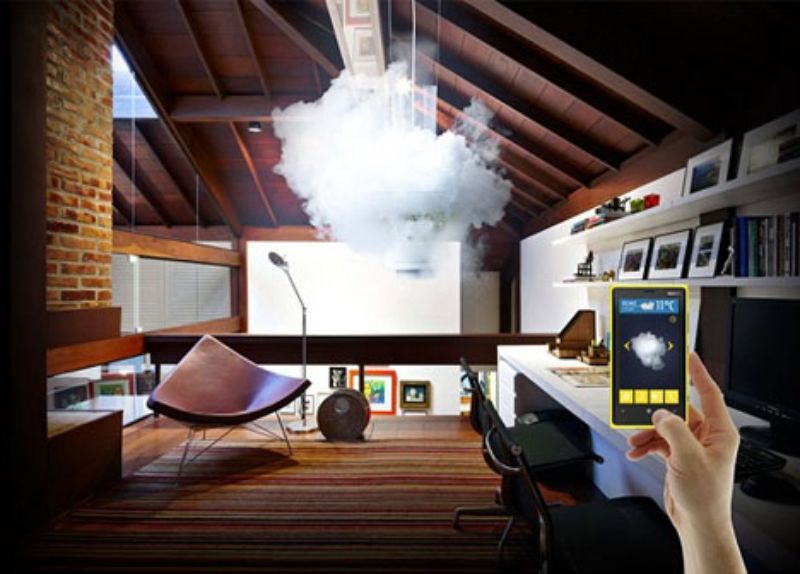 Some of us go to great lengths to forget how drab it is outside our home on a rainy day, but for those who want to celebrate the sunless sky, this device brings the weather to you. Developed by experimental Swiss studio Micasa Lab, the Nebula 12 is a cloud lamp connected to wifi that produces its own puffs of steam to mimic the weather outside.
Continue reading below
Our Featured Videos
Of course, it works for daylight-lovers as well, in its way, changing color over the course of our daily solar cycle to the transitions from reddish sunrise to purple sunsets.
"Nebula 12 can, like a natural cloud, change in color and brightness and thus can be used as a variable source of light for romantic evening meals, when doing homework, when reading or just chatting."
Tapped into the outside world via wifi, The Nebula 12 remixes liquid nitrogen and hot water, then uses suction to keep it in place. And for those who wish to mix things up a bit, it can be manually controlled as well, or tied into the news (good for sun, bad for clouds) and so forth, too.
"In the standard mode, Nebula 12 predicts the weather for the next 48 hours. A threatening low-pressure area is announced by a red cloud, and sunshine is shown in yellow. At the same time, the user can adjust the settings and define the source of information themselves. And the best is: regardless of how dark the cloud is, Nebula 12 never brings any rain. At least, not within one's own four walls."
One has to wonder how it affects the feel of your home to have a cloud of liquid nitrogen steam hanging out all the time – could it produce humidity issues? But as a novelty, it's pretty creative, and a fun way to impress your guests.