STEPS: Ultra-Compact Vacation Cabin
Continue reading below

Our Featured Videos
Step right up to the relaxing rooftop terrace that crowns this minimalist, ultra-compact vacation cabin clad in larch wood. 'Steps 15' was designed by Swedish firm Belatchew Arkitekter for outdoors brand JABO, offering a gorgeous getaway that's a bit too light on the amenities to make for an everyday abode, but just right as a backyard office, artist studio, guest house, playroom or potting shed. The interior is just a single blank canvas of a room that you can furnish for whichever purpose you choose, but it's the outside that's really special.
Plantable steps offer built-in garden boxes for decorative or edible plants, whether you want to get veggies up off the ground to keep them away from pets or just add a splash of vertical color. A staircase along the right side leads up to the elevated deck, effectively doubling the available space for structure's footprint. That makes it ideal for small yards, not to mention enhancing views of scenic locations. A powder-coated galvanized steel railing keeps it safe for kids.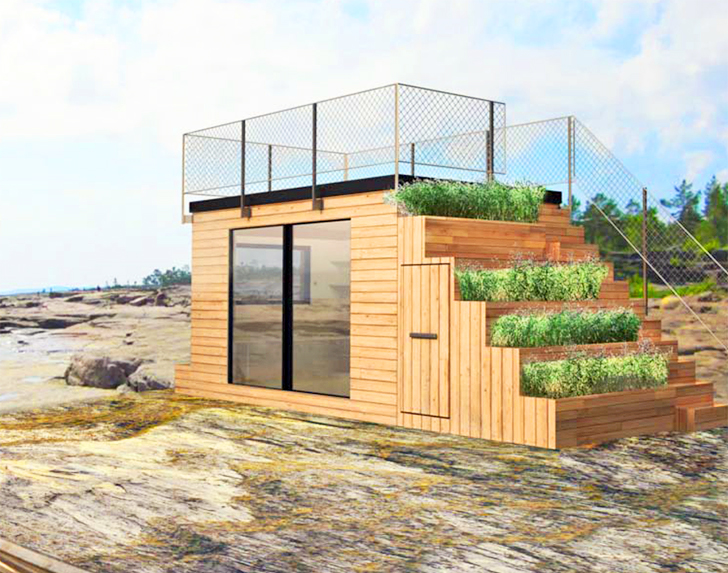 Hidden under those stairs are not only a storage closet but also an outdoor kitchen area that slides right out on casters, containing a full-sized sink and a countertop for food prep or a tabletop grill. A bench on the other end also contains built-in storage space. Large sliding glass doors enable a sense of connection with the landscape, and windows on two more sides bring in lots of natural daylight.
While details are light on whether this unit can actually be purchased and how much it costs, it appears to be prefabricated and portable, and certainly provides some creative inspiration for clever tiny house layouts.
"A bench at one of the gables conceals storage, and the stairs contain a growing tray and a retractable outdoor kitchen. Large sliding glass doors and windows on three sides make Steps a very contemporary guest house, hobby room or cottage."
"Steps is a small house with large spaces. It can be placed anywhere and offers many dual, and sometimes hidden, features. The bright interior makes Steps flexible and easy to furnish, says Rahel Belatchew Lerdell, CEO and founder of Belatchew Arkitekter."