Steel Lookout Point in Turkey Mimics the Flow of Lava
While their primary purpose may be rather practical, lookout points don't always have to be boring, forgettable platforms that fail to add anything special to their surroundings. Many architects choose to treat their designs as opportunities to flex their creative muscles, approaching them more like experimental sculptures that interact with their users in a fun way. After all, what's more likely to draw you out of your car on a scenic drive: a perfunctory deck looking out over a nice view or a structure that doubles as a work of art?

Observation points take on all sorts of forms: mirrored cabins that blend into their landscapes, treetop towers with incredible vistas, and floating platforms for the contemplation of watery scenes are just a few of them. But rarely do they lurk above the caldera of a volcano while mimicking the form of flowing lava like the stunning Nemrut Caldera Observation Route by architect Keremcan Kirilmaz and product designer Erdem Batirbek of Turkey. Created for the Bee Breeders Nemrut Volcano Eyes Architecture Competition, the concept taps into the site's history as an ever-changing mountain shaped by unseen forces.
Addressing the competition brief to create a dynamic visitor observation platform on top of the dormant Nemrut Volcano in eastern Turkey, the winding overlook provides unobstructed views of the landscape as intended, but the symbolism within its form goes much deeper than that, both physically and metaphorically. It creates a bridge made of vivid red corten steel and perforated stairs between a ski station on the site and the lookout point itself.

Continue reading below
Our Featured Videos
"Now dormant and peaceful, Nemrut Volcano was once a giant boiling engine of destruction," say the designers. "After many millennia of quakes, eruptions, tectonic crashes, and tears, this ancient inferno calmed down and became a colossal monument of nature, movement, and time, that now contains a small serene piece of eden inside. This means that Nemrut's journey is not complete yet; its story is still being written, while it is being constantly sculpted by movements from within and below."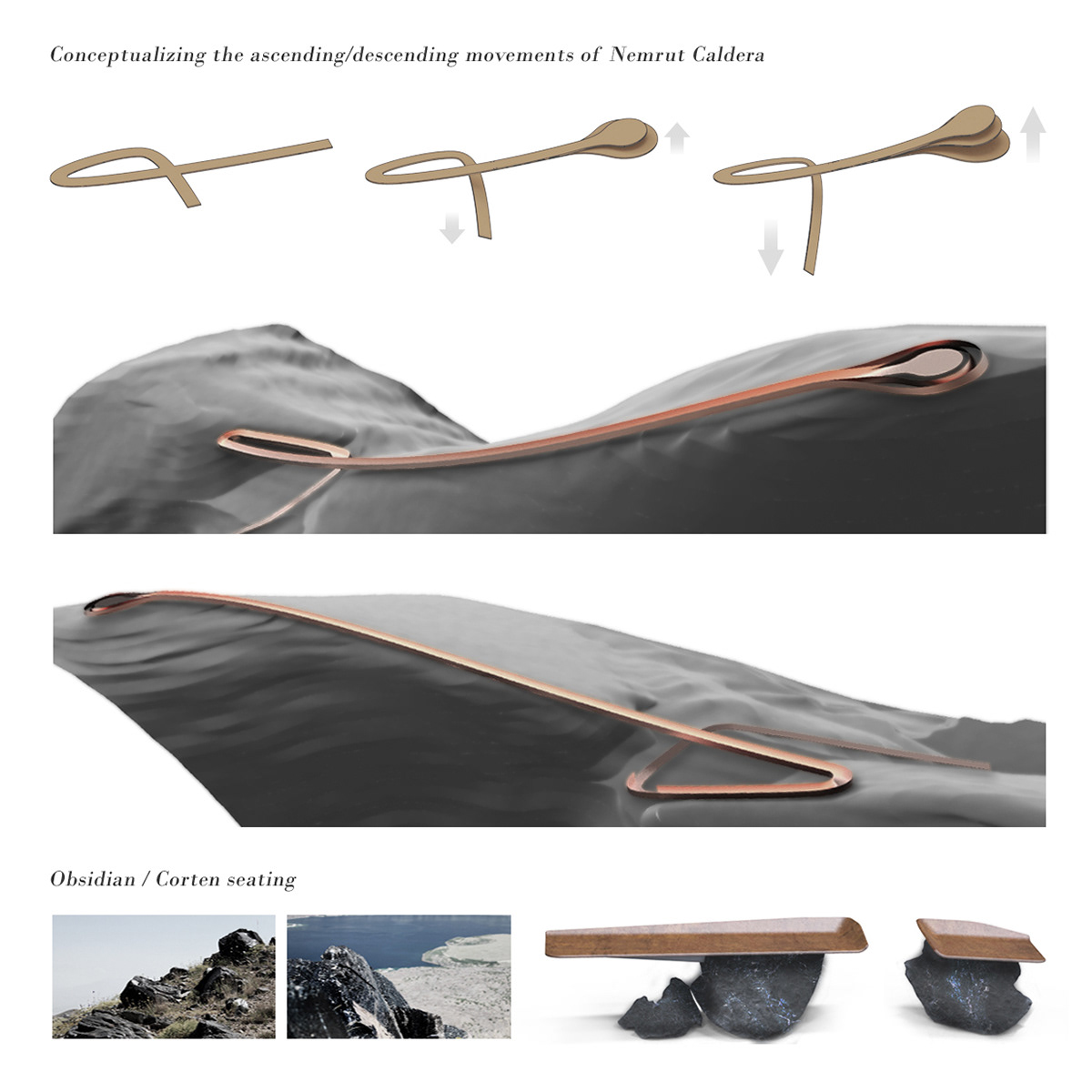 "Nemrut Caldera Observation Route was designed as an embodiment of Nemrut Caldera's continuous movement and ongoing journey. It is not a single platform with a single viewpoint, but it is an observation path that offers a journey with a variety of viewpoints. The visitor is not limited to a constant point on a single platform, [but] is an active observer who moves freely and is able to have unrestricted panoramic points of view."
The Nemrut Caldera Observation Route won second prize in the competition. The jurors praised the design for its sinuous form in keeping with Nemrut's history, noting that the detailed renderings were particularly effective in outlining the design and how it could potentially be constructed. The proposal's one downfall, as far as they're concerned, is the feasibility of physically supporting the platform.
But winning the top prize was beside the point, say Kirilmaz and Batirbek in a post-competition interview with Bee Breeders. The chance to design something out of the ordinary was a "refreshing exercise," and a rewarding opportunity to face a challenge and develop creative new perspectives that directly addressed it.