Sleek & Stylish Modern Sliding Glass Doors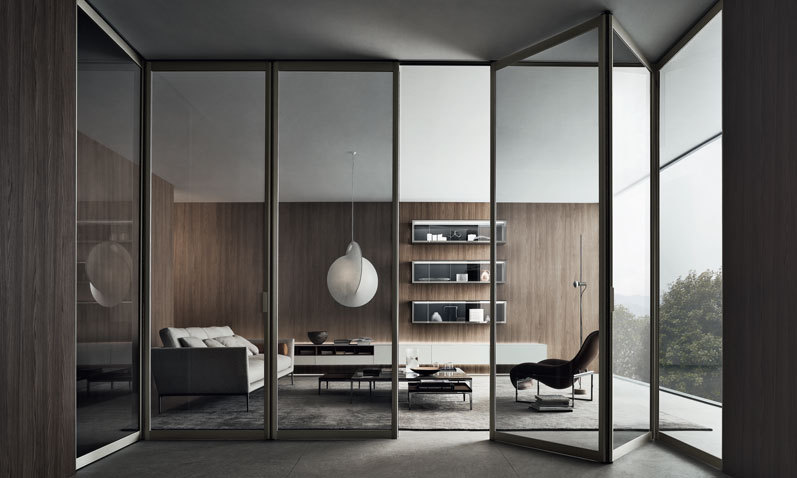 Italian design firm Rimadesio produces modern sliding door systems in a variety of finishes, to subdivide interior spaces while maintaining an open feel. Used in residential, office and retail applications, these door systems are custom-made to fit specific rooms.


Visually lighter than more conventional walls, these sliding doors provide a sense of separate space without making rooms feel closed off. The transparent glass collection, called Velaria, almost seems to multiply the space available, drawing daylight from one room into the next. The company describes them as "sliding doors interpreted with the utmost geometrical rigor. In the project panels are always custom made with a structural profile in minimum thickness aluminum that makes the most of the exclusive aesthetic features of Rimadesio glass. The system is fitted with patented innovative technical solutions to guarantee the utmost freedom of design, along with easy installation and exceptional reliability over the years."


Other collections, such as Graphis, range from slightly frosted to entirely opaque. Lacquered glass has a mirror-like effect, and some of the surfaces feature a metallic shimmer.

Continue reading below

Our Featured Videos


The Stripe collection is characterized by aluminum crosspieces on both sides of the doors for a screened effect, making them ideal for walk-in closets.
"Stripe is the system of sliding panels  characterized by aluminium crosspieces on both sides of the doors, thus making the compositions perfectly double sided. From living to night areas, Stripe is a system thought for any section of the house as well as for professional and public setting. A new interpretation of light as key element of the contemporary interiors, where a high graphic value is associated with maximum technological quality."
Whatever style you prefer, Rimadesio probably has an option for modern sliding glass doors that will meet your needs. Check out the rest of the company's beautiful selections at Rimadesio.com.