Fluid JAZZ Zaha Hadid Superyacht
Fluid and sculptural, architect Zaha Hadid's design for a series of superyachts produced by German shipbuilder Blohm + Voss takes visual cues from the water upon which it floats. Hadid has envisioned a bio-inspired, almost skeletal framework for a 128-meter yacht that will be slightly adapted for four additional 90-meter yachts.
Continue reading below
Our Featured Videos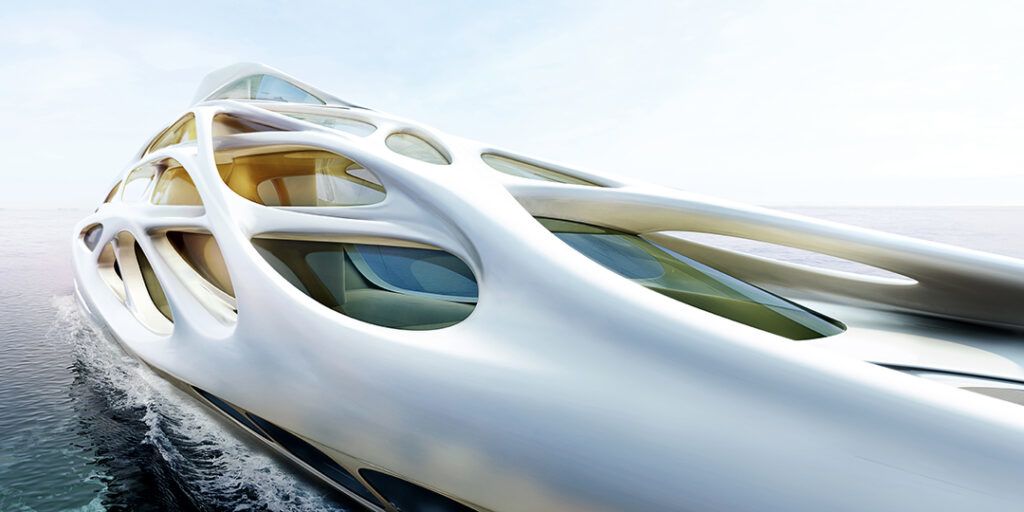 Hydrodynamic research led to the rounded shape of the hull, and the overall design is informed by fluid dynamics and underwater ecosystems. The interwoven network of glossy white supports on the hull form an exoskeleton that give the yacht an organic appearance.
Where most luxury yachts can be a bit blocky, with each deck stacked on top of the other in a predictable fashion, Hadid's design wraps each level in the exoskeleton for a more integrated, cohesive appearance. It's always nice to see a little biomimicry in Hadid's designs – there's not really enough of it in the mainstream architecture world.
"The overall design is informed by fluid dynamics and underwater ecosystems, with hydrodynamic research shaping the design of the hull. The exoskeleton structure of the upper section is an interwoven network of supports that vary in thickness and lend a natural aesthetic to the yacht's external appearance; evoking the organic structural systems of natural marine formations and connecting the various levels and decks of the ship seamlessly via expressive diagonals."
"Whereas traditional yacht designs adhere to a strict horizontal order, this exoskeleton creates an intense connectivity between the various decks and elements of the design. The fluid design language of the master prototype has been applied to the five subsequent 90m variations of the Unique Circle Yachts, creating a design with the highest correlation between the various options."
"The 90m JAZZ yacht is the first of the five Unique Circle Yachts that has been technically specified and detailed by the naval architects at Blohm+Voss. Its lineage from the 128m master prototype is evident, with further technical refinements to address the specifications required for ocean crossings. In addition to JAZZ, four further 90m yachts have been designed to fulfill the different requirements and individual requests of their designated owners. Each design will vary in layout according to the owners' preferences."