Samsung's STAR Labs Unveils "Artificial Humans" as Part of Neon Project
Artificial intelligence (AI) has captivated humanity for decades now, so it's no surprise that Samsung's new Neon Project was highly anticipated at this year's Consumer Electronics Show (CES) in Las Vegas, Nevada. Currently in the demo stage, the STAR Labs product is only about five months into development, meaning it's currently little more than a set of advanced computer-generated avatars. The potential behind the idea, however, is endless. The overarching goal is not only to give people an interactive avatar as a sort of personal sidekick, but to create learning, evolving companions. That's why company President/CEO Pranav Mistry refers to them as "artificial humans."
Continue reading below
Our Featured Videos
"Neon is like a new kind of life," Mistry stated in a press release. "There are millions of species on our planet, and we hope to add one more. Neons will be our friends, collaborators, and companions, continually learning, evolving, and forming memories from their interactions."
Unlike most other AI projects and virtual assistants, which are aimed at providing you with unlimited information at your fingertips, the goals of Neon are more focused on the human aspects of interaction. Samsung's CORE R3 "proprietary technology platform" is at the center of this goal, itself a combination of software applications aimed at endowing AI with human-like qualities. In other words, these avatars aren't just pre-loaded with a bunch of data. They instead work through a reality directive, which simply means that talking to Neon should be like talking to a human, complete with facial gestures, emotion, and limits of knowledge. Of course, Neon's knowledge wells will spring directly from Google.
Keeping conversations flowing in real time is the avatars' second goal, meaning that responses are instant, fluid, varied, and natural feeling. The third goal is to have the Neons be responsive. Again this goes back to the natural flow of human conversation. To advance this engagement, each avatar will be able to observe human emotion and interpret them appropriately.
The true potential for Neon is unknown. Obviously still in its infancy, the Samsung team has lofty goals and a long road ahead. A true prototype is at least a year out. During the initial work the question remains as to what Neons will even be used for. In fact, one reason for the quick reveal at CES was to gauge the public's response and gain feedback regarding what role the potential consumer would want them to play. Basic customer service is highly likely, performing tasks such as booking flights and performing banking transactions. But beyond these computer-like functions, the goal is to ensure a friendly and human-like interaction. As a companion, Neon could fill the void of loneliness for the elderly or sick. They could even entertain school children or model merchandise.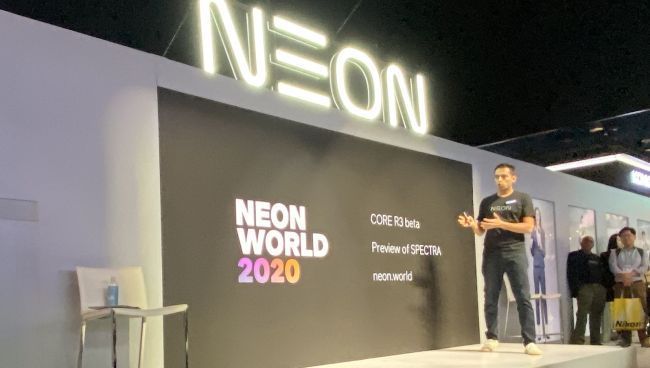 Right now, the avatars are based on existing humans, but the company has already stated that all future Neons will be created entirely from scratch (and no, they will not entertain the idea of creating real person look-alikes). After all, identity theft is one of the major safety concerns surrounding the development of AI technology. Another concern is sensitive data leaking. Don't worry, though, Samsung promises to never share anything you've shared in confidence with your Neon without your permission — even if you choose to use yours as a personal therapist.
While STAR Labs' (Samsung Technology & Advanced Research Labs) Neon sounds like a product from the DC institution of the same name, only time will tell where the technology will lead us in our quest for the perfect AI companion.