New Home in a Historic Stone Ruin
On the tiny island of Coll with just two hundred residents off the coast of Scotland sits a modest masterwork of modern renovation – a brand new home slotted delicately inside the (reinforced) crumbling stone ruins of an ancient local manor.
Continue reading below
Our Featured Videos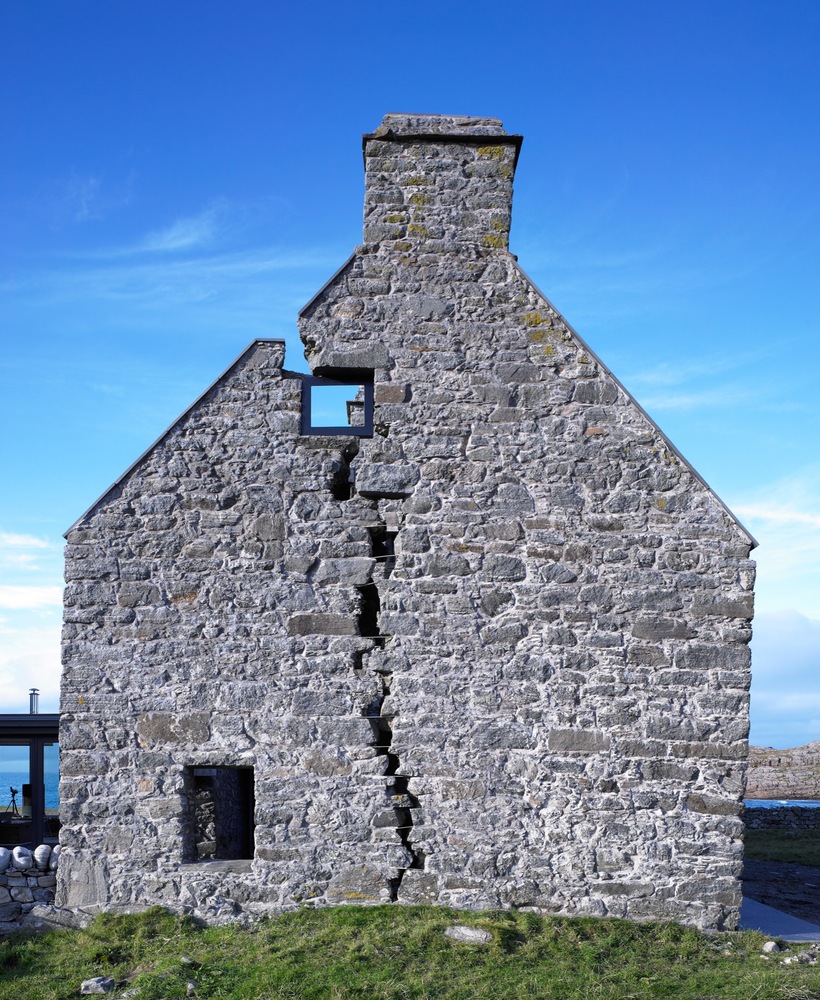 Planned around its predecessor, the new construction helps shelter the old, takes advantage of existing wall heights, window perforations and more to create a beautiful balance.
Stainless steel frames were delicately introduced to help hold existing walls together, prop up the sagging chimney and support a new door-overhanging lintel made of local stone. While digging to pour a new foundation, bronze age pottery was found and carefully exhumed.
The open-plan interior has layers of fresh-finished wood, flat reflective glass and sleek black-coated steel right alongside aged stonework walls, setting them apart visually while tying everything together … and placing the rough vintage edges, cracks and crevices in easy-to-touch locations throughout.
For all the polish of the finished product, construction was anything but easy. Between the fragile frame of the building and the fierce ocean winds, simply stabilizing the existing building remnants took WT Architecture months of careful planning and execution.
Outside the new structure, a high performance aluminised builder paper maximizes the insulation value of the building fabric while much sealing was required to bridge gaps between glass windows and stone frames. Overall, the intersections of modern forms and existing elements is beautifully balanced both from a large-scale and down-to-details perspective.
" The original house at Grishipol (rough bay) on the Hebridean Isle of Coll was built in the mid 1700's by Maclean of Coll for his Tac man, or Factor.  It was the first lime-built square-cornered house on the island and took on the informal name 'The White House' distinguishing it from the basic 'black houses' which were the norm on the island.  In 1773 Boswell and Johnston were entertained there whilst stormbound during their famous tour of Scotland.  But for all its grandeur the White House had been built on sand and was deserted in the mid 1800's as it started to crack."

"When Alex and Seonaid Maclean-Bristol inherited the building some 150 years later some of the cracks in the roofless ruin were more than a foot wide but the basic structure remained miraculously intact. Alex was brought up on Coll and returned to farm on the island with wife Seonaid after  spending some years away in the army."
"They were keen to create a house for their new family on the site but the nature of the ruin presented a problem.  Should they restore it or build a new house nearby?  It was at this point that we suggested that neither of these approaches should be taken and that the essential ruined nature of the structure was what gave it much of its magic.  So the idea of partial occupation of the ruin was explored with the intention that other new accommodation would be visually separate but physically connected to the ruin. "