Real Weapons Turned Into Home Objects
Continue reading below

Our Featured Videos
Brooklyn-based designer Jake Wright was surrounded by military-related objects from the time he was a child. Born to an Air Force Pilot and a military defense contractor, Wright was naturally drawn toward these materials in his design work. Known collectively as Stockpile Designs, Wright's line of furniture and home objects is based on obsolete and decommissioned military equipment.
"This lamp is made with the tail fins of a 100-lb bomb from the Korean War. Paint and corrosion are removed to expose gleaming steel, interrupted by rough machinists marks from the factory. Finished with a nickel socket, elegant cloth-wrapped cord, and a natural linen shade. Included is a card outlining the piece's history and care instructions."
"Base is 29″ from table to harp (where the shade attaches), and approx 7.5″ in diameter; shade is 17″ in diameter and 12″ tall. Made to order, ships approximately four weeks from order date."
The guts of these Korean War-era bombs have been scooped out and replaced with lamp wiring. Stockpile Designs also offers replica bomb lamps for those who like the look of the unique fixtures but aren't comfortable with having a disabled weapon in their home.
"Cluster bombs are deployed as huge cylinders packed with explosive bomblets. At a pre-defined altitude the casing of a cluster bomb opens, spilling the bomblets across a wide area. First deployed during WWII, they were most widely used during the Vietnam War. American forces dropped hundreds of millions of anti-personnel cluster bomblets over Vietnam, Cambodia, and Laos. Nearly a third failed to detonate on impact, and are still responsible for hundreds of injuries and deaths every year."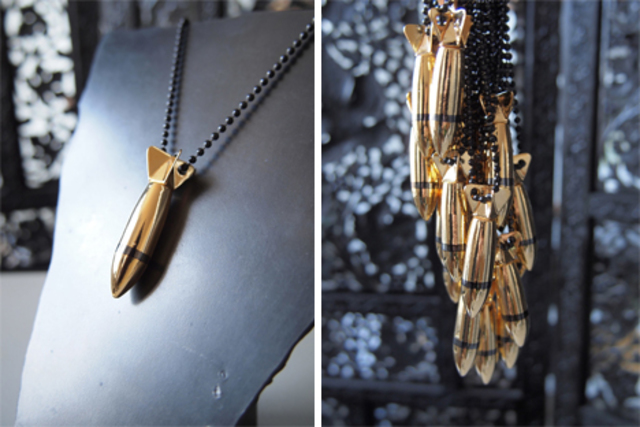 One of the most striking designs from the collection is the Bomblet Pendant. It's made from a "lazy dog" bomb that was never explosive, but could be incredibly destructive when dropped from airplanes – kind of like vertical bullets. Wearing one around your neck as an adornment might seem strange to some, but perhaps it can be seen as an expression of non-violence.