RCR Architects Win 2017 Pritzker Prize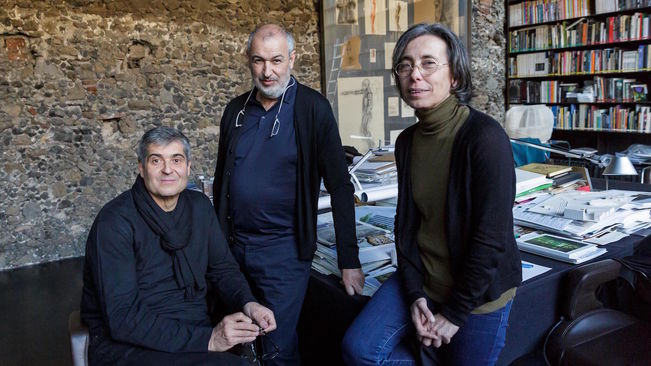 Catalan architecture studio RCR Arquitectes have been awarded the 2017 Pritzker Architecture Prize, the industry's highest accolade. The Spanish architects Rafael Aranda, Carme Pigem, and Ramon Vilalta claimed the prize's 39th crown this month and are only the second Spanish firm to be awarded the honor, following Rafael Moneo in 1996. Based in Olot, Catalunya, the practice was founded in 1988 and describes itself as a "universe of shared creativity," working across three branches—RCR Arquitectes, the architecture practice, RCR Lab-A, the research arm of the firm, and RCR Bunka Fundació Privada, the firm's foundation which encourages a thoughtful analysis of arts, culture, and architecture.
The announcement naming the small Spanish studio as the winners of the coveted prize was a surprise for many in the architectural community, as they are a relatively obscure name in an industry where big hitters like Peter Zumthor, Shigeru Ban, and Rem Koolhaas have previously been named as laureates. Their work is characterized by a finesse of materiality and a sensitive engagement with its context, which reflects strongly in the geographic location of their office in the volcanic foothills outside Barcelona, with the imposing Pyrenees as a backdrop. This relative isolation is echoed in the firm's offices, which act as something of an intellectual retreat that encourages cross-pollination of ideas to generate a specific response to each architectural project.

Continue reading below
Our Featured Videos
The Pritzker Prize jury was chaired by famed Australian architect
Glenn Murcutt
, who himself won the prize in 2002 and is known for his exceptionally functional yet highly contextually sensitive works exclusively sited in Australia. Murcutt's sentiments on the winning firm's work clearly echoes his own architectural philosophy, and he said of the winners in his judgement that, "The collaboration of these three architects produces uncompromising architecture of a poetic level, representing timeless work that reflects great respect for the past, while projecting clarity that is of the present and the future."
The practice has completed many notable projects over their almost 30 year career, some of which were singled out in the jury's citation of the award. The Bell-Lloc Winery near Girona was mentioned for its sense of place and the particular responsiveness of its materials and structure to its site, which sees the building buried into the ground, exploiting the natural conditions of rammed earth and echoing the constraints of the winemaking process. The Soulages Museum in France is another example of how the architects respond to the particulars of the brief and the site. A series of cubic volumes cantilever over the site, extending and retracting as they fulfill the spatial requirements of the art gallery inside.
The prize comes with a $100,000 grant and a bronze medal given at a ceremony in Tokyo in May. The jury continued with their high praise of RCR, saying "Their works admirably and poetically fulfill the traditional requirements of architecture for physical and spatial beauty along with function and craftsmanship, but what sets them apart is their approach that creates buildings and places that are both local and universal at the same time."