Pulsating Painted Glass Panels Create an Immersive Exhibit of Light and Sound
A dazzling new installation at art collective Meow Wolf's space in Las Vegas surrounds you with pulsating visuals of natural life, augmented by a complementary live DJ set. They might look like projected digital animations, but the reality is far simpler (and perhaps more impressive) than that.
Continue reading below
Our Featured Videos
Venezuelan artist Claudia Bueno spent eight months hand-drawing vines, seashells, coral, and other plant and animal life onto 60 glass panels, all of which were then meticulously superimposed on top of each other. As lights shine through the glass from different angles, they illuminate the various layers of drawings, creating an illusion of movement. The entire process, from idea to installation, took three years to complete.
"The process required sharp focus and lots of patience, and it was very rewarding to see the shapes grow as we built up the layers," Bueno told DeMilked. "This piece comes to life and gains movement with a custom designed system of lights and sound which also involved long collaborations with two artists specialized in these areas. It is magical to see it all come together now in Meow Wolf Vegas and realize that everything we planned for is working beautifully."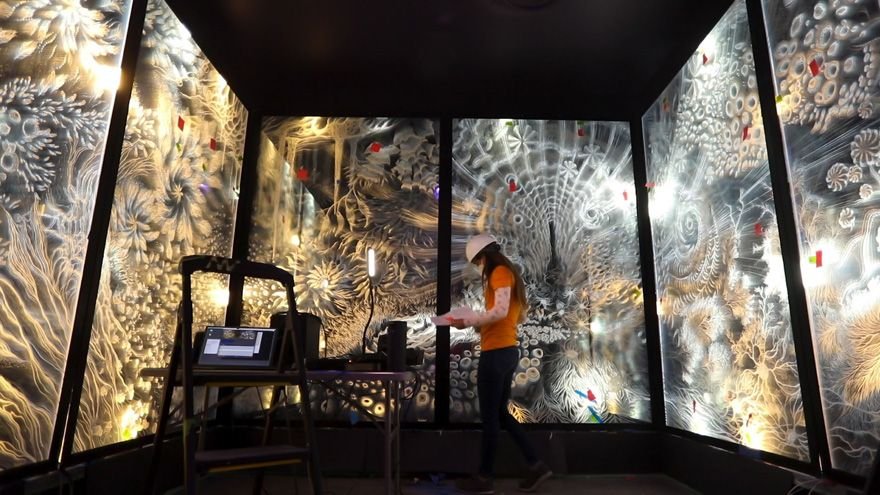 Close-up shots of the panels in progress give us an idea of just how complex these layered drawings really are. Each individual flower, leaf, sea anemone, and coral branch is repeated in dozens of layers to produce an illusion of three-dimensionality. The effect is apparent even without the addition of the lighting system, but when it all comes together, it's truly spectacular.
Bueno has a background in painting, set design, and animation, all skills that came in handy as the "Pulse" exhibit came to life. She spent six years engineering systems that make her art appear to move of its own volition using motors, tracks, light systems, and wind.
The most amazing thing about this installation is the fact that it isn't digital. High-tech immersive installations like those created by digital art collective teamLab are undeniably incredible, but they're made using a host of sensors, computers, and projectors. Bueno's creation is almost entirely analog, by comparison, but achieves a similar effect, albeit on a smaller scale. It's interesting to see how very different methods can be used to produce similarly breathtaking visuals.
"Pulse" will be a permanent installation in Meow Wolf's second permanent exhibition space, Omega Mart. Established in Santa Fe, New Mexico in 2008, Meow Wolf "creates immersive and interactive experiences that transport audiences of all ages into fantastic realms of story and exploration," which includes installations like Bueno's, video and music production, and much, much more.
Here's a bit more information about Claudia Bueno, via her website:
"Through her own intricate process of immersive suggestion, Claudia creates large scale multi-sensory light installations that communicate a profound sense of wonderment and awe. Designed to guide spectators on a contemplative journey, these hypnotic worlds are populated by signatures of life from micro to macro, existing in communion and living as one interconnected cosmic web. Fluidly pulsating colors and ever-evolving sounds make the creations come all the more alive."
"Claudia has been inviting adventure and collecting cultural experiences that enrich her life and inspire her creative process since leaving Caracas at the age of 20. Strongly committed to inner healing and spiritual growth, Claudia fills her art with a quality of mystical curiosity that mirrors her personal fascination with energy, consciousness, and nature — ultimately transforming her art into a celebration of life and creation."