Prague's Vltava River Vaults Feature Giant Pivoting Hobbit Doors
For decades, arched doorways embedded in the embankment of Prague's Vltava River hinted at mysterious spaces beyond. Now, those doorways have transformed into enormous elliptical windows that light up at night, welcoming the public into a whole new world of subterranean spaces. The project is part of the ongoing revitalization of the Czech capital's riverbank, initiated in 2009, converting a formerly disused space into a lively waterfront promenade.
Continue reading below
Our Featured Videos
Petr Janda of Brainwork Studio is the principal architect of the three-phase project, which starts with the renovation of 20 vaults set into the Rašín and Hořejší embankments in the area known as Náplavka. These hollowed-out spaces are referred to by the Czech government as "dungeons," and in the past likely served as storage spaces for ice and goods arriving and departing in ships along the river. Now, they've been converted into shops, galleries, cafés, workshops, and public restroom facilities with curving walls and ceilings made of sandblasted concrete.
Six of the vaults have the stunning 5.5-meter (18-foot) pivoting windows in place of doors, which open at an offset angle and allow customers to step within their plastered minimalist interiors. Stepped stone details at the base of each arched doorway disguise elements like air conditioning ducts and flood prevention features. The rest of the vaults on the Hořejší embankment boast sculptural blackened steel doors. Each one has a multipurpose freestanding furniture unit that can function as a reception desk or bar counter, and the individual businesses occupying them are free to customize them as they like. At night, when the glass-fronted vaults are aglow, they draw in curious passersby who come to the area for farmers' markets, exhibitions, concerts, and theater performances.
The next two phases of the restoration project, also spearheaded by Brainwork Studio, will include a floating pool (echoing the historical placement of swimming pools along the Vltava embankment) and a terminal for cruise ships. The floating pool facility is supported by a structural system of steel ribs, and the deck "appears boundless, thanks to its infinite water surface," with a variety of depths suitable for different users and types of swimming. Floating restroom facilities that visually complement the pool will also be included in the design, accessible directly from the riverbank promenade.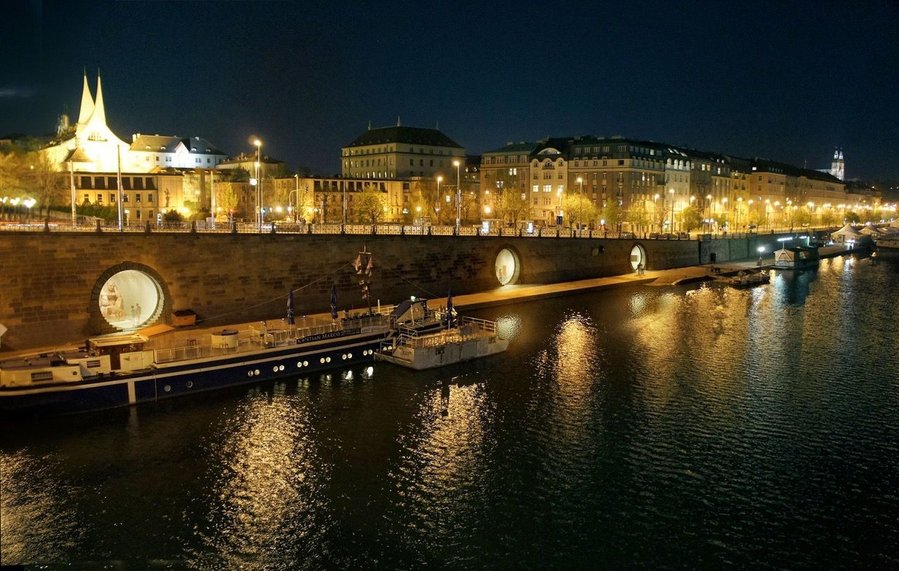 The terminal will function as an amphibious intersection between the bank and the river, its appearance drawing from the visual character and traditional shapes of shipbuilding.
"Its predominant feature is the balance between the (in)visibility of the terminal and its strong architectural design derived from the nautical morphology, as well as the visual mimicry connecting the terminal with its native environment," says Janda. "Thanks to the optical effect created by the deck edges tapering into cutting edges, it dematerializes more on both sides, which is emphasized by the reflection of the water and sky on both surfaces of the terminal wings. The basic shape is based on the spatial rotation of three propeller blades, which was further shaped with regard to the functional arrangement of the building."