Attic Window Transforms into Pop-Up Balcony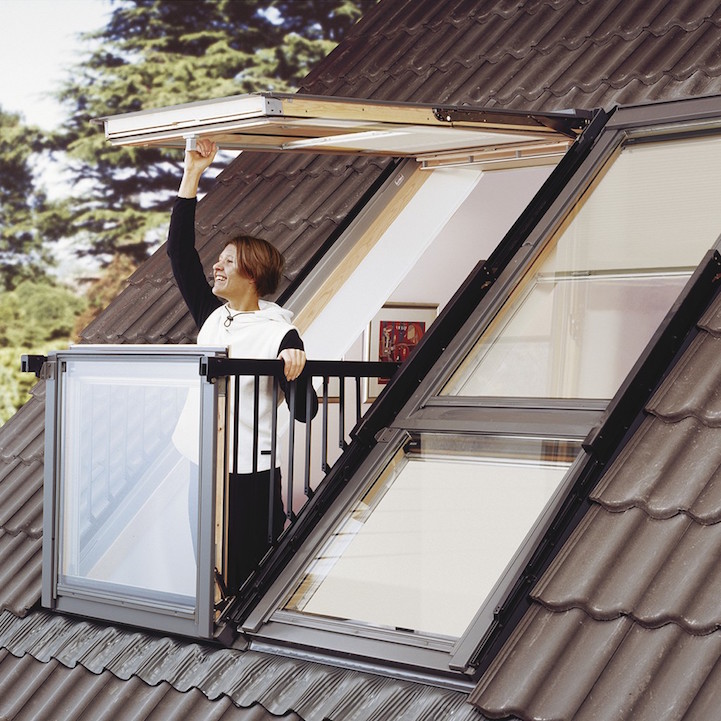 Continue reading below

Our Featured Videos
Attics and upper-floor spaces with angled roofs can feel stuffy and constricting, often cut off from both daylight and fresh air. Instead of renovating the roof to add attic windows or balconies, you could have both in one. European window manufacturer Velux offers dormer windows that transform into outdoor spaces in seconds, the bottom half featuring pop-up banisters and the top half opening vertically into an overhang.
The Cabrio system fits snugly into the roof when closed, but becomes an instant balcony just by pushing both panes open. Available in single, double or triple formats, they bring daylight, fresh air and a view to rooms under sloping roofs, making the space inside feel dramatically larger and more open.
The top-hung section rotates 180 degrees for easy cleaning, and protects the indoor space in case of sudden rain. Previously unusable floor space butting right up to the ceiling becomes an indoor/outdoor lounge space.
If you want an instant balcony that's a little larger, there's also an option for a triple window with bottom panes that swing out to the side, creating a full-sized door leading to a small terrace with a standard balcony railing.
"VELUX CABRIO balcony opens in seconds to give your loft space a place in the sun. The innovative balcony adds air, light and a great view to your home. For added convenience, the VELUX CABRIO balcony fits flush with the roof when closed."
"Enjoy a balcony instantly – VELUX CABRIO® goes from roof window to balcony in seconds. Bring the outside in – let in more natural daylight and fresh air. Roof window or balcony – your choice – the top half opens like a traditional roof window."
"With a small investment, you can dramatically transform any room in your home with daylight and fresh air. In the long run, installing roof windows will help you save on your utility bills. Costs vary depending on the number of roof windows and your ceiling type."