Modern Update to Traditional Oriel Bay Window
Our ideas about how bay windows are supposed to be designed and constructed typically involve ornamentation, various non-right angles and perhaps even curves. Maybe most of all: these design ideas, informed by history and common knowledge, seem appropriate only to a certain kind of conventional house. Traditions change, however, as designers find new ways (such as this) to fit classic ideas into contemporary homes.
Continue reading below
Our Featured Videos
First, this window is extremely rectilinear – a right-angled box sticking out from the side of this structure. Second, minimalist metal trim covered by edge-to-edge clear flat glass reinforces the modern appearance of the design. Finally, set against the aged brick predating this renovation project, a clear distinction between old construction and new addition is reinforced.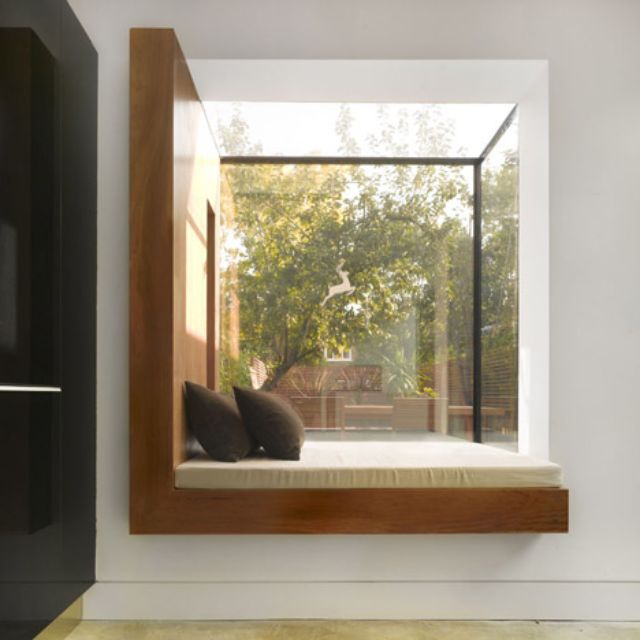 From the interior, the stark modernism of this bay window variant is all the more impressive – simple materials, straight lines, and accentuated planes make this seem almost like an outdoor sun room as opposed to a thrust window seat. The resulting interior/exterior interplay of modern and traditional reflects the mission statement of the designer, Platform 5, which involves creating "innovative and cost effective designs that respond to their physical and cultural context … elegant designs with conceptual clarity … informed by both traditional craft based techniques and the possibilities offered by modern materials and fabrication methods."
The project is called "Mapledean Road."
"Mapledene Road is situated in a conservation area in Hackney. The property had been stripped of virtually all its period features and had become run down and used as a "crack den" leaving it ripe for modernization. The cellular ground floor was opened up and extended to the rear to allow the spaces to flow into each other and to the garden."
"The kitchen and patio areas are unified by a concrete floor and London stock brick garden wall. The expansive glass roof opens up the view to the sky giving the space an external character. The project won NLA's Don't Move Improve Award and was shortlisted for an RIBA Award, AJ Small Projects Award and the Grand Designs Awards 2009."