Over 500 Sculptures Found in Finland After Artist's Death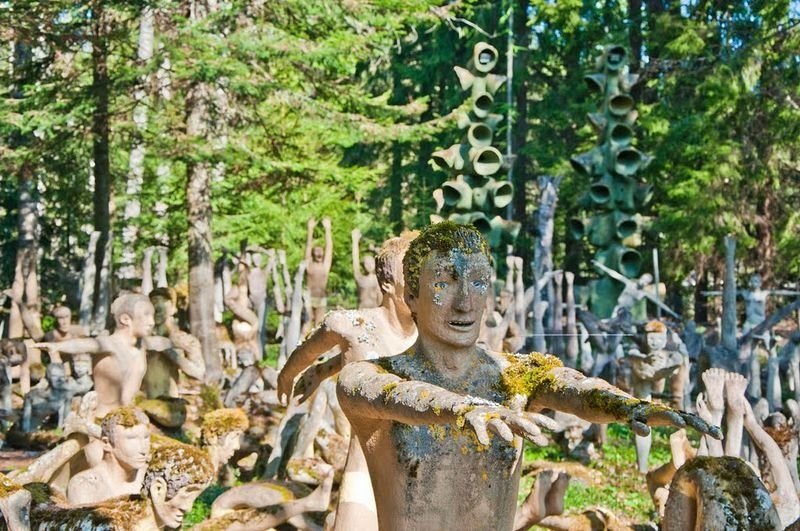 Continue reading below
Our Featured Videos
Veijo Rönkkönen was described as a recluse by those who knew him, and how he spent his time was known to few. But following his death in 2010, over 500 concrete figures were discovered sprawled throughout the forest where he lived. Now known as the Veijo Rönkkönen Sculpture Garden, the extensive outdoor museum is a result of 50 years of loving artistry that currently attracts around 40,000 visitors annually.
Rönkkönen was born in 1944 in the rural hamlet of Parikkala, Finland, just a few miles from the Russian border. At age 16, he took a job at a paper mill, where he continued to work for the next 41 years. Outside of his job, it appears he spent nearly every minute of his life at home, reading about the people of the world and making sculptures. His subsequent understanding of the planet is represented in the hundreds of figures he left behind, seemingly representing every culture, ethnicity, and age of the human figure, along with some non-human subjects, as well.
Although Rönkkönen allowed some people to tour the garden while he was alive, he was reportedly never comfortable drawing attention to his work. He never charged visitors, but he did maintain a guest book they could sign as they left the property (although he almost never engaged with anyone personally). He was such a recluse, in fact, that in 2007 when he was awarded the Finlandia prize, his brother went to accept the award on his behalf. Following his death, the sculpture garden and accompanying property was purchased by Finnish businessman Reino Uusitalo who, together with the Union for Rural Culture and Education, refurbished the sculptures as needed and opened it to the public for tours.
Visitors can explore the vast property, taking in each face that greets them — faces that both gleam happiness and exude terror — along with every emotion in between. Some figures even boast a mouth full of real human teeth, grinning innocently, happily, or sneeringly.
That fact that few were aware of Rönkkönen's mysterious pastime adds to the intriguing essence of the garden, yet his sculptures still allow one to guess his passions, thoughts, and interests. For example, he must have enjoyed practicing, or at least studying, the art of yoga, having crafted some 200 to 250 figures frozen in a variety of yoga poses meant to be self-portraits.
Others statues represent cultural moments, such as two naked women with long hair braids washing laundry in colorful blue bowls using a washboard. In another scene nestled into the trees, a man plays a Kantele, a traditional Finnish instrument, while ladies dance around him.
Not particularly lifelike by design, some faces resemble ghouls while others reflect a look that is anything but human, amplified by speakers hidden deep inside that exude unintelligible sounds.
In addition to carving figures, Rönkkönen also put significant effort into planting flowers and trees on the land. As legend has it, when he earned his first paycheck at the age of 16, he purchased apple tree seedlings and a bag of concrete, the foundation for his 50-year-long passion project.