Ultimate Underground Mountain Home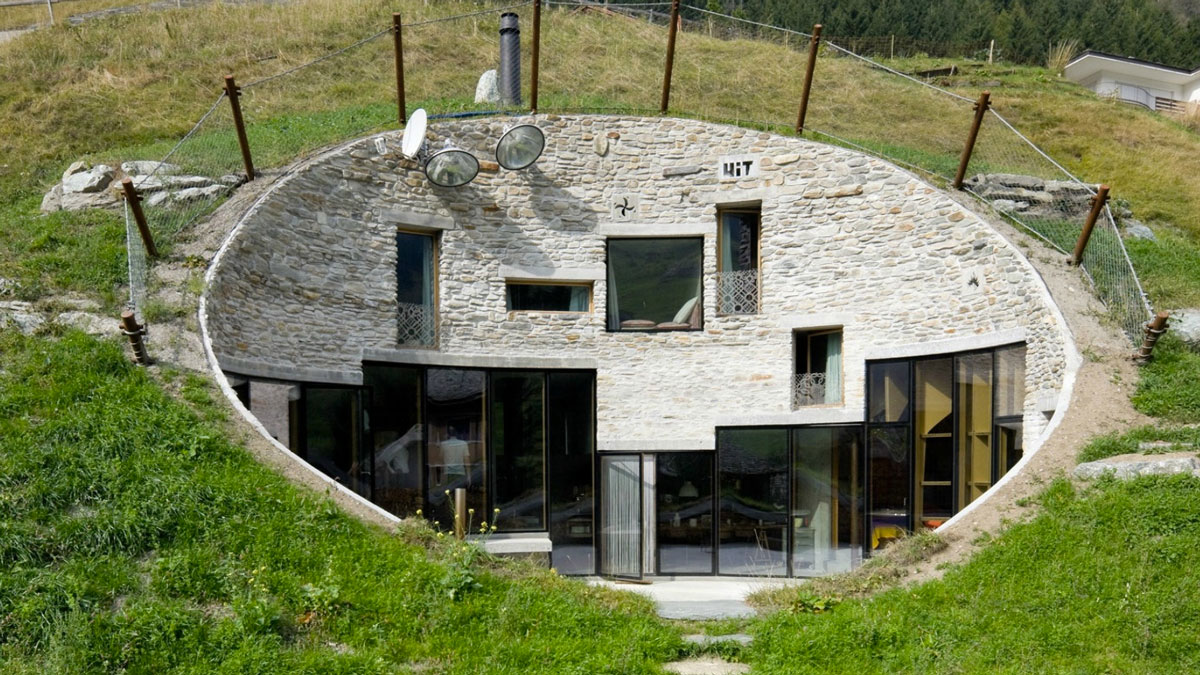 Continue reading below

Our Featured Videos
Cavernous but wide open, dark and heavy but bright and spacious, this incredible underground house is the ultimate expression of architectural opposites fused into a single spectacular earthen living structure buried in the mountainous ground of the Swiss Alps. "Villa Vals" is a collaboration between SeARCH and Christian Müller Architects, and while there are lots of subterranean houses built into hillsides in the world, none are quite like this.
Like a modern version of a mythical hobbit house, Villa Vals is built right into the hillside in its mountainous Swiss setting. Rather than wrapping outward around the home, the exterior facade circles inward and faces an oval forecourt – a curved impression in the ground like the space left behind by a giant mysterious egg.
From within, this odd opening frames amazing views of the surrounding green hills and distant white mountains as well as providing a sense of enclosure and security for residents within the home and front courtyard area – a one-sided yet stunning view as opposed to the normal full-surround sights normally expected of a mountain home.
Constructed of stone and concrete, the house feels solid and safe inside and out – yet manages to have copious openings to allow natural light to flow effortlessly into every interior space.
Wood accents bring in further natural elements but also provide colorful textured highlights against the more neutral gray of the core structure.
Despite its highly unconventional and contemporary form, there is much that is comfortable and traditional in this home as well – again embodying a strange set of opposites, featuring both phenomenally forward-thinking design strategies and traditional construction and decoration techniques.
"Shouldn't it be possible to conceal a house in an Alpine slope while still exploiting the wonderful views and allowing light to enter the building?" the architects write. "Surprised that it was permissible to construct a pair of dwellings so close to the world famous thermal baths of Vals, the client seized the opportunity to develop the site, without disturbing the bath's expansive views. The introduction of a central patio into the steep incline creates a large façade with considerable potential for window openings. The viewing angle from the building is slightly inclined, giving an even more dramatic view of the strikingly beautiful mountains on the opposite side of the narrow valley."