Nothing Phone 1: A See-Through Smartphone with Tron-Like Glyphs
Every other year or so, Apple tweaks its iPhone design just a tiny bit, seemingly believing that it's pretty much perfect as-is. Androids from brands like Google and Samsung get a bit more adventurous with innovations like folding screens, but few new smartphone designs really break past utilitarianism to offer fashionable looks and a sense of fun. For the most part, smartphone releases haven't been exciting since the early days of the iPhone, when it was still a rare luxury item. That's where the Nothing Phone (1) comes in, with a series of surprising visual features. But is the "Tron" vibe of this flashy phone just a gimmick?
Continue reading below
Our Featured Videos
The first model from the UK-based company Nothing, the Android-based Phone (1) features a transparent back panel and "glyph" interface with lights that sync to flash in unique patterns for every custom sound, including 10 unique ringtones. That way, you know who's calling, what kind of notification you're getting, or whether your battery is getting low without even having to pick the phone up off the table. The system uses over 900 LED lights to illuminate four different shapes on the back of the phone, including the charging gauge.
Yes, the lights are bright, but thankfully they're adjustable (though the phone does come with a warning that the glyph interface may not be safe for people with epilepsy). To silence sounds and enable lights-only notifications, you just flip the phone with the glyph interface facing up. Plus, you can program a daily schedule so the glyphs turn off when it's time for bed. According to the company, this is just the beginning of what the glyph interface will have to offer.
The phone comes in both black and white, with the former emphasizing the glow of the glyph lights.The interior components are protected by Gorilla Glass on both sides. It's quite large in size, measuring 6.55 inches with a 1080p OLED screen, making it about the size of an iPhone 13 Pro Max or Google Pixel 6 Pro. And that's about where the differences between the Nothing Phone (1) and most of its competitors end; the rest of the phone is remarkably iPhone-like, with a power button the right, volume buttons on the left and a speaker, SIM card slot, and USB-C port on the bottom.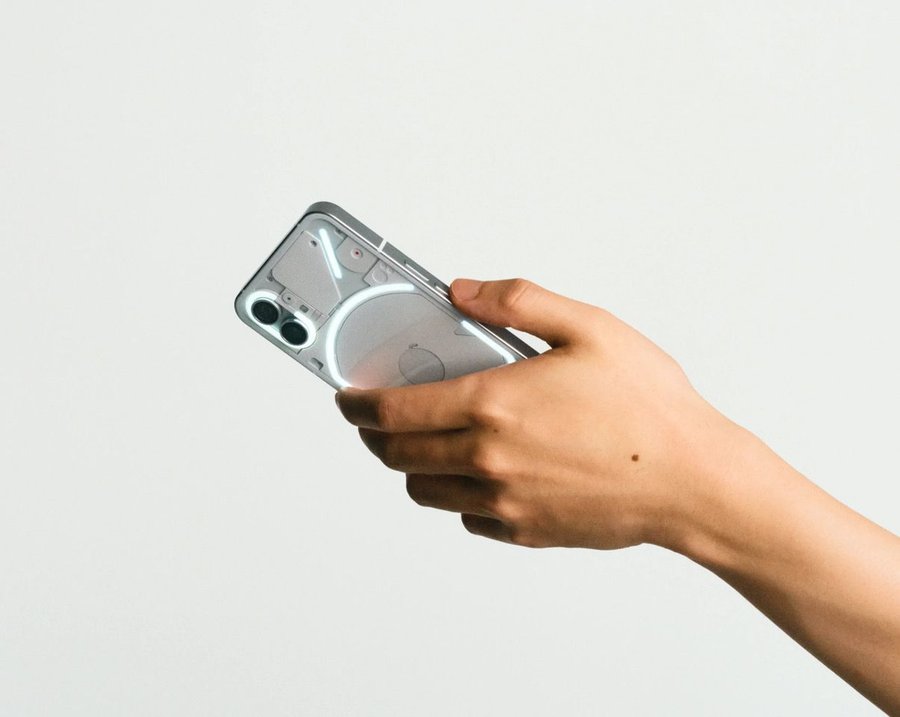 Other specs include a Qualcomm Snapdragon 778G+ chip; 33-watt fast charging capable of powering up to 50 percent in 30 minutes; a 100-percent recycled aluminum frame; dual cameras with two advanced 50 megapixel sensors, one featuring an ultra-wide lens; built-in studio lighting and night mode; an adaptive 120Hz refresh rate; and an interface that will already be familiar to Android users.
Prior to releasing the Phone (1), Nothing had just a single product on offer: a pair of $99 wireless earbuds call the Ear 1, also with a fun transparent design. Obviously, these two products go pretty well together. How much would you expect the Phone (1) to go for? You might be surprised. Cost-wise, it's on par with the iPhone SE, Samsung's Galaxy A series, and Google's Pixel A series at £399 (about $476 USD).
Unfortunately, the catch is that it doesn't sound like it'll be offered to users within the United States anytime soon. Otherwise, it's now available at Nothing's London Kiosk, through limited retail partners across the UK, Europe, and Asia, and online.