Modular Plywood Partition Makes the Most of a Small Space
Eleven different spaces fit effortlessly into just 689 square feet with smart use of the open living area, including a modular L-shaped plywood partition that divides and yet unifies the various 'rooms.' Tokyo-based architecture firm Sinato renovated an '80s apartment to increase natural daylight and cross-ventilation, enhancing the sense of lightness with silvery paint and pale wood surfaces.
Continue reading below
Our Featured Videos
The bedroom and walk-in closet were placed on either side of an existing load-bearing wall, while the new L-shaped partition divides private areas from the open space maintaining a visual connection between the south-facing windows and the back part of the apartment.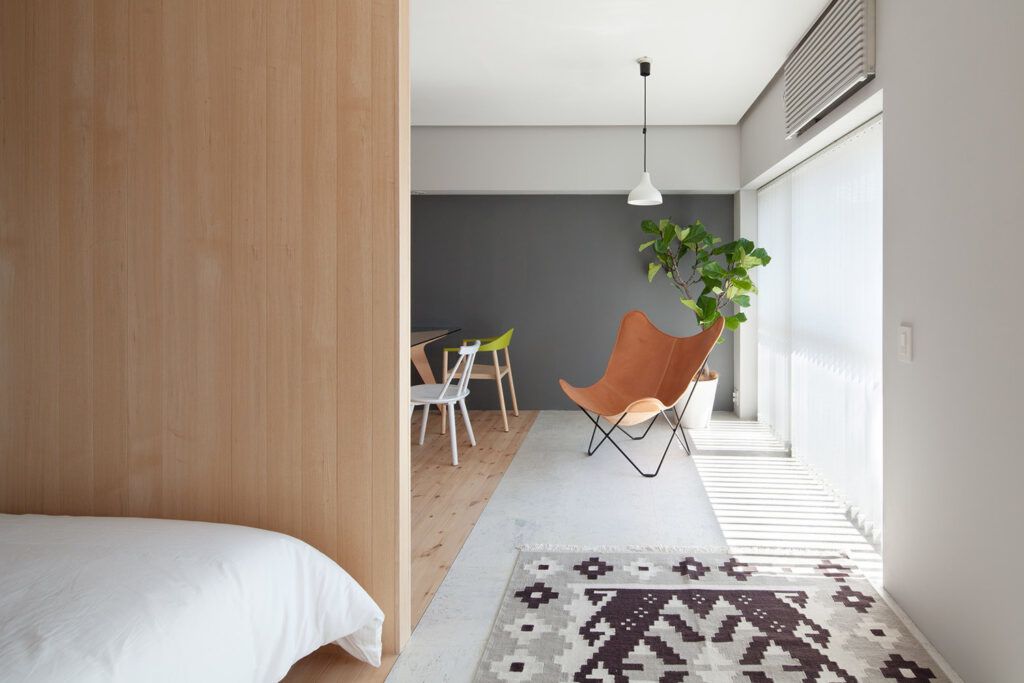 The partition also acts like an oversized piece of furniture, providing sitting surfaces, shelves and drawers. The eleven defined spaces within this tiny apartment include the entrance, living area, kitchen, dining area, lounge, two bedrooms, a bathtub, a washing area, a toilet and storage.
More from the architects
"The L-shaped wood wall that serves as the partition between the open space and the sleeping area is a large piece of furniture where you can hang a picture, store books, sit or even roll around on, allowing it to become a symbol uniting the house. This space, which we had termed the 'inner terrace' throughout our planning, is a wide and bright shared area which becomes a gentle buffer between spaces, as on the south side of the apartment, where it links both the open space and the sleeping area."
"Rather than create a unit completely through the articulation of living functions, in order to allow the occupants to live with greater freedom within a very limited floor area, we thought it was much more effective to connect and overlay the various places, creating the whole of the dwelling," say the architects.
About Sinato
"Sinato is a design office that works mainly on the design of architecture and interior. From the huge facility like Shinjuku station which is one of the biggest stations in Japan to the renovation of small houses, we pursue the design of human scale based on the urban and social view."