Metal Origami: Flat-Pack Sheets Form Super-Strong Shapes

Shape can be as critical in providing strength as materials – a thin truss is the classic example, but precision laser-cut metals and other cutting-edge manufacturing processes are paving a new path in terms of creative structural innovation.


Think of corrugated cardboard – essentially paper, folded to hold incredibly heavy objects in box form, for instance – then imagine the parallel possibilities of ready-to-assemble metal sheeting. Just bend along the dotted line – not a new concept (even in metallic form) but one being experimented with in new and ingenious ways.


The Industrial Origami company is one such endeavor, encouraging?"customers to use lighter gauge material folded into complex, innovative, high load-bearing structures, formed with simple, low cost fixtures, at the point of assembly." They employ a combination of aluminum, steel and hybrid alloys depending on the demands of a particular project and the physical properties required.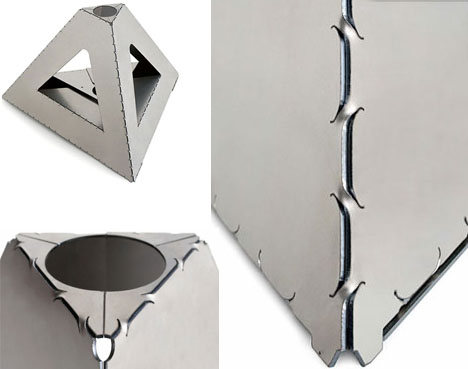 Continue reading below
Our Featured Videos
Beyond its paper-based cousin, of course, using metals means a greater degree of durability, flexibility and weather-proofing – building blocks that could stand to be outside for decades, for instance, and easily-fastened, lightweight alternatives to welded steel.