Magnetic SnapGrip Makes Your Smartphone Feel Like an Old-School Camera
The latest smartphones take such good photos, most of us have no need for any other cameras. Unless you're a professional photographer, the days of lugging around a camera bag full of lenses are virtually gone. All those capabilities fit into your pocket with no need for additional accessories. But if you miss the feel of a good old-fashioned 35mm in your hand, a new accessory might just be the best of both worlds. The ShiftCam SnapGrip doesn't just fit onto your phone, it uses MagSafe to snap into place, adding both a grip and a shutter button to a wide range of smartphones.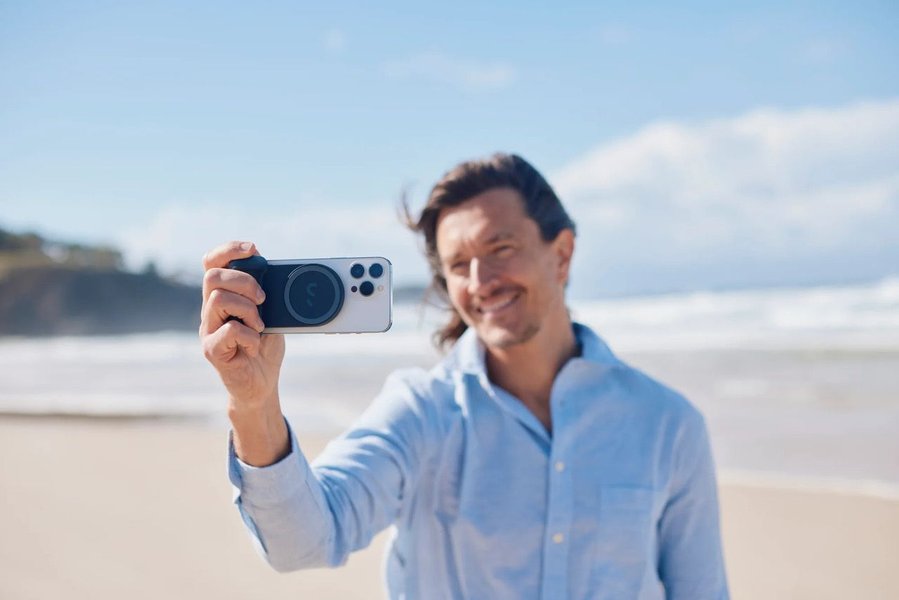 Continue reading below
Our Featured Videos
Despite all its promise, the MagSafe iPhone feature doesn't get used for anything particularly exciting. MagSafe accessories are mostly limited to chargers, bike mounts, and the occasional wallet. So it's kind of satisfying that the SnapGrip expands upon this functionality in a way that's both fun and useful. Take it out of your bag, snap it, on and you're ready to go.
The grip really does make the phone feel like a real, physical camera, and the wireless shutter button is a lot more convenient than trying to press the button on the screen without getting your thumb in the photo. It's easy to rotate your phone from landscape to portrait mode, and when you snap it in place, it automatically opens your phone's camera app. Compatible phones include a wide variety of iPhone models from the iPhone 8 all the way up to the iPhone 14 Pro; the Samsung Galaxy Note, Edge, S22 and more; Google's Pixel 3 through 6 Pro; and various models from Huawei, LG, and Xiaomi.
It's true that the SnapGrip itself is a little bulky, though. Is it worth it to carry around just for the ability to hang onto your phone a little tighter on the go? Not really, but thankfully, it does a whole lot more than that. The battery pack of the SnapGrip doubles as a portable charger, and it also works as both a stand and a charging dock. So if you need any of those functions and love to take photos, it has a lot to offer.
If there's one downside, it might be that the SnapGrip is made of hard plastic, rather than the rubbery grip you might expect from the name. It's also a little heavy at 4.9 ounces, but that's standard for portable chargers. The grip is the thickest part at 1.25 inches thick, while the rest of the body is quite thin. It features four LED lights to indicate battery level, as well as lights for power on/off, and Bluetooth pairing. You charge it up via a USB-C port.
In addition to the SnapGrip, ShiftCam makes three other MagSafe accessories: the SnapShoe shoe mount for tripods, the SnapPod selfie stick, and a flippable SnapLight light ring that works in tandem with both the SnapPod and SnapGrip. A recent Kickstarter campaign successfully raised nearly $850,000 to bring the SnapGrip to life, and now it's available for pre-order on the ShiftCam website alongside the other products.