Kim Kardashian is Working with Tadao Ando and Kengo Kuma on Two New Homes
Kim Kardashian has hired two of the world's most celebrated Japanese architects to design vacation homes for her family, including a lakeside retreat she says she'll use exclusively for Fourth of July celebrations. Imagine. In a recent interview with Vogue, Kardashian revealed that Tadao Ando is crafting a two-story mansion in California, and Kengo Kuma is working on a "glass and wood lake house" in an undisclosed location. It's all part of Kardashian's divorce from Ye (formerly known as Kanye West), in which the former couple is divvying up or selling their many co-owned properties.
Continue reading below
Our Featured Videos
The floor plan has already been revealed for the Ando-designed mansion in a private gated community south of Palm Springs. Kardashian and Ye bought the $6.3 million plot of land together before their split, and in November 2021, Kardashian filed for a permit to build a new single-family residence with a pool and spa. Architectural drawings reveal an unusual, futuristic-looking home with a large central courtyard and a triangular roof shaped sort of like a Ouija planchette. Others have compared it to a spaceship.
The home will be located just down the street from properties owned by Kardashian's mother Kris and sister Kourtney, and Kardashian says it will be "concrete, gray-toned, and really zen." Ye recently acquired a Tadao Ando-designed home of his own in Malibu, custom-built for investment manager Richard Sachs in 2013.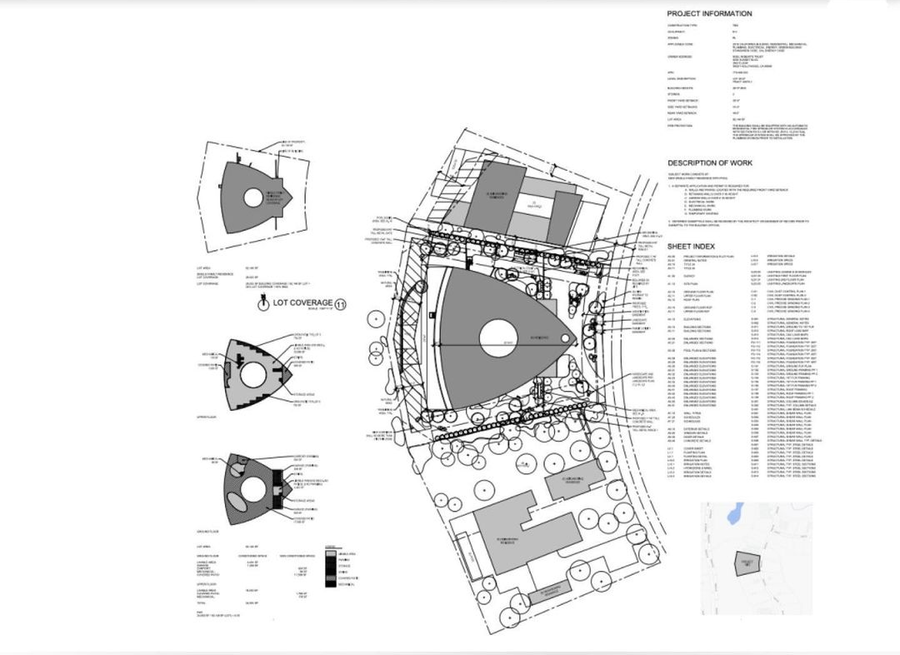 Less is known about Kardashian's Kengo Kuma project, which she's hoping to keep under wraps "because no one knows I have a place there." Kuma is known for beautiful wooden creations that bridge the gap between architecture and nature, typically utilizing natural materials and the labor of local craftspeople.
Kardashian told Vogue that designing her ultra-minimalist Hidden Hills, California mansion with Ye and interior designer Axel Vervoordt led to a "love affair with architecture, specifically Japanese" (she got to keep that one in the divorce). The nearly all-white home features highly curated furnishings, little in the way of decor, and a focus on clean lines and amorphous shapes. Kardashian has described it as a 15,000-square-foot "minimalist monastery" with eight bedrooms and ten bathrooms.
In fact, Kardashian loves Japanese architects so much, she incorporated a real samurai house into the Hidden Hills property. "Our guest house is actually a samurai's old home that my art dealer, Axel Vervoordt, used to own," she told I-D Magazine. "We got the bones of this old house from Japan and built it into our house, because it had such a different energy." The aesthetic of Japan fascinates her, she says. "I love how everything is designed, I find it super inspiring, whether it's the pottery, dishes, or packaging design. It's equally really fun, aspirational, and inspirational."
Ye is currently looking to offload one of his ranches in Wyoming. The $11 million, 3,888-acre estate in the town of Cody was listed in October 2021, just two years after he bought it. It appears that the rapper has changed his plans to build a mansion and two underground garages on the property, which already has two spring-fed trout lakes, an equine facility, livestock corrals, and a go-kart track.