Watch Swimmers Through the Glass Floor of This Amazing Cantilevered Pool
A pool with a glass floor projects off the second story of a modern concrete home, giving those relaxing on the semi-enclosed terrace below a fun look at swimmers. It's also visible from inside the house, with the blue-green water casting tranquil rippling reflections onto the surfaces of the kitchen
Continue reading below
Our Featured Videos
A Dream Luxury Home Feature Comes True
Visitors to Jellyfish House, a vacation home in Spain by Wiel Arets Architects, meander from the ground level up a concrete ramp to the main entrance, where the swimming pool makes an immediate impression. They can either enter the partially submerged basement for access to two guest bedrooms, or continue into the common spaces of the first floor, which include a sauna and steam bath.
An exterior set of stairs offers a fast route directly to the roof, while the interior stairs lead to additional bedrooms. The rooftop terrace and infinity-edge swimming pool, which has a built-in underwater bench, overlook the nearby Mediterranean Sea. A small service elevator allows food and drink to be brought from any other floor up to the rooftop.
The architects call the design "an avant-garde expression of luxurious living," and it certainly offers a one-of-a-kind experience that honors its seaside location.
More on the Design from Wiel Arets Architecture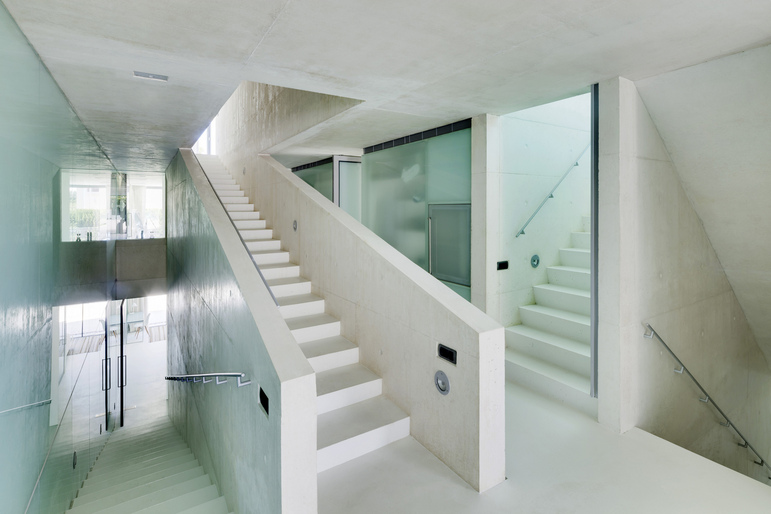 "The house's structure is composed of poured in place white-concrete, supported by one column at the right-rear edge of its pool, and several smaller columns near the rear-dining terrace. All non-concrete walls were constructed with glazing, which allows sunlight to permeate the house. Multiple bedroom closets, whose obverse face the ground floor hallway, are finished in translucent glazing to compound this sunlight diffusing strategy. Oversized and accordion-like folding panels of translucent glazing adjoin each dining or entertaining space, which, when opened, essentially expands the house's numerous areas of living by nearly doubling their size. "