Italian Lights for the Soul
Italian design house Karman Italia like to play with light – and with lights. According to their website – 'Karman loves to play with various types of materials…animated by a special light, a light to the soul'. Founded just over a decade ago in 2005 the company employs dynamic designers to turn the mundane into the magical. As their website states –
Light a light and everything seems visible.
Light a Karman light and everything looks different, magical
"Our product lines are soft and graceful. Original and recognizable style makes the lamp a real piece of furniture."
With irony and affection, anything is up for grabs to turn into unusual light fixtures – milk pails, fish, organic  mesh inspired by the rose-shaped windows of Notre Dame cathedral…
Inspired by the night skies and the lucid, semi-translucence of pure white milk, designers Stefano Bizzarri and Claudio Cinti created 'Milky Way' floor lights. Citing memories of 'the farmer, the countryside, the stable, the milk pail', they state: 'We like to think that "Milky Way" transports the light in your home or garden, in dialogue with the firmament."  From the homespun reality of fresh milk to the celestial Milky Way lighting up the universe, these quirky lights shine on. 
Cute meets classical in these wall-mounted ceramic fish lights, designed by Matteo Ugolini. One bright eye illuminates the room – though if you want more light, several may be more practical – and make a more effective statement. Ideal for the bathroom, they would look pretty anywhere.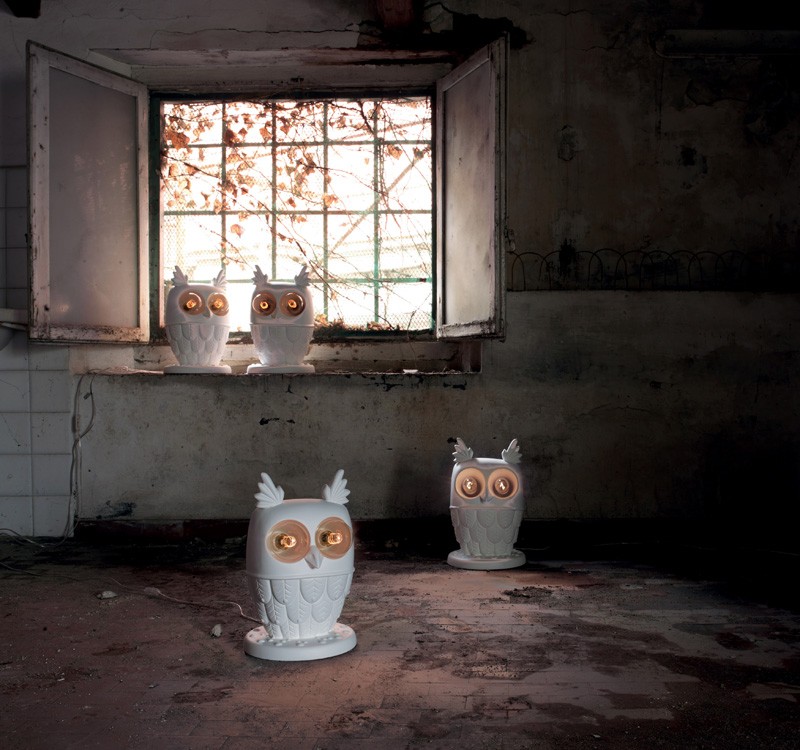 Let's face it – everyone loves an owl! Matteo Ugolini's ceramic owl lamps have a wise glow and they are tactile and endearing. Though the 'eye' lights are more ambient than bright, the white ceramic moulding ensures the lamps stand out in the dark.
Designed by Luca De Bona & Dario De Meo, the 'Notredame' light can be hung down for gorgeous pendant lighting or affixed to the wall. They are constructed to "Evoke the charm of the natural light that radiates through the rose windows of Gothic cathedrals. The past becomes the future using form and light."
According to the'Notredame' section on the  Karman website –  'the poetic robe conceals a technological core awakening ancient emotions'. Light is filtered, diffused through organic shapes moulded from white marble powder. The light source is an integral LED that gives a soft, charming glow. If you can splash out on a few, then the Notredame light looks even more beautiful – together they look like sea creatures, suspended in the waves.

All of these Karman Italia lights evoke an atmosphere – surreal and ethereal they create a warm glow. If you want light to seriously brighten your workspace or kitchen, if you need light to work with – then these are not for you. If you want to invest in lights that are also artforms, that lighten your mood and uplift your emotions, then these Karman designer light fittings are surely the perfect fit in any home.