InterContinental Hotels Builds Luxury Resort Inside Abandoned Shanghai Quarry
When you picture the Shanghai skyline, rows of skyscrapers likely come to mind. But the city well known for building to extreme heights has recently completed a project that drops to a new low: a vast and costly wonderland built below ground, encased in the walls of a decommissioned quarry.
Continue reading below
Our Featured Videos
The posh hotel, owned by InterContinental Hotel Group, extends 88 meters, or nearly 300 feet, into the quarry. All but the top two of the 18 stories press against the sides of the quarry, diving into a campus of natural elements combined with extreme architecture. A striking glass waterfall-style elevator starts at the surface and cascades down the side of the rock face. Of course, you could always just skip the elevator and land in the middle of the resort grounds via the centralized helipad.
The two lowest levels are underwater, so to speak, with a unique aquarium surrounding the restaurants and accommodations on both. Even better, each of the six underwater suites on these floors also have their own aquarium. In all, the hotel contains 337 standard to luxury rooms alongside everything else a premier resort might offer, from pampering to full-on adventure.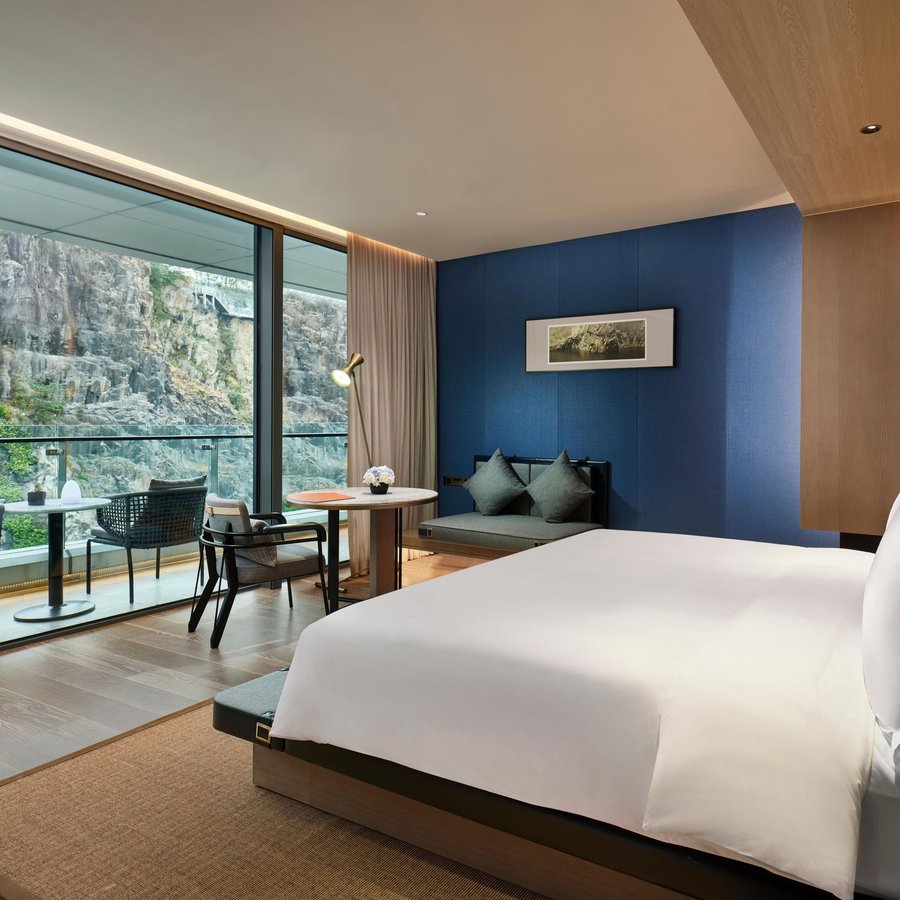 Dubbed "Shanghai Wonderland," those who can afford to stay at the resort and spa will experience a unique location while enjoying posh amenities like expansive pools with lounging areas and a lake large enough for kayaking. Visitors can observe waterfalls from their room, leisurely walk the grounds, or head out for some rock climbing and bungee jumping within the compound walls. Private theater box balconies also allow guests to view a nightly water and light show. In truth, there's no need to leave the resort with all it has to offer, but travelers to Shanghai can easily launch over to nearby attractions such as the Chenshan Botanical Garden and Guangfulin site, along with a bustling city full of activity.
Unlike most mega hotels, Shanghai Wonderland was built using a low-impact design that takes advantage of unused natural space. Exterior balconies house ample greenery, and the roof has also been covered with plants to better blend into the landscape above. The shade from the surrounding cliff walls helps to regulate the temperature and improve heating and cooling efficiency. The structure, designed by JADE+QA Architects, is also partially powered using renewable technologies like solar panels and geothermal systems.
Building 18 stories down is no easy engineering or construction feat. In fact, for more than a decade, over 5,000 architects, designers, planners, engineers, and construction workers contributed to the completion of this project. One of the largest challenges was figuring out how to pump concrete into the bottom of the quarry, a process that required significant revamping of typical protocols. An extensive use of technology and innovation were required to make this hotel, which cost a whopping $300 million to complete.
"It was a challenge," says Martin Jochman, chief architect of the hotel. "This quarry was really a scar on the surface of the earth. It was overgrown and dangerous." He adds that: "we took some big risks because it was totally unknown. The hotel comes out of nature."
JADE+QA Architects, the award-winning UK firm credited with the project, specializes in architecture, urban planning, and product design, with a focus on "respecting nature through sensitive design."