Infrared Photos Turn France into a Cotton Candy Wonderland
The Palace of Versailles with blushing grass and pink popcorn ball trees. The white cliffs of Normandy outlined by scarlet vegetation. Mont Saint-Michel metamorphosized into a swirling pink and blue Sleeping Beauty castle. These are all part of the imaginative new world created by Italian photographer Paolo Pettigiani in his "Infraland" series.
Continue reading below
Our Featured Videos
Having already employed his infrared camera skills in places like New York, Peru, and the Alps to create fantastical versions of well-known scenery, Pettigiani recently took a road trip through France, painting the surrounding geography with a watermelon-colored brush everywhere he went.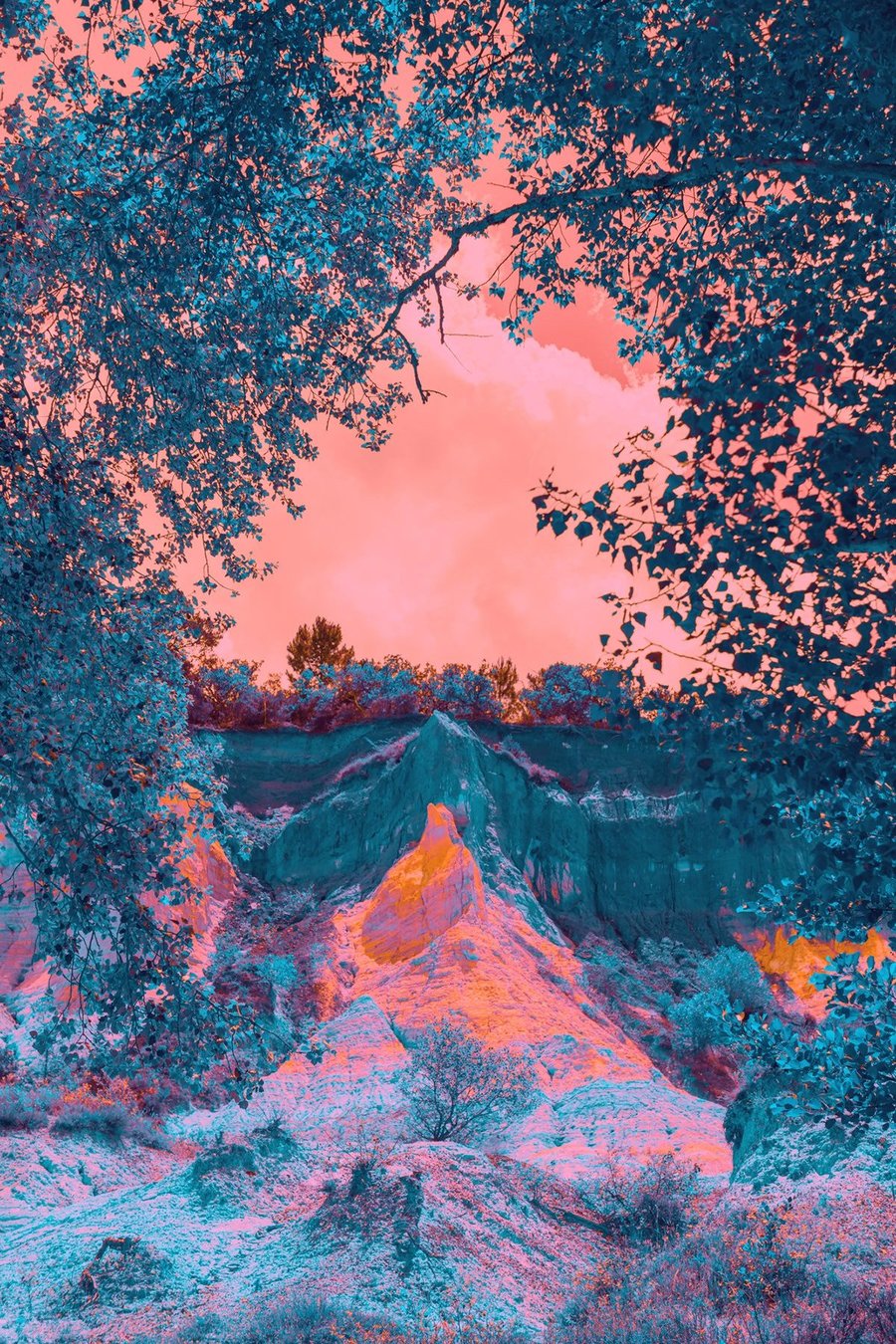 "Infraland transforms ordinary places into surreal landscapes unbound by human perception and space that renew the spectators' idea of the world in order to question reality as we see it," the artist says on his website. "An invitation to further explore knowledge and human relationships with new points of view and new eyes."
Pettigiani's rosy images were inspired by the work of photographer Richard Mosse and his famous Kodak Aeorchrome infrared pictures of soldiers from the Democratic Republic of the Congo a decade ago. In those photos, the soldiers' uniforms and the African grasses behind them were shifted into various shades of red and pink, mutating "the real" into absurdity and making familiar things seem strange.
Using a digital camera and a filter that blocks light wavelengths less than 590 nanometers, Pettigiani creates a similar effect with landscapes. Through that lens, greens are converted to bubblegum and candy-apple hues, producing a fanciful version of real life.
"Infraland is a long-term project started in 2015 that explores the themes of seeing the unseen, driven by a desire to explore familiar places, breaking the doors of perception through a graphic and visual exploration of the territory. These images are shot using a converted full spectrum camera for infrared photography: a fusion of science and creativity that captures the electromagnetic radiation of light…not visible to the human eye," Pettigiani explains.
His photos of France help viewers "see" an alternate universe where the leaves of a heart-shaped tree in Provence are actually ruby red and the encompassing lavender fields scream out in fuscia notes. Pettigiani's travels also took him to Sisteron in the French Alps, where he gave the mountainside and trees a crimson makeover. Similarly, his treatment of the coast of Brittany turns the northern beach into a tropical island with wide wine-colored fronds.
Pettigiani's take on Versailles is truly show-stopping. The contrast of cotton-candy foliage against the blue of the sky and ponds is striking and enchanting all at the same time. Even the palace doors get done up in flamingo-feather pink.
The artist is currently based in Italy, acting as the art director at No Panic, a creative agency he co-founded. After graduating from Turin's Politecnico in 2014 with a degree in Design and Visual Communication, he started using his photographic skills to delve into the beauty of light's unobserved wavelengths. His work, including his ongoing "Infraland" project, has been featured in solo and group exhibitions in Paris, Milan, Turin, and New York City.
Pettigiani has posted many of his French infrared photos on his Instagram.