In Portland, a Bold Graphic Wine Bar Breaks the Mold
If you've ever taken a bar tour of Portland, Oregon, you probably already have an image in your mind of the city's prevailing aesthetic: industrial meets art gallery, sometimes with a dash of faux dive bar details or a particular Pacific Northwest brand of kitsch. In other words, a whole lot of uncomfortable metal chairs, white walls, trailing plants, Edison bulbs, and antlers.
Continue reading below
Our Featured Videos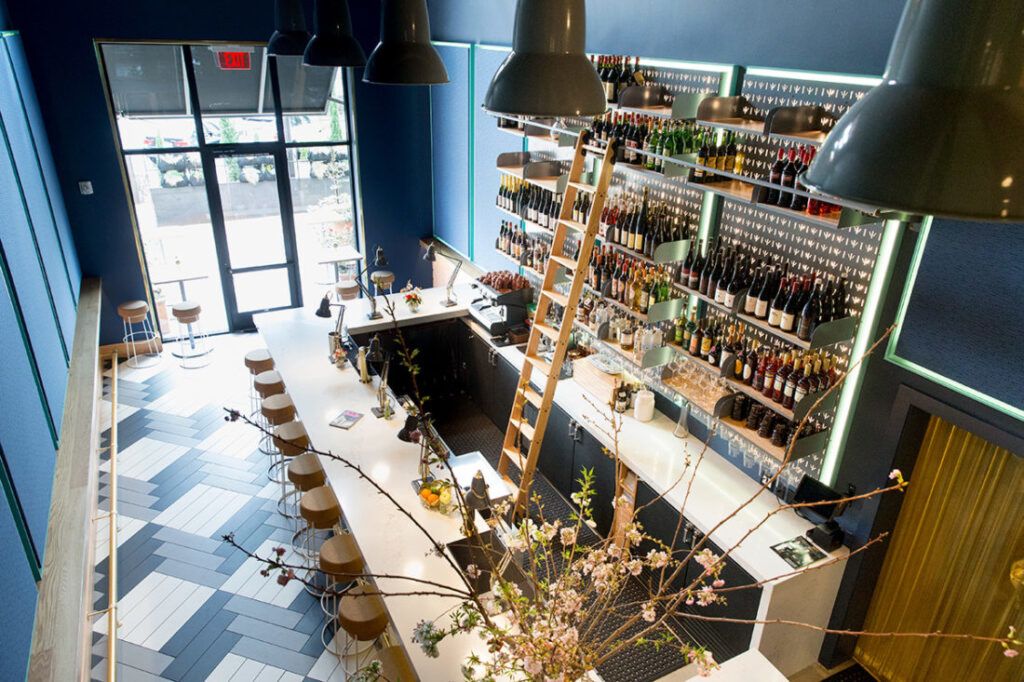 Like many cities, Portland has suffered some growing pains over the last decade, falling prey to waves of homogenous new development that wipe out longstanding institutions and local favorites and replace them with cookie-cutter nonsense. If someone blindfolded you and dropped you into a series of the city's newer bars and restaurants with all signage removed, you'd be pretty hard-pressed to identify your location.
For better or worse, depending on your perspective, stepping into wine bar Enoteca Nostrana in the Buckman neighborhood feels a bit like teleporting yourself into a whole different city. There's no sign of the elements that make so many other spots blend together. The interiors take the bar in an entirely different direction, one that feels distinctly Modern European in flavor.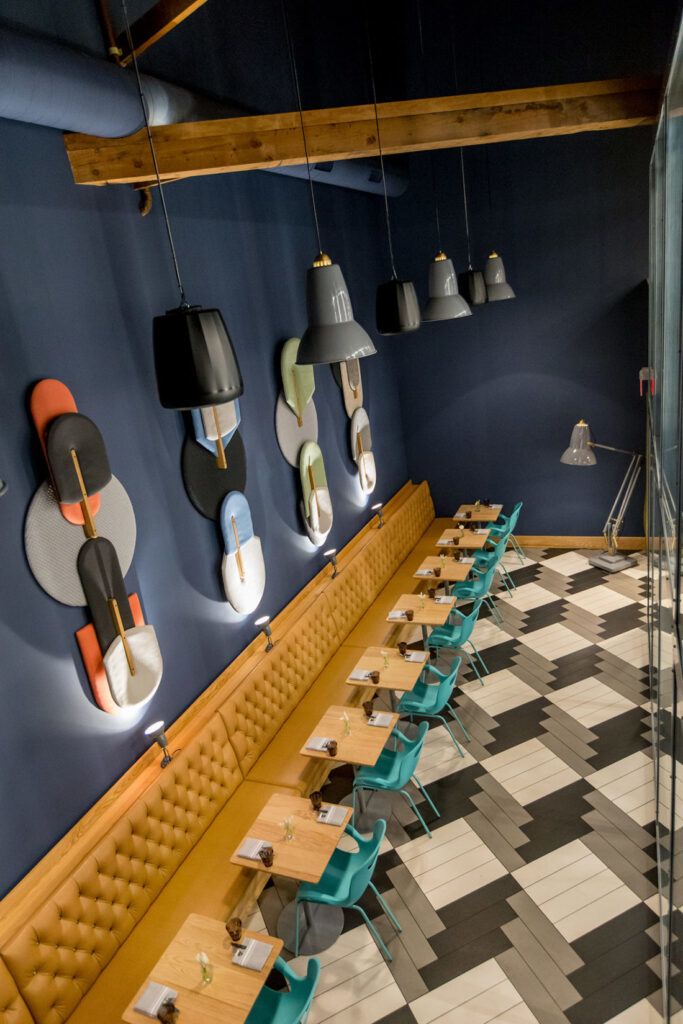 Opened by Cathy Whims in 2018 beside her existing Italian trattoria Nostrana, the bar is brighter and more contemporary than its sister, intending to offer a stylish and comfortable setting for discovering new wines with friends. Working with local architect Rick Potestio and Nostrana director of operations Nicholas Suhor, Whims envisioned a space that referenced Italy without the use of any cliches or Old World style.
In place of those elsewhere-omnipresent old-fashioned bulbs are gooseneck lamps, which are actually far better for examining menus. Retro geometric graphics on the floors and behind the bar nod to the iconic 1980s postmodern Memphis Group design tradition, which originated not in Tennessee, as you might imagine, but Milan, Italy.
All of these elements come together into the city's "most excitingly designed restaurant," earning it the 2018 Design of the Year Award from Eater Portland.
The publication says of the wine bar: "Contemporary and funky, the bar sports massive Champagne-cage cork stools, which somehow mesh with rich design touches that would feel equally at home in a 19th-century Milanese hotel. The walls and floor boast bold patterns reminiscent of the Saved By the Bell intro. There is a gently 90s mix of colors, and unexpected textures pop beneath counters and above sumptuous leather booths."
"Then, a few steps in, there's the hidden heart of the bar: a glowing, two-story wine fridge, futuristic and formidable with its stacks of backlit acrylic fixtures and row after row of bottles. Between the booths and glowing cellar, the place feels like a pizzeria on a 1980s album cover. There's not a white wall in sight; those looking for the customary devil's ivy or succulent in a tucked-away corner will find nothing of the sort."
None of this is to say that Portland as a whole should follow in Enoteca Nostrana's footsteps and embrace postmodernism at the expense of its own identity. But it sure doesn't hurt to be shoved out of your comfort zone every once in a while.
Photos courtesy of John Valls