Iconic TV Sets Get Reimagined in Wes Anderson's Signature Style
If you loved the sets from movies like Moonrise Kingdom, The French Dispatch, The Royal Tenenbaums, and The Grand Budapest Hotel, you're probably a fan of Wes Anderson, even if you didn't know it! The Texas-born filmmaker has won multiple Golden Globes and Academy Awards for his unique directorial style and kitsch-laden work over the last three decades.
Anderson's style – punctuated by perfectly symmetrical framing and over-the-top pastel palettes – has become so iconic these days that the folks over at home care platform Angi (formerly Angie's List) recently wondered what the director's work might look like on the small screen. They took up the challenge by enlisting interior designer Lau Wlasenkov to give the sets of several beloved TV shows the full Anderson treatment. Don't forget to look for Easter eggs from each series as you peruse these fun, light-hearted re-imaginings:
Friends
Continue reading below
Our Featured Videos
While Monica Geller's iconic living room from the hit 1990s sitcom was already slathered in pastel purple, Angi switched it up to Anderson's more signature red and pink palette. They also decluttered the space and added a retro wood-encased TV console. By setting the furniture at right angles, they produced more symmetry, a move echoed by the giant swaths of fabric balanced on either side of the main window. Phoebe Buffay's legendary guitar also gets a place of honor in this Wes-ified room.
Russian Doll
This critically acclaimed Netflix series features a main character (Nadia) who finds herself in trapped in time, continually "waking up" in her bathroom at the exact same moment after every loop. In the show, Nadia's bathroom is dark with black tiles, brass accents, and minimal lighting. The Angi designers gave it a Wes Anderson makeover by lightening the mood considerably. Geometric blue tiles in contrasting patterns create a type of symmetry above and below the vanity, as do stacks of steamer trunks placed strategically on either side. Warm-colored wood breaks up the busy-ness of the colors and designs. Savvy fans can also spot Nadia's cigarette pack left casually in one corner.
Bridgerton
While this Netflix show about 19th-century love and gossip in British high society has already spawned an entire "Regencycore" aesthetic on social media, main character Daphne's bedroom really goes next level with some Wes Anderson tweaks. Wlasenkov recovered the walls in bright red zebra-pattern wallpaper and outfitted both the foot bench and headboard in the same lush velvet fabric for symmetry. A playful, modern table lamp on one side of the bed balances out Daphne's fluffy fan on the other.
Mad Men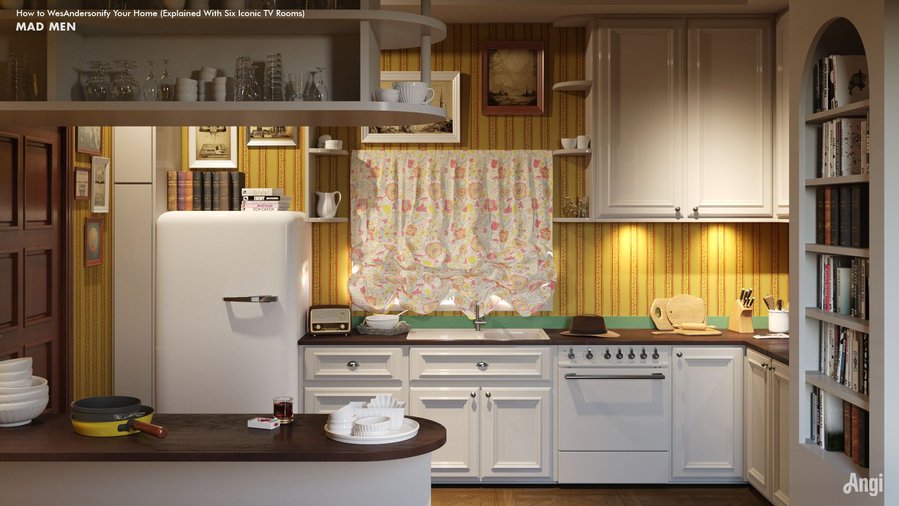 This Emmy and Golden Globe-winning period drama set in the 1960s was credited for sparking a renewed love affair with the fashion of the era when it first came out in the mid-2000s. To make main character Don Draper's kitchen more Wes Anderson-like, Angi erased the soulless oak-and-plaid decor and added bright yellow striped wallpaper, a happy floral curtain, and gleaming white cupboards. Draper's hat also sits much nicer on the new dark butcher block counters.
Angi and Wlasenkov also worked together to create Wes Anderson versions of the Succession and Sex Education sets, both of which can be viewed in all their kitschy glory on Angi's official site.
If this collection of TV set makeovers has you craving Anderson's signature style in your own home, there are a few key things to keep in mind to recreate his signature look. Start with an element of symmetry, but keep it whimsical. Use a bold palette of three to five colors, playing around with saturated hues that make a statement while still complimenting each other. Add texture to your walls by adding paneling, even if its just on the lower half, and fill it in with intriguing colors. Create a carefully curated collection of beloved belongings you can artfully display around the room. With a little effort, you'll feel like you're on the set of one of your favorite Wes Anderson movies every day.