Home Base, for Sale! Huge Underground Missile Silo House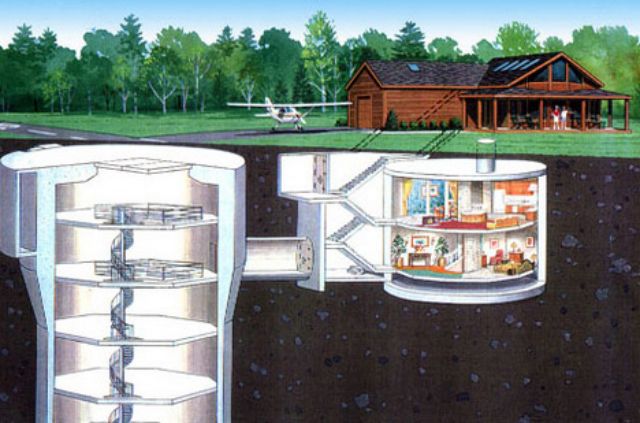 Covered everywhere from HGTV to the Discovery Channel, this decommissioned military base complex turned silo home-in-a-hole is anything but Top Secret today. Its owners boast the set of converted structures to be the "world's most unique luxury home – An incredible balance of natural beauty and technological innovation. Pristine mountain property and panoramic views in combination with the ultimate level of security and privacy." Indeed, would could be safer than living in a missile silo, right?
Continue reading below
Our Featured Videos
The subterranean launch control center is a cylinder surrounded by an epoxy-resin, steel-reinforced, three-foot-thick structural wall that (particularly given its depth in the ground) is essentially as apocalypse-proof as a home gets. The entire structure is suspended on springs to absorb the shock of a nuclear blast. Forget blueprints and standard floor plans: this historic house comes with its own top-secret, government-certified schematics.
2.3 million dollars might sound like a lot – even for a high-end mansion – but if you consider that the original cost of construction was around ten times that much (in 1950s dollars, without accounting for inflation) the current converted property seems a steal by comparison. Oh, and in case you were concerned: their FAQ page points out that the Russians are well aware that the silo has been decommissioned, so presumably they would no longer consider it a primary target should an all-out world war come along.
If the underground base-and-silo complex is not quite enough to sell you on it, how about adding the above-ground suite and a private landing strip into the mix? It is a simple 125-foot walk down the lower areas – well, at least it is a good way to keep in shape. And you can bet that with the military involved and the nuclear weapons-oriented intent behind the construction, there is little chance that the below-Earth components are of shoddy craftsmanship.
On-site amenities handy for end-of-the-world scenarios include four wells, off-the-grid power, septic system, phone and satellite hookups and naturally breezy soil-based temperatures that hover in the 50s and 60s essentially year-round. Not bad for a missile silo home!