GoTouch Turns Any TV Into a Whiteboard
In recent years, a few schools and colleges have started using interactive whiteboards in their classrooms. These digital teaching aids not only help students follow along with lessons but also allow them to take their own notes over presentations and to access additional information online. Let's just say we've come a very long way from the original blackboard and its clouds of chalk dust.
Continue reading below
Our Featured Videos
As businesses have begun to recognize the value of interactive technology, developers have been looking for ways to make it accessible to everyone. Thanks to Anyractive's new GoTouch device, any screen—whether it's in the conference room or the living room—can easily be converted into a whiteboard. GoTouch was developed as a way for instructors and collaborators to share complex information in a quicker and more visually digestible form.
The Anyractive website reads: "Visual data helps people better understand, but most of the current display screens out there lack interactivity. Our mission is to build a more interactive world by providing our interactive touch technology. The GoTouch camera and stylus turn any display into a touch screen. You can write notes on a wide range of file formats such as images, PDF and even video," they add. You can use your current operating systems and the free iOS or Android apps so you display and annotate documents, websites, and videos."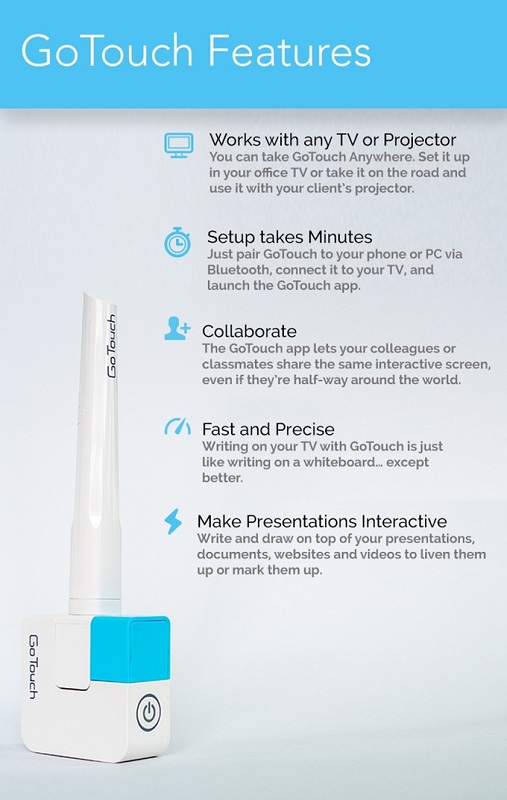 To set up your GoTouch, simply connect the device to your TV or projector using a standard HDMI cable. If you have an Apple TV or a similar digital media player, you'll be able to connect wirelessly. Pair the GoTouch with a smartphone or computer via Bluetooth, put the device on your desk, and launch the app. Setup takes so little time you'll probably be able to grab a cup of coffee before your big meeting!
Technology can sometimes feel foreign and detached to us users, so it's refreshing to hear about an invention that was specifically made for group interaction. Plus, GoTouch lets you fulfill your childhood dreams of drawing all over the TV! The Anyractive team says "GoTouch connects instantly and wirelessly and tracks what you write or draw on screen with 4K Ultra HD accuracy." The device's ultra-fast camera speed (100 frames per second) prevents time-lag and makes drawing on the screen with a stylus feel as natural as writing on a regular whiteboard.
The GoTouch Pen is fitted with an infrared sensor and is another key contributor to the device's accuracy. The inventors explain: "GoTouch senses this light and ignores unintentional touches from your fingers, palm or arm."
GoTouch's battery can last for up to eight hours when full and only takes about an hour or two to recharge, so you'll never have to plug it in during a meeting or presentation. GoTouch can also be used on mobile devices, making collaboration and connectivity even more accessible. Think of it as having a personal whiteboard that you can share anyone anywhere, 24/7. It seems like our small world just got a little smaller.