Gaudí's Historic Casa Vicens Willl Host Two Lucky Airbnb Guests This Fall
Architect Antoni Gaudí's very first architectural commission was designed in 1885 as a luxury retreat for a local family, and it's been in private hands ever since. But this fall, for the first time ever, Barcelona's Casa Vicens will open its doors to two Airbnb guests for an overnight stay. The cost? A single euro (about $1.19). The one and only nightly stay went to the lucky folks who happened to get through to the booking page first when it opened in July. The rest of us will just have to live vicariously through the photos and videos of the listing, imagining what it would be like to temporarily take up residence inside.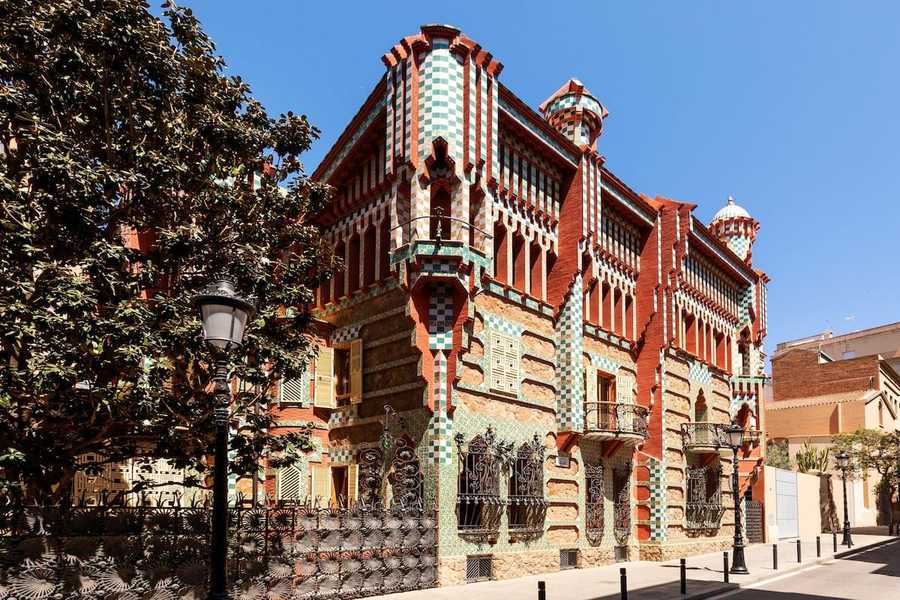 Continue reading below
Our Featured Videos
Casa Vicens is considered one of the very first buildings of the Art Nouveau movement, and its colorful facade has long drawn tourists and design aficionados to the neighborhood of Grácia. It's also a beautiful example of Neo-Mudéjar (Moorish) architecture, one of the styles Gaudí experimented with throughout his career. Completed when he was 31 years old, Casa Vicens represents the first time Gaudí mixed Moorish influences with those of Spain and Catalan, a style he would hone and apply to many more buildings over the ensuing decades.
For 132 years, members of the public could only gaze upon Casa Vicens' vividly detailed facade and imagine what the interiors looked like. But in 2014, the home sold to Andorran bank MoraBanc for an undisclosed sum, and in 2017, this UNESCO World Heritage Site was transformed into a museum, granting access to nearly all interior spaces. Casa Vicens general manager Emili Masferrer i Fons will serve as the Airbnb host for the special stay, sharing his "insights and secrets" from the recent restoration project during an exclusive tour of the house.
"We are excited to give guests the opportunity to experience this house as Gaudí designed it – as a nature oasis," says Masferrer i Fons. "We are deeply committed to the preservation of Gaudí's cultural heritage, and it will be a great pleasure to share the building's secrets and rich history with whoever books."
The museum will be closed to the public during the stay, so the guests will enjoy having Casa Vicens all to themselves. After their tour, they'll be treated to a Gaudí-inspired Michelin star menu in the dining room, followed by a nightcap in the smoking room. To top it all off, they'll be sleeping in the most lavish bedroom of the house, the private chambers of the Vicens family. In the morning, they'll enjoy a full Mediterranean breakfast in the private city garden.
If you're sad you missed this once-in-a-lifetime opportunity, take heart: you can still visit Barcelona and see Casa Vicens in person, if only just for the day. The award-winning restoration of the house by Martínez Lapeña is certainly worth a long, slow tour taking in every last detail of Gaudí's maximalist brilliance. If travel isn't in the cards for you anytime soon (thanks, Delta variant), the museum also offers a 30-minute virtual tour for €4.99.