Francis Kéré Becomes the First Black Architect to Win the Pritzker Prize
Diébédo Francis Kéré has become the first Black and first African architect to ever receive architecture's highest honor, the Pritzker Architecture Prize. Born in Burkina Faso in 1965 and currently based in Berlin, the architect known as Francis Kéré is lauded for his sensitive approach to modest yet beautiful buildings that are simultaneously simple, striking, and pragmatic.
Continue reading below
Our Featured Videos
He often pairs traditional materials and techniques with modern innovations, developing a body of work that "empowers and transforms communities through the process of architecture." Even more importantly, Kéré's work is designed to serve those who will use it with the utmost respect and consideration.
"I am hoping to change the paradigm, push people to dream and undergo risk," Kéré says. "It is not because you are rich that you should waste material. It is not because you are poor that you should not try to create quality. Everyone deserves quality, everyone deserves luxury, and everyone deserves comfort. We are interlinked and concerns in climate, democracy, and scarcity are concerns for us all."
Among Kéré's most celebrated works are a stunning sculptural timber pavilion called "Xylem" at the Tippet Rise Art Center in Montana and the 2017 Serpentine Pavilion in London, which mimics the shape of a tree with an indigo-blue light steel framed trunk and a timber brise soleil canopy sheltered by clear polycarbonate.
But just as notable are the structures he has built in Africa, including the Gando Primary School in Burkina Faso and the Benin National Assembly. These structures are tailored specifically to the local climate, material availability, traditions, and skills. They're infused with the regional architectural vernacular and thus feel well-suited to their environments, but they certainly aren't lacking for decorative flourishes or comforts.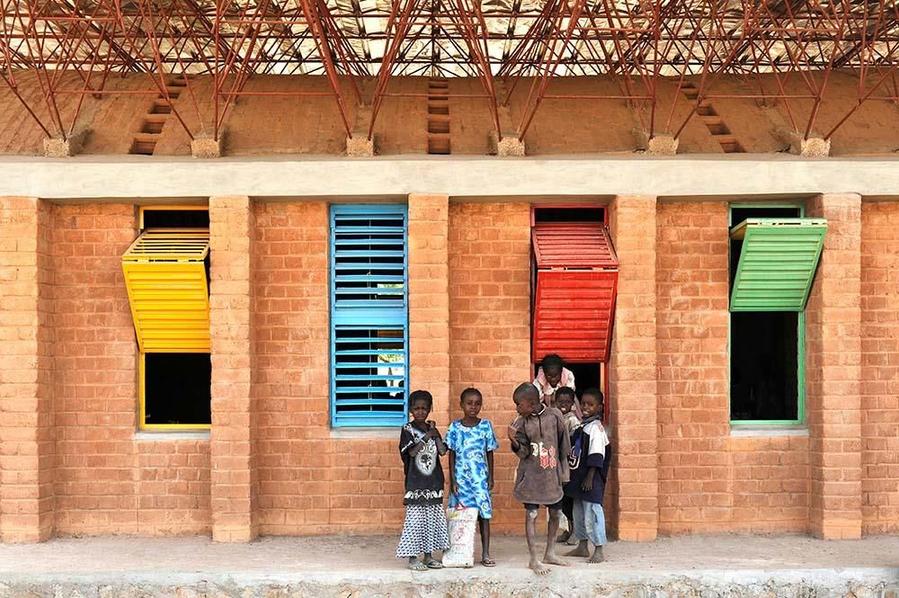 "Francis Kéré's work is, by its essence and its presence, the fruit of its circumstances," reads the Pritzker Prize jury statement. "In a world where architects are building projects in the most diverse contexts – not without controversies – Kéré contributes to the debate by incorporating local, national, regional, and global dimensions in a very personal balance of grass roots experience, academic quality, low tech, high tech, and truly sophisticated multiculturalism. His simultaneously local and global perspective goes well beyond aesthetics and good intentions, allowing him to integrate the traditional with the contemporary."
Drawing inspiration from the simple, one-room structures he grew up using in Burkina Faso, Kéré aims to create spaces imbued with quiet dignity. He has devoted much of his career to designing primary, secondary, and postsecondary educational facilities as well as medical facilities, therefore stabilizing the future of the communities where they're built.
Sustainability is another major factor in Kéré's work. Addressing unsustainable patterns of production and consumption, the architect, educator, and social activist considers factors like potential reuse of the building materials in the future, and the use of indigenous clay to add thermal mass to his structures, thereby helping them retain cooler air inside naturally. This kind of passive cooling is essential to maintaining the comfort and low operating costs of Kéré's built works in Africa.
"Francis Kéré is pioneering architecture – sustainable to the Earth and its inhabitants – in lands of extreme scarcity," said Thomas Pritzker, chairman of the Hyatt Foundation. "He is equally architect and servant, improving the lives and experiences of countless citizens in a region of the world that is at times forgotten. Through buildings that demonstrate beauty, modesty, boldness, and invention, and by the integrity of his architecture and geste, Kéré gracefully upholds the mission of this Prize."