Forgotten Architecture You Have to Check Out
The design passion of a Facebook group has culminated in a fascinating new book highlighting architectural gems largely forgotten over time. Titled Forgotten Architecture: An Archive of Completed and Disappeared Projects, the book was edited by Italian architect Bianca Felicori, herself the founder of the Facebook page that has amassed a following of die-hard design detectives over the past three years.
Continue reading below
Our Featured Videos
"The idea is simple: recovering projects by little-known and unknown architects, works that remain in the shadow of the great masters, looking into 'minor figures,' and combining different backgrounds in the history of architecture to complete students' university studies," The Forgotten Architecture Facebook page explains. "It is a collective experience that goes beyond the purely architectural, a virtual world peopled by more than 27,000 members from a variety of different professional backgrounds."
The book is a compilation of many of the site's exciting finds, with each page listing the Facebook contributor that introduced it to the group. It went on sale from March 7th to June 7th only, never to be sold again as a way of turning it into an instant collector's item.
In case you can't get your hands on a copy, here are some of our favorite highlights:
Casa Saldarini
Nicknamed the "Dinosaur House" or "Whale House," the zoomorphic residence was designed by architect Vittorio Giorgini in 1962 in Piombino, Italy. Giorgini's objective was to create an animal-like building that looked like it was at home in its own natural environment. Evocative curved walls flow organically through the unique house's interior and exterior.
Complesso Rezidenciale di Piazza Grande
Built over the course of a decade starting in 1979, the Piazza Grande in Naples, Italy was designed by native architects Aldo Loris Rossi, Donatella Mazzoleni, Annalisa Pignalosa, and Luigi Rivieccio. Its influences were a mashup of Italian rationalism (like the Royal Crescent and Circus of Bath) and the organic architecture of Frank Lloyd Wright. The circular complex includes private residences, offices, and commercial spaces, as well as schools, gyms, and public outdoor gathering areas.
Aquila Petrol Station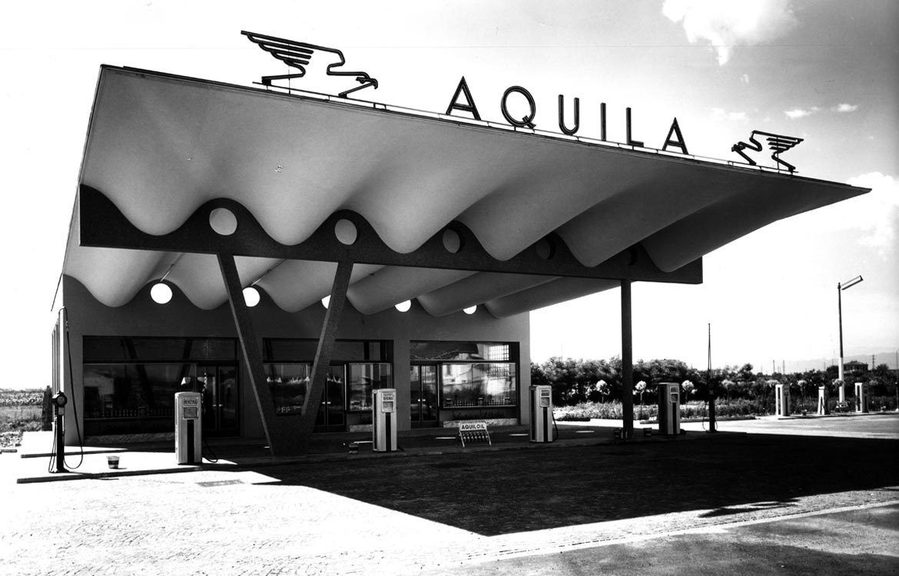 Originally constructed in 1949 in Sesto San Giovanni, Italy, this architectural treasure has since been demolished, but pictures of its undulating vaulted roof make clear that it must have been a striking sight for drivers along the Serenissima highway back in the day.
Chiesa del Sanatorio
Perhaps the first rationalist religious architecture in Italy, the church of the Vittorio Emanuele II sanatorium in Alessandria was built in 1926. Its concrete design sticks to only the essential geometric elements.
Arnaldo Pomodoro House
Italian sculptor Arnaldo Pomodoro had this "non-house" designed by renowned architect Ettore Sottsass Jr. in 1968. It was to be a place for welcoming clients and friends at social events. The geometric lines and emptiness created a "metaphysical" and "entropized" space that invited people to "stay but not to live."
Roybal Comprehensive Health Center
Of course, not all the featured architecture in the book is from Italy. Known as "La Clínica de Colores" by the Spanish-speaking inhabitants of Los Angeles, California's Roybal Comprehensive Health Center was designed in 1979 with a heavy Latin influence showcased in its colorful tiled facade and inset Aztec imagery.