Flying Saucer-Shaped Sea Shell House Looks Like Half a UFO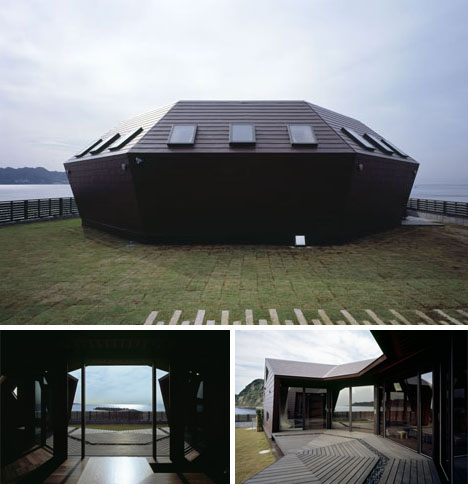 Continue reading below
Our Featured Videos
A UFO-like facade on one side, the other face of this space ship opens up entirely – a strategic set of approaches to provide privacy on the public side of the building and capture stunning seaward views on the other.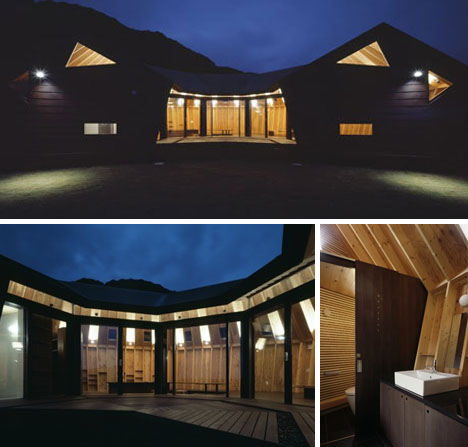 Set on the shores of Japan, everything about this resort residence by Takeshi Hirobe bends and guides the eye outward – wooden posts wrap up to become ceiling beams that then arch back down toward the exterior horizon.
During the day, indirect skylights and a patio roof overhang balance natural light on all sides to evenly illuminate the interior. At night, spotlights create a play of strange shapes insight and curious patterns through the odd-shaped windows facing outward.
The use of naturally-light structural supports works wonderfully in contrast with the dark-brown exterior sides and roof, as well as with the darker interior furniture, furnishings and fixtures – a bit of rustic to offset otherwise modern window shapes, surface materials and appliance choices.
In a way, this design solution is unsurprising – or should be. It takes maximum advantage of a private courtyard as well as external views, blocking residents from prying eyes while providing all of the best this waterfront lot has to offer. While it might appear at first to have landed from outer space, once you see past the initially innovative forms it is (like most UFOs) in the end quite recognizable as a brilliant piece of (very earthly) purpose-specific craftsmanship.