Floating Geodesic Dome Home
Continue reading below

Our Featured Videos
On its maiden voyage, this first-of-its-kind floating dome dwelling drifted lazily between Hamburg and Berlin and certainly made waves alongside Zendome's general release of Home Edition, its residential variant.
Set upon a platform of welded frame-hull construction, the Zendome Home Edition dome home blends elements of a basic dock (easy to attach a sailboat to, for instance) and an outdoor deck to compliment the PVC-and-aluminum living and sleeping zone.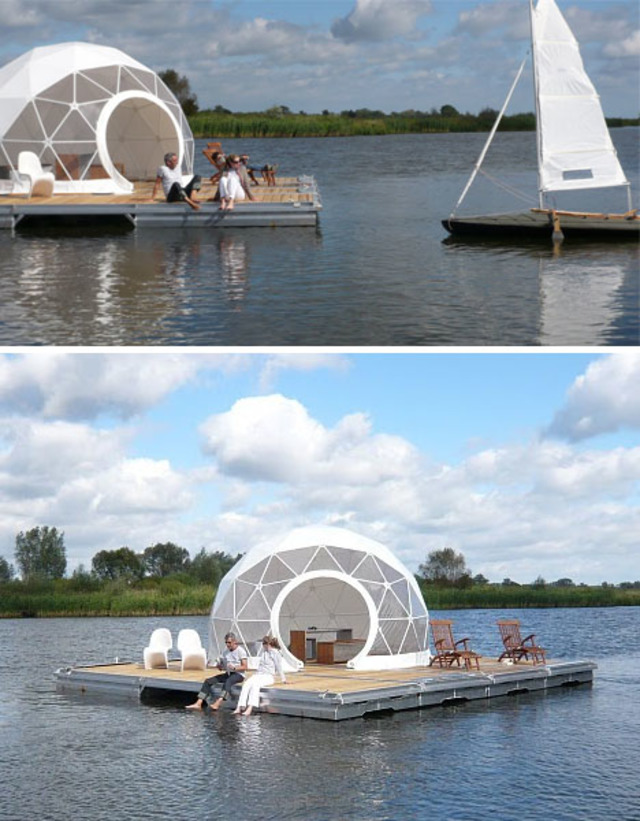 Naturally stable due to its lightweight construction and low center of gravity, the all weather geodesic dome itself easily weathered its trip, though for longer cruises on more open waters (rather than peaceful rivers) it is hard to say how it would really hold up.
Still, while it might not have the sure footing or copious amenities of its land-based brethren, this water-going variant would certainly make for nice short stays and modest day drips up and down local canals … and besides, you can always take it down and reconstruct it on dry ground. With the ability to install a real wood burning stove, it sure looks like it would be plenty cozy enough for use in all sorts of settings.
"From now on ZENDOME is also available as the ZENDOME.20 Home-Edition for the exclusive Home & Garden area with multiple ways of possible use. Be it as a roof for the swimming pool, a temporary guest house, a garden house or simply a beautiful playhouse for the kids."
"The frame system is constructed of powder coated galvanized steel with a strength of 2mm. 161 poles and junction discs are assembled following the easy to use colour coding of the Advanced Frame System (ADF-System). The membrane is made of all-weather welded Ferrari® material: Perfect for any given use."
"ZENVISION is a research-based company with continuous development activities in the areas of 360°lab – Immersive Media, Temporary Living / Glamping and open source architecture. Through high caliber partnerships, we are constantly expanding our range of knowledge in the subject areas and adjoining disciplines. A global network of partners from research and industry and their competencies will bring best People together to initiate research activities and drive the development of mobile architecture forward. "