Endless Summer: These Retractable Pool Covers Let You Swim Year-Round
Diving into the glittering turquoise waters of a backyard swimming pool is so refreshing when it's hot outside, but very few climates offer comfortable weather conditions for year-round swimming. By October, swimming season is over in most locales. Built-in pools in cooler regions tend to go unused for most of the year, obscured by sad swaths of vinyl for protection from fall leaves and other debris. But sliding glass pool enclosures help hold in heat while offering shelter from wind and rain, making the prospect of a fall or winter dip a lot more tempting.
Continue reading below
Our Featured Videos
Available in manual or automatic models that you either slide open on rails or push a button to retract, these glass and polycarbonate swimming pool enclosures can open all the way on warm, sunny days or close completely for a greenhouse effect. That makes them a lot more versatile (and aesthetically pleasing) than indoor pools, which tend to be dark and musty. And if you've ever huddled in an outdoor hot tub in the rain, enjoying the warm water but wishing for a roof, you'll appreciate the genius of dome-shaped spa covers.
Of course, in addition to their main function as pool covers, these retractable enclosures are great for creating weather-resistant outdoor spaces for lounging, dining, and housing children's play equipment.
Libart Freestanding Pool Cover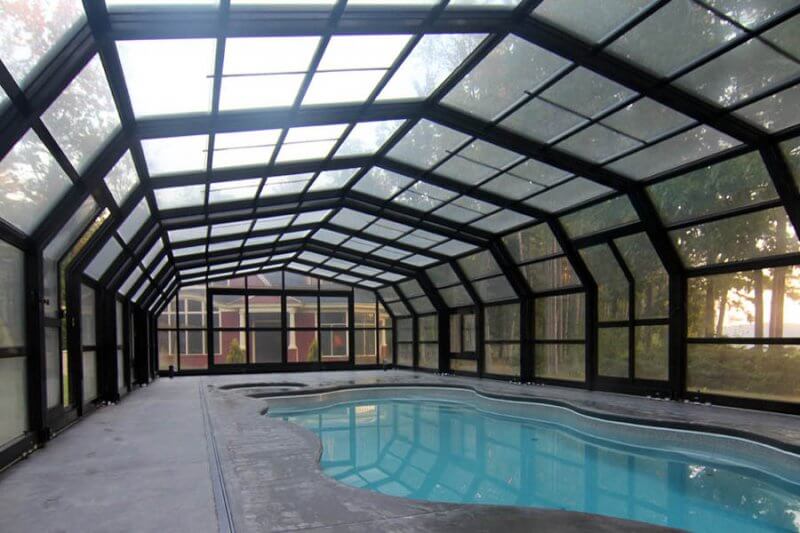 This traditional home on the coast of Maine overlooks the beautiful Casco Bay, so why wouldn't the owners want to spend as much time in the yard as possible? Known for being quite blustery, this New England location isn't exactly hospitable for year-round outdoor recreation. To make their backyard more versatile, the owners purchased a stunning retractable freestanding pool enclosure from Turkey-based company Libart. Now, their hot tub and fiberglass pool can be enjoyed regardless of the weather, without having to worry about the cover's minimalist, transparent walls obstructing the stunning views.
Round Dome-Shaped Orient Pool Cover
Perfect for round swimming pools and hot tubs alike, the "Orient" style pool cover by Pool & Spa Enclosures has a bit of a futuristic look and comes in your choice of frame color, from silver to cobalt to faux wood. You have to admit, they look pretty cool. These domes are just as decorative as they are functional.
Aquacomet Pool Enclosures
Extra-wide, rounded, angular, and domed. An Estonian company called Aquacomet offers virtually every configuration of pool enclosure you can think of, all elegant and crystalline, displayed in photos that will make you long for a Mediterranean vacation. These manual retractable pool covers have handles on their sides so you can easily slide them open on their rails, and they're made of aluminum and polycarbonate.
Abrisud Wall-Mounted Pool Enclosure
This lean-to pool cover design attaches directly to an adjacent structure, creating an attractive arched shape reminiscent of Victorian conservatories. The difference is that these panels aren't fixed in place. The benefit of a lean-to enclosure is being able to enter directly from the house without first having to step out into less-than-ideal weather conditions. It's hard not to daydream about lounging in a bikini with a tropical drink in hand while it's snowing just beyond the glass.