Drip-Free Mug Nixes Ugly Coffee Rings
Avid coffee drinkers are well aware of the frustration of the coffee ring: that nasty brown circle left on the table after you pick up your mug. No matter how hard you try to sip without dripping, it seems that one or two little drips always make their way down the side of the mug to mar whatever it's sitting on. That can be a big problem if your furniture is on the lighter colored or more porous side.
Continue reading below
Our Featured Videos
Designer Kim Keun Ae has come up with an ingeniously simple solution to this rampant problem. The Drop Rest mug has a single small groove near the bottom of the mug. The groove uses the principle of surface tension to catch and hold those tiny little droplets and prevent them from reaching the very bottom of the mug.
Even turning the mug sideways when there are droplets captured in the groove (with the main chamber of the mug empty, of course) won't free the little drops of java. They're held securely until you wash the mug, which would probably take a bit more effort than washing a normal, non-grooved mug. But since the errant drop channel isn't that deep, it would probably be fine.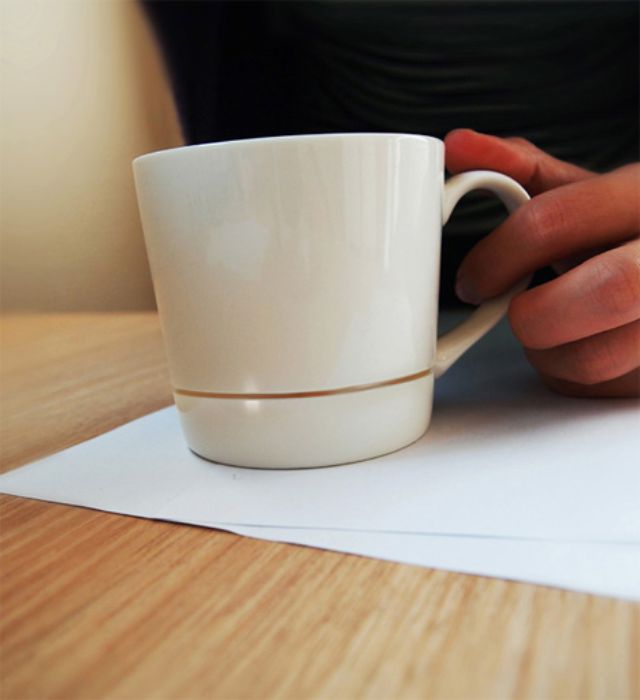 Of course, you could just use a coaster under your morning cup of coffee. But unless you're always quite meticulous about where you set your coffee down, you're better off just stopping the drips before they invade the mug's bottom. The Drop Rest mug is only a concept and not a product that you can actually purchase, but we're hoping some wise manufacturer will partner with the designer to make this brilliant idea happen.
In the meantime, check out another great idea to prevent coffee ring stains. The Maze Coffee Mug & Saucer set features an embossed pattern on the saucer that turns coffee spillage into entertainment when you'e bored.