Disney Launches Home Goods Line of "Aspirational Furniture"
Perhaps as a reaction to the global pandemic that kept so many fans from their favorite amusement parks, Disney has launched its own home furnishings brand to bring the magic to the people.
"As our homes are now more important than ever, we wanted to introduce a new homeware brand that brings iconic Disney storytelling into everyday living spaces," the entertainment conglomerate said in a press release. "The result is Disney Home."
Continue reading below
Our Featured Videos
The furniture and house goods collection will include all their current offerings but will also add new bespoke furnishings and textiles. For example, one dresser is covered in Marvel comics, a nursery crib sports faces and paw prints of beloved animated Disney animals, and a wall mirror combines three circles to form the iconic Mickey Mouse head. Themes will incorporate all franchises under the company umbrella (i.e., classic eponymous animation, Star Wars, Marvel, and Pixar).
"From Minnie Mouse's polka dots to the bold lines of The Millennium Falcon," says Liz Shortreed, Disney's category Vice President, "Disney Home products have been thoughtfully designed to put the fun into functionality."
The company also promised that there would be partnerships with well-known designers and artists.
"This newly defined interiors brand encapsulates homeware products from a range of our licensees and retailers and will also include new products such as aspirational furniture and one-off collaborations," added Shortreed.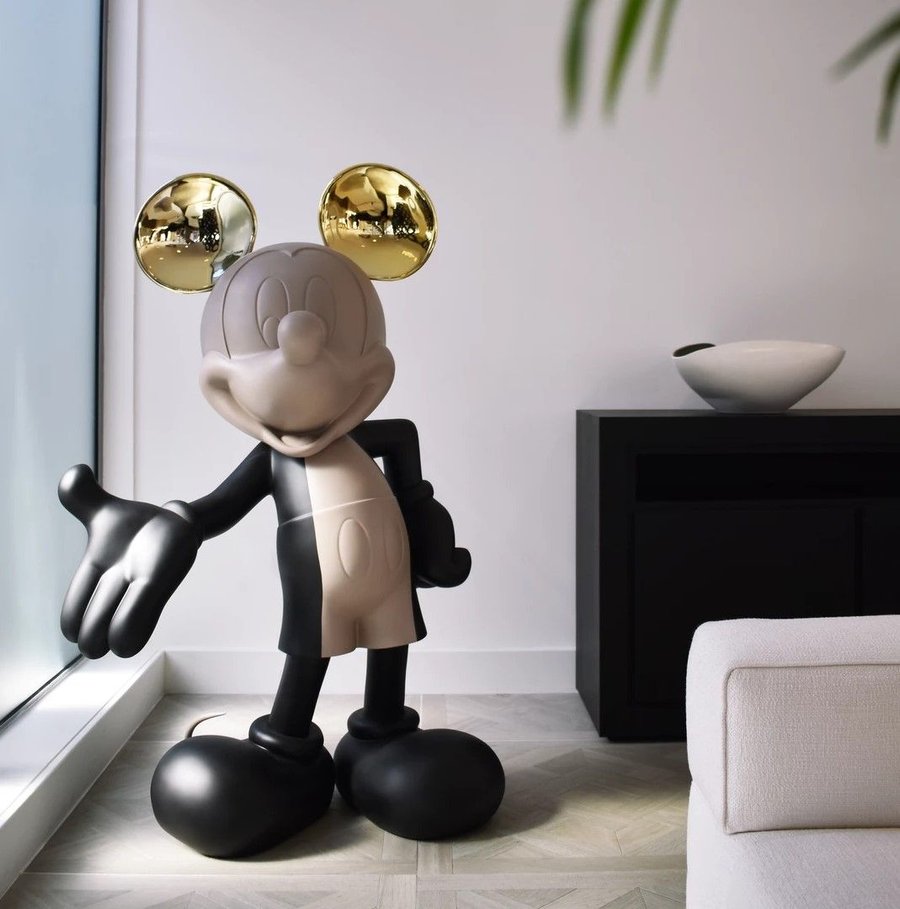 One unique piece is a life-size rendering of Mickey Mouse by interior designer Kelly Hoppen. Working with pop sculpture studio Leblon Delienne, the artist has also created a number of other Mickey figurines included in the Disney Home collection.
The company has also partnered with Ruggables to provide more than a dozen Mickey and Minnie-themed rugs. They span from overt designs of mouse heads and faces to more subtle and abstract motifs. The Mickey Doodles rug features loosely drawn outlines of the famous mouse in black lines on a white pile, while the Mickey Persian Sapphire rug has mouse head silhouettes hidden within its traditional-style weave.
The media magnate has assured customers that its furnishings will be available on some scale to all its fans. "Disney Home offers families, fans, and interiors enthusiasts the chance to style a little magic into their homes. We know that Disney storytelling has ignited imaginations for nearly a century, and this new brand brings together home decor inspired by some of our beloved characters from across our brands," Shortreed explained. "However, there is one shared ethos — all products under the Disney Home brand are created to complement every interior style and budget."
This Disney Home announcement comes on the heels of the company's decision to build resort-like residential communities across the U.S. The first Storyliving neighborhood will be located in California's Coachella Valley, Walt Disney's own so-called "laughing place." That community's estates, single-family homes, and condos can now be covered with Disney inside and out thanks to this newly released Home collection.