Designers Reveal 8 Simple Tricks to Style the Perfect Coffee Table
As the center of the living room, the place where your family convenes on a daily basis and where you entertain your guests, the coffee table has the power to make or break your decor. As a primary focal point, it presents an opportunity to show off your skill at arranging the perfect vignette, but style it wrong, and it'll throw off the entire room.
These eight expert tips will help you come up with a beautiful centerpiece that's fresh, interesting, welcoming, and well-balanced.
Use Trays to Contain Decor
Continue reading below
Our Featured Videos
Shades of Blue Interiors offers a simple formula for coffee table styling success: pick a tray and add one sculptural object, one tall object, one short object, and some greenery. These items can include vases, candles, decorative lidded boxes, natural objects, or whatever else strikes your fancy, as long as they vary in height and add some artistic flair. The tray is key, uniting the items as a single cohesive arrangement.
Make a Sculpture the Center of Attention
When you think about it, a coffee table is kind of like a plinth, whether you plop your favorite mug on top or style it with more intention. Here, designer James Huniford takes advantage of that effect with an eye-drawing sculptural object from the Huniford Vintage Collection for his client, Hamilton producer Jeffrey Seller.
Get a Glow Going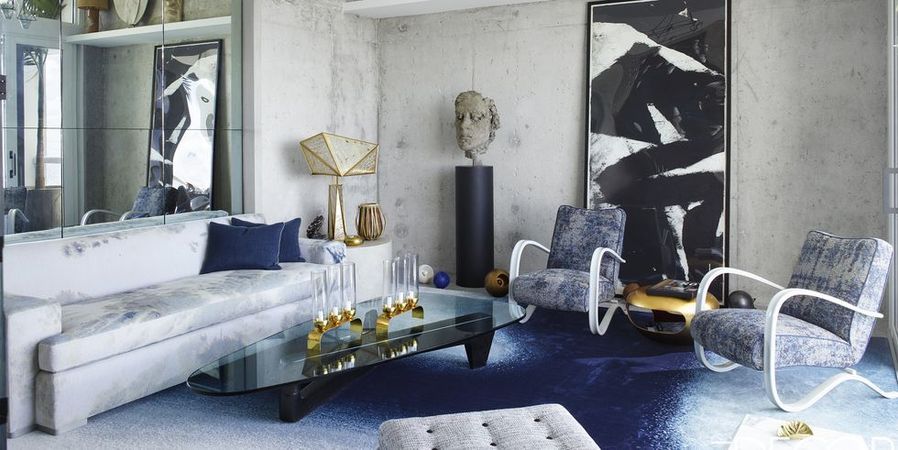 Designer Jean-Louis Deniot demonstrates how a candelabra can bring both sculptural flair and a soft flickering glow to the center of your living room with this stunning South Beach penthouse decorated in Art Deco style. Note how he used two to fit the scale of the table, and kept the height low enough that guests can still see each other across the table while seated.
Double Up in Large Living Rooms
If your living room is large and you're making use of the space with plenty of seating, you'll likely either choose a single extra-large coffee table or incorporate more than one to stay in proportion with the space. For this bright, light Palm Beach home, designers James Atman and John Meeks found two matching antique tables and gave each one its own arrangement of decor to avoid being too matchy-matchy.
Leave Room for Your Favorite Activities
If you get a little too enthusiastic about styling your coffee table with elaborate vignettes, you're making it more of an art piece than a functional object. If you want to be able to use the surface for drinks, knitting projects, or even playing board games, make sure you either choose fewer, more impactful decorative items, as seen on Apartment Therapy, or contain decor on trays that can be moved easily (or both).
Switch Things Up Seasonally
Since it's such a focal point in the living room, a coffee table is the perfect place to arrange a small decorative display that you switch out every season. Interior designer Summer Adams demonstrates one way to keep your coffee table in step with the winter holidays using faux fur, a silk flower arrangement, and trays of small items like ornaments and figurines.
Strike a Good Balance
Symmetry is visually pleasing, especially if other elements in your room are less balanced. In this space, Amanda Carol Interiors used equally-sized stacks of books on either side of a candle to give the living area a sense of order. In fact, it's good to remember that a stack of carefully chosen books provides an ideal surface for elevating any small object you want to show off.
Add Vibrance with Fresh Florals
Nothing beats fresh flowers as decor virtually anywhere in your home, but coffee tables are really an ideal setting for smaller, shorter arrangements. Plus, using flowers that are in season keeps your decor current and feeling connected to nature. Ashley of Modern Glam uses bulbs to create compact spring floral decor that lasts a lot longer than a typical bouquet.