Deep Sleep: Floating Seahorse Villa Features Underwater Bedrooms

Taking the luxury levels up a notch (or five) for lavish living spaces in the Middle East, 'Floating Seahorse Villas' feature spectacular glass-walled underwater rooms allowing you to look out onto the marine life in the Persian Gulf.
Created as part of The Heart of Europe, a man-made archipelago 2.5 miles offshore, 40 units are currently under construction with an estimated completion date for the first phase in October 2016. These underwater palaces are nothing short of breathtaking, with decks nearly at the same level as the water's surface, above-water living spaces looking out onto Dubai's famous skyline, top-level terraces and the dreamiest submerged bedrooms you've ever seen.
https://www.youtube.com/watch?time_continue=66&v=rbbEl1JMepY
With price tags starting at about $2.9 million each, these floating villas offer up to 4,000 square feet of living space right on the water. The master bedroom and bathroom are underwater, along with a freestanding tub and a guest room with its own connected bathroom.
The middle deck at sea level features an open-plan layout of common spaces, and the upper deck boasts a hot tub with a glass floor that looks down onto the living room along with a lounge, outdoor shower, kitchenette, mini bar and space for sleeping in the fresh air.
Each villa is appointed with the latest in smart technology and will have butler service, room service and a personal chef upon request.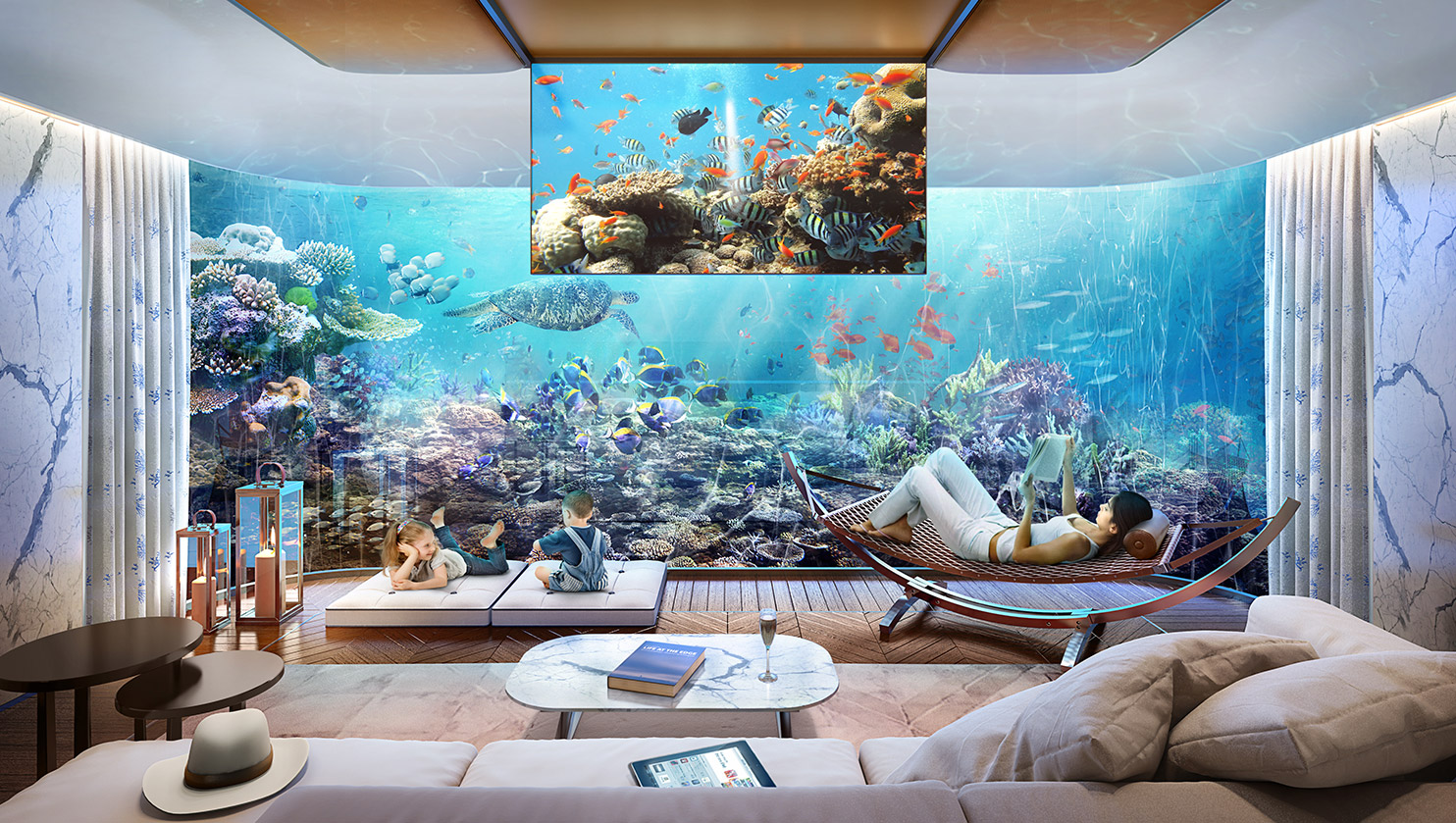 And lest you worry that these villas will never actually be built—sharing the fate of many overly ambitious architectural projects in Dubai—a number of the units are close to being ready, with a functional prototype fully completed.
The first two phases sold out in just eight months, with the third phase, the Tzar Edition, still available. The Daily Mail has photos and video of the first floating villa to be constructed.


The Heart of Europe Hotels & Resorts explains the difference between the Tzar and Signature Editions:
"Having successfully sold out phase one and two of The Floating Seahorse in just eight months, The Heart of Europe is proud to launch the third phase! The Tzar Edition of The Floating Seahorse is the third phase of Seahorses available at The Heart of Europe, The Tzar Edition will be located on St. Petersburg Island which is designed in the shape of a heart and takes inspiration from the Maldives. St. Petersburg Island will be a charming vacation retreat, home to white sandy beaches, a large infinity pool, shallow lagoons, lush tropical gardens and an exclusive restaurant and bar."


"Designed especially for you, the Signature Edition of The Floating Seahorse is fully customized and personalized to suit your individual style and taste. Inspired by the true meaning of signature, each Floating Seahorse will be bespoke and distinctive. You can select from a variety of different premium quality finishes ranging from flooring to kitchens and bathrooms. What's more, the interiors can also be tailored to meet your individual requirements."

Continue reading below
Our Featured Videos
"Larger than its predecessors, The Signature Edition of The Floating Seahorse is designed especially for families with children and groups. Spanning just over 4,000 square feet across three levels, each Floating Seahorse will be home to unique special features, state-of-the-art technology and outdoor climate change controlled areas. With four flexi/sleeping areas, The Signature Edition offers excellent versatility whereby each level can be adapted to suit individual needs. The Floating Seahorse can also be customized to ensure the ultimate in privacy by fully enclosing the outdoor areas at sea level and on the upper deck."