Closet Door Makeovers: 3 Creative and Easy Ideas to Try
Continue reading below
Our Featured Videos
Even if you buy a brand new house, there's a good chance your closet doors are ugly. For whatever reason, contractor choices for standard closet doors tend to be bland, boring and often out-of-date, but that doesn't mean you have to sink a bunch of money into completely replacing them. These cheap and easy closet door improvement ideas can turn an eyesore into a gorgeous focal point with mirrors, wallpaper, decorative tacks or a little wood molding.
Beautify Your Bi-Folds with Mirrors or Panels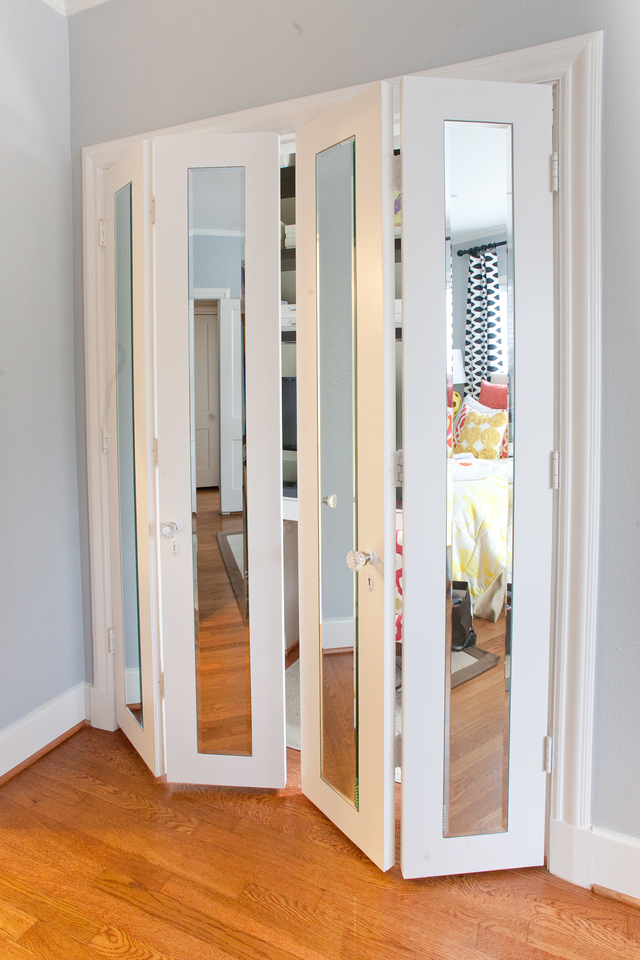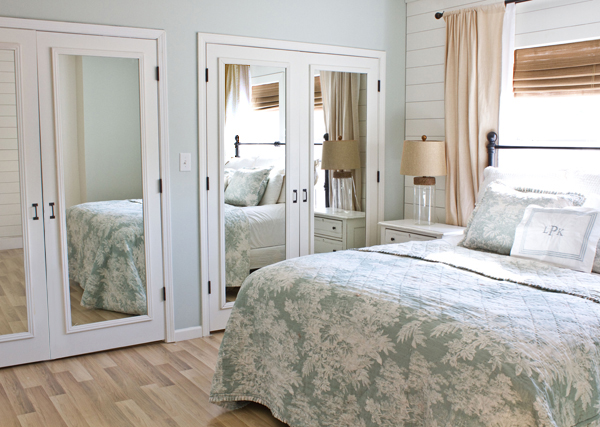 Add visual interest, functionality and a room-brightening effect with the addition of mirrors on the outside of your solid-panel bi-fold closet doors. In the top example above by Modern Craft Construction, narrow mirrors are built into the entire length of each door panel, but you could mimic this look by simply mounting mirrors to the outside. This upgrade option looks great on full-sized doors, too, as seen at The Lettered Cottage.


Something about louvered folding closet doors just screams "1980s," yet so many houses still seem to have them in every room. The original idea behind these slats was to encourage air flow to closets, preventing stale smells and mold growth from trapped moisture. But as long as you use your closet frequently, there are other ways around these issues. Remodelista notes that you could knock the louvers out of the doors and replace them with decorative perforated metal, which is available at Direct Metals in a variety of sizes and patterns. The result looks clean and modern, and it's especially well-suited for pantry doors. Another option would be simply covering the slats with painted plywood panels and applying trim around the edges to make your new panels look built-in.
Transform Them With Wallpaper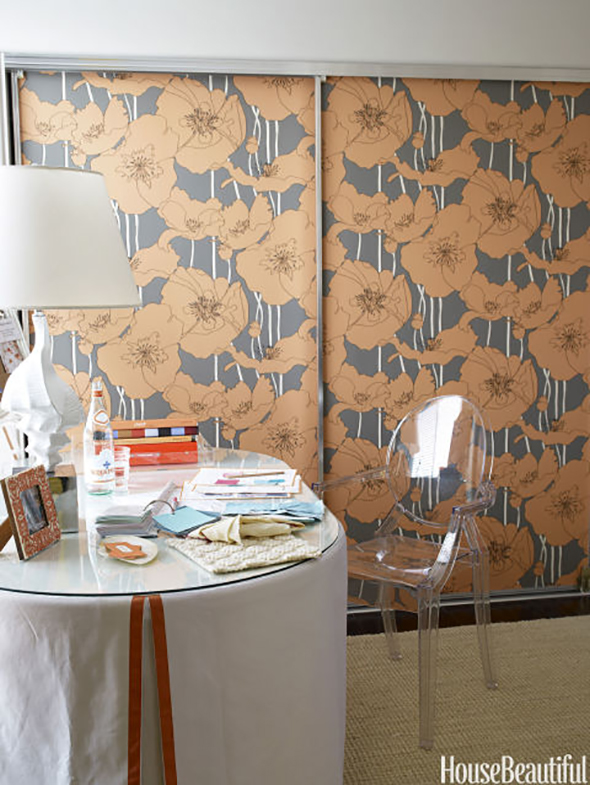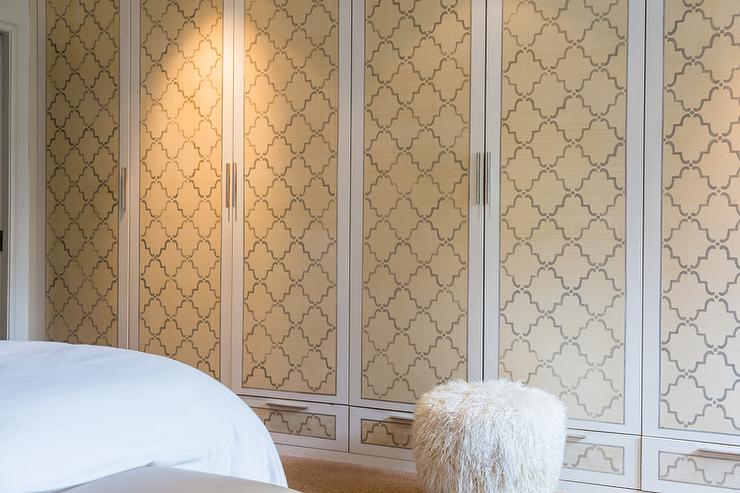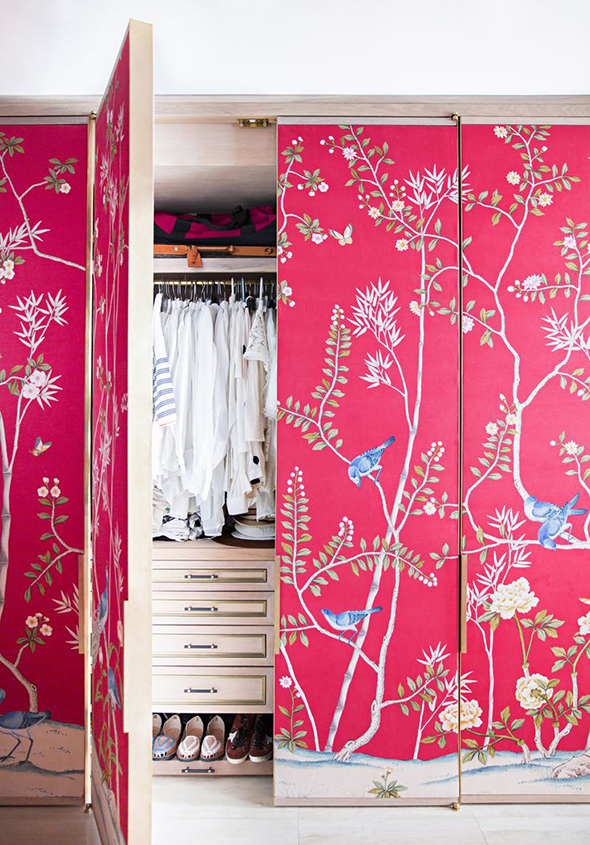 Jenny Komenda, a Phoenix-based interior designer blogging at Little Green Notebook, applied chinoiserie panels to bi-fold doors to give them a beautiful hand-painted look. Wallpaper is another option, and it wouldn't take much of it to cover most closet doors, even if you have a whole wall of them. You could also check in with your local wallpaper store to see if they have any appropriately sized scraps available at an even lower cost. The possibilities here are virtually endless, adding texture, pattern or a splash of color to the room without the hassle of wallpapering actual walls.
Add Some Decorative Trim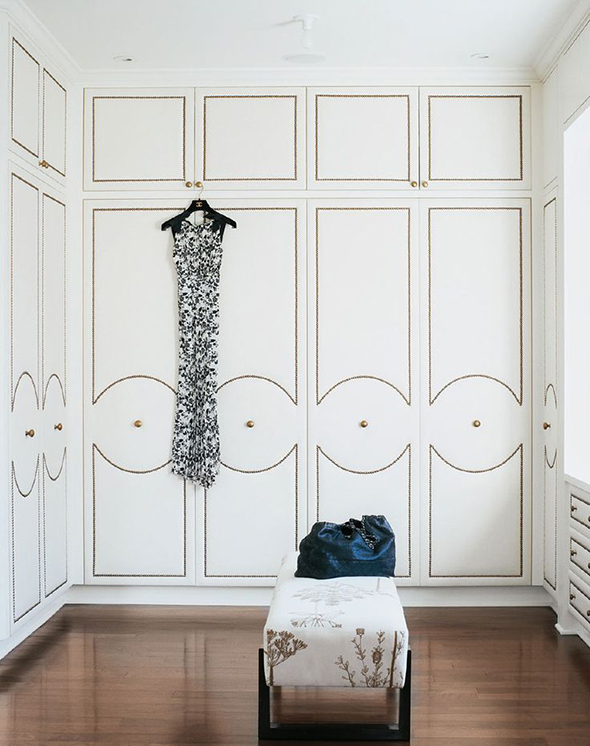 Even the cheapest hollow-core doors have the potential to look like beautiful customized creations with creativity and a little elbow grease. Use paint, nail head tacks or wooden trim to create patterns of your choice, whether you're going for a look that's more traditional or want to add some dynamic contemporary lines. Adding finishing tacks might be a bit more labor intensive, but it's definitely high-impact, especially if you choose bright and shiny hardware, like copper round-head nails. Thumb tacks could even work for doors made of softer wood.


Renting your place, and afraid to do anything permanent? Try sticking wood molding onto the door surfaces with re-stickable adhesive tabs so that it's easy to remove. Try a double square pattern, rectangles or any other shapes you can come up with.
Top image via Your Style Sliding Doors